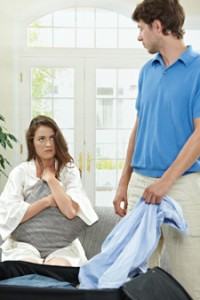 Editor's note: Lovefraud received the following letter from a reader whom we'll call "bonnie2017." Donna Andersen responds to her questions at the end of the letter. Names have been changed.
Following my most recent life-shattering break-up 4 weeks ago, I happened upon your website, lovefraud.com, and found it extremely helpful and insightful! I first wanted to thank you for all the invaluable information you provide. I also wanted to tell you my sad story about my almost-baby-daddy and get your feedback. Maybe it can help others too.
From January through May, I had been unknowingly dating what I thought was a narcissist (but recently realized he may actually be a sociopath?). From the beginning, he was intoxicating: 30-years old, tall (6'4″), extremely handsome, athletic, sharp, intelligent, confident, nice, up for anything.
It was an explosive and exciting courtship, during which he love-bombed my phone all day every day with "good morning beautiful" and frequent heart emojis texts. He told me how I was "different from other women" and how "he's never been this attracted to" or "this excited about" someone before.
He was taking me out on real dinner dates (so rare these days) and even bought me flowers (tulips, my favorite!). His affection was intoxicating and almost oppressive, as I found myself swept up in an immediate romantic (and passionately sexual) relationship with a man I barely knew.
Something off
Despite our instant attraction and connection, there was something off about him, a sad darkness in his eyes and a stare that was deeply penetrating (he rarely blinked), even innocently childish.
Things seemed to revolve around him and his needs… but I was able to ignore the negative aspects because of our apparent shared family and political values, our stimulating intellectual conversations and our insanely amazing sexual chemistry (high levels of testosterone) – the makings of a once-in-a-lifetime type of relationship, right?!
About 8 weeks in, I got scared of the fury of the pace and pulled back. My instincts were kicking in, and although he assured me that he was "definitely not seeing anyone else" and wanted "only to be with me," I had this nagging feeling that he was playing me, or worse, that something was deeply off.
He did not react well to my distancing act, and he promptly turned on me. When I asked him if we could "slow things down," he became immediately colder, began withholding affection from me, gave me silent treatments…like he was punishing me. He still texted every day, but not like before; he was tossing me crumbs.
Feelings and emotions were off-limits, though his sexual desire and expectations remained fierce, almost animalistic. I tried for several weeks to get the sweetness and fireworks back again, but to no avail.
Last straw
The last straw was one night, after hours of talking in circles about the relationship, he sat pouting with his arms crossed in front of him, and said frighteningly: "I feel dead inside." Yikes! I ended it then and there.
Looking back on this part of our relationship, I can see that he was actually quite dull, almost an empty shell that thrived on outside proposals and excitement. He would say weird things about himself and past relationships that were almost like warnings, like "I can be really moody" and that he has "rarely lived in the same city as anyone he's dated."
He also told me on several occasions that he "didn't know what he wanted" with anything, and that he has been that way for as long as he can remember. He was very unhappy in his job as an English teacher and felt very unfulfilled, but didn't know what else to do with his life.
He didn't have many male friends, only his friends from back home with whom he would play online video games with most nights. He had one long-term girlfriend for whom he actually moved across several states, but when she wanted to take the next step and get married, he broke up with her. He seemed to have zero attachment to her or to previous girlfriends, whom he implied were usually "too needy" or "wanted to sink their claws in."
He liked me because I was so "cool" and didn't act jealous or ask too many questions about his routines (he is a former college athlete and now obsessed with the gym and with his appearance). He said he didn't have a type, but usually dated women who were a bit older and who had "cool stuff going on" in their lives.
His default seemed to be "I don't care." He even told me that he is usually always single and lonely and that he chooses not to care because it's "easier."
Anyway, 4 weeks after the first break-up, we got back in touch organically. A text message here and there. He had lent me one of his books to read, so we decided to meet up, catch up and return his book.
I'm pregnant
The next day, I found out I was pregnant. Major panic!! My first reaction was to terminate, though it wasn't my true desire. I decided to tell him before making a decision.
Dreading it, I showed up to his house, he greeted me kindly, and we went inside for a visit. I struggled to tell him and couldn't hold back the tears.
And POOF! Upon hearing the words "I'm pregnant" he catapulted back into superhero, perfect romantic love-bomb man! He came to me, hugged and kissed me tenderly and said, "I support you in every way"… he was excited and passionate again, talking about his extreme attraction to me, the ideal woman carrying his child.
He told me we could get back together, have a baby and a perfect beautiful family. He started trying to convince me of the wonderful life we could have with him as the ultimate provider: he owned his own home, had a good job with insurance, his parents would relocate and help us with the baby. He told me I was the most amazing woman he'd ever met and we should never have broken up in the first place, we could even get married, etc. He even told me that having a baby would "force him to grow up" (double yikes!).
I was completely sucked in again – my big, strong, paternal he-man had come to my rescue! Then, when he assured me he had not seen ANYONE since we broke up 5 weeks before, we had INCREDIBLY passionate (and *unprotected*) sex that night…and almost every night after for the next 5 weeks.
More distant
As we started to research about parenting and insurance and marriage and all the scary gown-up things, he slowly became more and more distant. He would turn things around on me and go back on promises. He started making decisions without me, and when I would confront him, he would deny it or ignore me.
He blew hot and cold… one minute he was going to ultrasound appointments with me and saying "I'd love to be a dad with you" and "I'm going to spoil my baby mama rotten" and the next it was "we shouldn't jump back into this relationship, we barely know each other"…
When I told him it was okay if he wanted to break-up and not deal with it, he angrily accused me of "trying to push him away." He would party with his 2 or 3 friends all day and night, then come back to me and insist we go to counseling together because this was all "so hard on him." I was going insane and falling apart, knowing in my heart that I could not go through with having his baby.
Sad day
After a 3-day angry silent treatment from my baby daddy-to-be (because I didn't come over when he wanted) and some very deep introspection, I finally made the excruciatingly difficult decision to terminate the pregnancy. He had gone from supportive and loving superdad to completely cold and detached in a span of 2 weeks.
On the sad day, he was "there" for me, he took me to the appointment and he brought me food and ice cream afterwards… but he wasn't really there.
I was devastated. A complete emotional, physical and spiritual wreck. He disappeared for several days. When I needed him most.
Then he resurfaced, quite half-assedly. He told me all the same non-committal things as before, that he "cared for me but still didn't know what he wanted" and that he was "immature" and couldn't have a real relationship with me. He said it was "painful for him to see me" cause it reminded him of our loss. I realized I couldn't really count on him as a partner, but I didn't want to lose him completely, after all we'd been through.
Can we be friends?
In my heart, I thought he was a good man, but maybe not the right man for me. I knew he had some major emotional issues and was struggling with all of this, and I didn't want him to suffer.
On our next date night, he took me out for dinner and ice cream. When he wanted me to come home with him, I told him I'd been on a date with someone else and asked him if we could be friends.
Well, he LOST IT and became extremely aggressive (later through text), saying that he had been "so faithful to me" and that he had "put his entire dating life on hold" out of respect for me and because he wanted to "do right by me and the baby." He was so pissed that I was "deceiving" him by making him think I still wanted to be with him, and he said if he'd known I was seeing other people, he never would have made such a valiant effort to keep a relationship going with me.
He said he "didn't care who I dated, but that I should be honest with him." Then he switched to "there's no way we could be just friends" because I would always be "the mother of his child" in his mind. He said we had the best sex, and that it was because we had an emotional connection (something I believe he rarely has with women). He said he still cared for me and didn't think we'd gotten a real chance to "figure us out yet."
Well, I felt terrible and agreed to give it one more chance. We went home to our respective places.
Other women
That same night he called his side piece, Brittany, and she went over to his place at 10:30 pm to have sex with him.
On our next date night two nights later, after a great romantic love-filled evening (including more unprotected sex), I checked his phone while he was sleeping.
Sure enough, he had been having sex with Brittany (and one or two other women) on and off THE ENTIRE TIME I WAS PREGNANT. The entire time he was trying to convince me to marry him and have his perfect child. The whole time I was recovering from a traumatic loss and painful surgery. The day after the abortion, while I was lying in bed crying and bleeding, he went to a baseball game with her. He even made my sweet potato recipe for her one night while I was with my sister!
I woke him up at 5am and asked him calmly, "Have you been seeing other people?"
He replied, "No."
I said, "Really? Are you sure? I don't think you're being honest with me."
He continued lying… "No, we've talked about this 100 times."
I said, "Then who is Brittany?"
He said, "She's a friend."
I picked up his phone, and I said, "I just saw in here that she is not a friend."
Silence … Then he finally said, "well I guess you already know then."
I said, "The whole time I was pregnant…why would do that to me?"
He said, "Because I'm a shitty person."
I said, "Why did you get angry with me for wanting to move on, and profess to be some great man who stood honorably by me?"
He said again, coldly, "Because I'm a really terrible person."
He proceeded to tell me that he had "helped" me, when he didn't have to.
On the brink of a full-blown panic attack, I got up and I and left. He followed me to the door and did not say a word.
We have not spoken in 4 weeks, he has never apologized or attempted to contact me directly since.
I immediately went to the clinic for an STD test (all negative, thank god). I have deleted him from my phone and social media sites. He still stalks my social media pages and watches everything I do.
Questions
It is so difficult to get closure and clarity on this experience, and I would love to have your objective opinion and advice on several points:
Why is he still checking in on me?
If he ever cared, why would he lie to my face so callously?
Why did he drag out my pregnancy and pretend to be the perfect dad?
Why do I still feel so emotionally attached to this terrible toxic person?
Does he sound like a full-blown narcissist and/or sociopath? Or maybe some form of borderline personality disorder?
Even after all this, I don't feel that he purposefully hurts people. I think he just does what he wants, and when shit goes wrong, he withdraws back into his safe "I don't care" place.
He fits MANY of the descriptions on the sociopath checklist: lying, cheating, easily bored, dead eyes, empty inside, self-obsessed, shallow, immature, lack of remorse, lack of long-term goals, trouble with empathy… but there are many that he doesn't have.
He is very close to his family, he has a strong sense of "taking responsibility for ones actions," he does not seem to lie just for the sake of lying and I have seen flashes of compassion and empathy in him. But he is a liar, so everything he says is probably complete garbage.
Thank you for your insight during this extremely painful and heartbreaking time.
Donna Andersen responds
Bonnie2017, I am so sorry for your experience. The mind games with this man were bad, the cheating was worse, and having to decide to terminate the pregnancy was horrible.
Still, I support your decision. Having a child with a sociopath is a nightmare. One of two things would have happened. Either he would have abandoned you to take care of the child on your own (even if you were still together), or he would have used the child as a pawn to control and even torment you for the rest of your life.
To make matters worse, these personality disorders are highly genetic. So there is a chance that your child would have inherited a predisposition to a personality disorder, which parenting may or may not be able to overcome. Having made your choice, you'll be able to recover, move on, and create the type of life that you want.
Here are my responses to your questions:
Why is he still checking in on me?
We never really know why sociopaths do anything, but I can think of a few potential reasons why he is stalking your social media.
First, sociopaths typically equate relationship with ownership, and view their partners as their property. This is especially true when children are involved. Even though you have broken up, he probably still views you as his property, and he wants to know what his property is doing.
Second, sociopaths are all about power and control. He may be looking for an opportunity to exert power and control over you again. You ended the involvement with him (good for you!). I've heard stories of sociopaths who, after a breakup, reeled their former partners back in, promising the world, acting on their best behavior until the partner believes they truly have changed — just so the sociopaths can be the ones to dump the partner.
Third, sociopaths often keep track of former partners just in case they want to use them again. From a sociopathic point of view, they were able to exploit you once, so they assume they'll be able to exploit you again.
The key for you is to maintain No Contact. If he tries to get in touch with you again, ignore him.
If he ever cared, why would he lie to my face so callously?
Here's what you need to understand: Sociopaths do not have the ability to love. Let me explain.
Researchers have found that there are three parts necessary for true romantic love:
This is the desire to be with someone to whom you are attracted.
The desire for physical intimacy and procreation.
Care giving. This is the desire to take care of, and do what is best for, the people for whom you feel love.
All three parts are necessary for real love.
Now, sociopaths can do the first two parts. They want attachment and sex. But they cannot do care giving. They do not truly care about anybody but themselves. They cannot put someone else's interests before their own.
Sometimes they can appear to be care giving, but there is always an agenda. If sociopaths are taking care of someone, it is to butter them up for later exploitation.
So unfortunately, your first statement is not true. He never truly cared for you. And because of that, it was easy for him to lie to you.
Why did he drag out my pregnancy and pretend to be the perfect dad?
Again, it's hard to know the exact reason why, but I can make a few guesses.
Novelty. Sociopaths love novelty, and if he doesn't have a child, he may look at it as something that he hasn't done before. Many sociopaths like playing with their new babies; to them, it's like playing with a new toy. They may like the fun parts of having kids, but they are not interested in the hard work of childrearing. Or, they lose interest all together.
Image. Sociopaths often want a spouse and kids because that's the type of image they want in the community. Some sociopaths start a family so that they appear to be upstanding citizens — perfect cover if they want to live a double life.
Power and control. Sociopaths know that having a child with someone ties them together forever. It's the ultimate power and control.
Why do I still feel so emotionally attached to this terrible toxic person?
Involvements with sociopaths are highly addictive. Sociopaths hijack the human bonding system, so the normal psychological and biological aspects of romatnic relationships are stronger than ever. I explain this in the following article:
All of these factors are especially true in your case because of your pregnancy, and your decision to terminate.
The answer is to break the addiction by having No Contact with this man. Eventually, the attachment will dissipate.
Does he sound like a full-blown narcissist and/or sociopath? Or maybe some form of borderline personality disorder?
The distinctions between these disorders are not clear. In fact, "sociopath" is no longer a clinical term.
Lovefraud uses the word "sociopath" as an umbrella term for all manipulative and exploitative personality disorders: Antisocial, narcissistic, borderline personality disorders and psychopathy. Here's an explanation:
Disordered individuals are not all the same. Multiple traits make up these disorders, and it is possible to have some traits and not the others. Additionally, an individual can have any of the traits to greater or lesser degrees. In the end, even experts often have difficulty making a diagnosis.
The bottom line is that it doesn't matter. The man is definitely disordered, he is toxic, and he will never change.
I am glad that you got away from him. Now, give yourself time and permission to recover. I assure you, you can get past this.