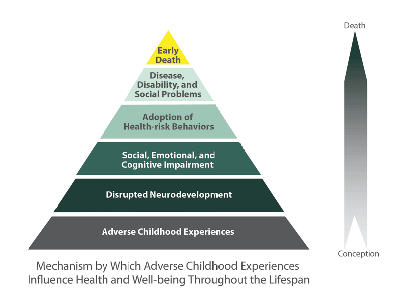 Yesterday I was standing in line, horrified at how a man in front of me was treating his two little girls.
The girls looked to be about two and four years old. One of them was in a stroller. He yelled at the older girl I don't know why. When she started crying, he yelled at her again, threatening to hit her if she didn't stop crying.
No matter what the kids did dropped a blanket on the floor, touched the stanchion rope the guy yelled.
If this father was treating his kids this way in public what in the world was he doing at home?
Make no mistake the guy was engaging in child abuse, and the kids will likely suffer from it for the rest of their lives.
I'm not exaggerating. Research shows that children who endure "adverse childhood experiences," such as abuse and neglect, were hugely more at risk for alcoholism, cancer, heart disease, suicide, drug use, promiscuity just about all the bad things that can happen in life.
Adverse Childhood Experiences study
The Adverse Childhood Experiences study gathered data from 17,337 patients of Kaiser Permanente, the largest managed care organization in the United States, from 1995 through 1997. The research was conducted by Dr. Vincent Felitti, chief of Kaiser Permanente's Department of Preventive Medicine, and Dr. Robert F. Anda, of the U.S. Centers for Disease Control and Prevention.
I first learned of this study while reading The Body Keeps the Score, which I reviewed a couple of weeks ago. Here's what the author, Bessel van der Kolk, wrote:
The first time I heard Robert Anda present the results of the ACE study, he could not hold back his tears. In his career at the CDC, he had previously worked in several major risk areas, including tobacco research and cardiovascular health. But when the ACE study data started to appear on his computer screen, he realized that they had stumbled upon the gravest and most costly public health issue in the United States: child abuse. He had calculated that its overall cost exceeded those of cancer or heart disease and that eradicating child abuse in America would reduce the overall rate of depression by more than half, alcoholism by two-thirds, and suicide, IV drug use, and domestic violence by three-quarters. It would also have a dramatic effect on workplace performance and vastly decrease the need for incarceration.
I was shocked. This research was conducted 20 years ago! How could a problem be this big, yet there be so little discussion of it? Where was the outrage? Where was the demand for public education and solutions?
The ACE questionnaire
The research asked survey participants if they had any of 10 adverse experiences before they reached 18. The first question, for example, was:
Did a parent or other adult in the household often or very often "¦ Swear at you, insult you, put you down, or humiliate you? or Act in a way that made you afraid that you might be physically hurt?
If a respondent answered "yes" to the question, it counted as 1 point towards their ACE score. There were 10 total questions, which identified the following:
Emotional abuse
Physical abuse
Sexual abuse
Mother treated violently
Household substance abuse
Household mental illness
Parental separation or divorce
Incarcerated household member
Emotional neglect
Physical neglect
Scores could range from zero meaning no adverse childhood experiences to 10. Here is the actual ACE questionnaire:
Only 36% of survey respondents had a score of zero. Conversely, 64% of participants suffered some type of negative experience when they were young.
The researchers found that children often endured more than one type of adverse childhood experience, which meant their ACE score went up. For example, someone who experienced emotional abuse, sexual abuse, saw their mother being beaten, and someone in the house abusing drugs, had an ACE score of 4.
Here's more info on the study data:
About the CDC-Kaiser ACE study, on CDC.gov.
Health effects
The researchers correlated the ACE scores with study participants' health records. What they discovered was that the higher the ACE score, the more health problems the children experienced as adults.
Jane Ellen Stevens wrote a terrific series of articles for the Huffington Post called The Adverse Childhood Experiences Study the largest most important public health study you never heard of began in an obesity clinic. Stevens wrote:
Things start getting serious around an ACE score of 4. Compared with people with zero ACEs, those with four categories of ACEs had a 240 percent greater risk of hepatitis, were 390 percent more likely to have chronic obstructive pulmonary disease (emphysema or chronic bronchitis), and a 240 percent higher risk of a sexually-transmitted disease.

They were twice as likely to be smokers, 12 times more likely to have attempted suicide, seven times more likely to be alcoholic, and 10 times more likely to have injected street drugs.

People with high ACE scores are more likely to be violent, to have more marriages, more broken bones, more drug prescriptions, more depression, more auto-immune diseases, and more work absences.
In her article, Stevens explains exactly how this happens. Essentially, an environment of abuse interferes with a child's neurological development, which leads to more problems later in life. The ultimate consequence of child abuse? Early death.
What causes child abuse?
To solve the problem of child abuse, its cause first needs to be correctly identified.
Child abuse does not occur in a vacuum. It's not the flu, where you catch it by touching germs on a door handle, or the zika virus, where you get bitten by a mosquito.
Child abuse is inflicted by another person. And this seems to be the point that no one wants to address.
I did a Google search on "what causes child abuse?" One of the top search results came from the Human Services Department of the government in Victoria, Australia. Here's what it says:
What are the causes of child abuse?

There is not any single fact which causes child abuse; abuse usually occurs in families where there is a combination of risk factors. Abuse and neglect occur most often in families who are under pressure and lack support. Most abuse other than sexual abuse occurs in families to which some, or all, of the following apply:

Poverty
Lack of education
Serious marital problems
Frequent changes of addresses
Violence between family members
Lack of support from the extended family
Loneliness and social isolation
Unemployment
Inadequate housing
So according to the Victorian government, the top causes of child abuse are poverty and lack of education. Except that's not what the ACE study found.
The people who participated in the ACE study were mostly employed at companies that offered good health benefits that's why they were being screened at Kaiser Permanente to begin with. Of the total, 74.8% were white, and 75.2% had at least some college education or were college graduates.
They were white, middle-class people with good jobs. They came from home environments that enabled them to pursue an education and obtain a good job. Yet 64% of them suffered some kind of adverse childhood experience; 12.5% had an ACE score of 4 or higher.
Conversely, plenty of poor families raise their children with love and care. Low-income parents frequently work hard and sacrifice so their children can have better lives.
So I don't believe the contention that abuse and neglect occur most often in poor families who are under pressure and lack support.
The true cause of child abuse
I think that the people who are inflicting child abuse are personality disordered.
Experts estimate that 1% to 4% of the population could be diagnosed as psychopathic or antisocial, 6% as narcissists, and 2% as borderline personality disordered. That adds up to 12% of the population.
Gee 12% of the ACE study participants had a score of 4 or higher. I don't think that's a coincidence.
Child abuse is probably caused by people who have personality disorders.
Maybe if our society admitted that bad people live among us, and they do bad things to children, we could start to solve the problem of child abuse.