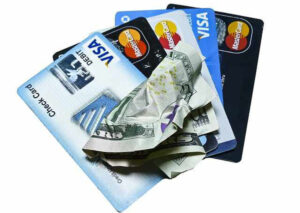 For sociopaths, the objective of any relationship is to exert power and control over the other person. This is especially true in romantic relationships. One of the things sociopaths want to control is money, which often leaves survivors with mountains of coerced debt.
I have experience with this one. My sociopathic ex-husband, James Montgomery, manipulated me into maxing out all my credit cards, supposedly to support his sure-to-succeed business plans. By the end, he'd wiped out my savings, decimated my business, and left me with $60,000 in credit card debt. I later found out he spent a lot of my money entertaining other women.
Using my credit
How did James Montgomery get his hands on my credit? Some sociopaths commit outright fraud — filling out credit card applications in the target's name, making charges, and then hiding the bills. Identity theft is a crime, and the target is not responsible for fraudulent debts.
My ex-husband was too slick for that. He convinced me to make the purchases on my card, or he convinced me to add him as an authorized user of the card. Therefore, I was responsible for the charges, not him. And I couldn't claim fraud, because I knew about the charges.
So how did he convince me to do this?
Manipulation strategies
Montgomery's primary strategies were first, to get me to believe him, and second, to move quickly.
He portrayed himself as a successful businessman who had already made great headway in his business plans, and by offering me the opportunity to invest in them, he was making sure that I, the love of his life, would profit from his success. He offered this so-called opportunity within days of his marriage proposal, while I was still floating in the oxytocin high of said proposal.
Then, he suggested that we quickly travel to Australia to get married, because why should we wait? He asked me to put the trip on my credit cards, which he promised he would pay as soon as the bills came in, because his business funding was sure to be in place within a month. That never happened.
Two months later, I added up the money I'd spent on him — more than $50,000. I was upset. Montgomery didn't care. He told me to stop complaining about $50,000 when his projects would make millions of dollars for us.
Now we were married, so his debts were my debts. I was in a financial hole, and I felt like my only hope for climbing out of it was to keep supporting his plans until they succeeded.
I tell the whole outrageous story in my book, Love Fraud: how marriage to a sociopath fulfilled my spiritual plan.
The divorce
Montgomery never made any money. When I finally divorced him, I claimed that he defrauded me, taking $227,000 from me and leaving me with $60,000 in debt. The judge actually awarded me the money, plus $1 million in punitive damages. I was never able to collect it.
The judge also said that Montgomery was responsible for the debt. I informed the credit card companies that according to the court, they should go after him for the money. But to the credit card companies, what the judge said meant nothing. Montgomery used my cards, I knew about it, so according to the agreements I signed when I took out the cards, I had to pay up.
I was broke. I couldn't do it. In the end, I declared bankruptcy.
Coerced debt
My story is not unusual — I've heard from plenty of people who were left holding the financial bag by the sociopath in their lives. Now, there's even a name for it — coerced debt.
Coerced debt, defined by Dr. Angela K. Littwin, is "all non-consensual, credit-related transactions that occur in an intimate relationship where one partner uses coercive control to dominate the other partner."
Coercive control, according to Dr. Evan Stark, who wrote a book on the topic, is "the systematic, ongoing use of violence, intimidation, isolation, and control to restrict the victim's autonomy." Another definition, by Drs. Dutton and Goodman, is "a dynamic process linking a demand with a credible threatened negative consequence for noncompliance." Stark and Dutton both work in the domestic violence field, which is probably why their definitions mention threats and violence.
Research on coerced debt
Littwin and colleagues published a paper a few years ago entitled, The frequency, nature and effects of coerced debt among a national sample of women seeking help for intimate partner violence. Their basic finding was, "coerced debt, from both coercive and fraudulent transactions, is a common problem and is significantly related to control over financial information, credit damage, and financial dependence on the abuser."
Other researchers found that between 94% and 99% of women seeking services for intimate partner violence have experienced economic abuse.
In the Littwin study, callers to the National Domestic Violence Hotline were asked if they were forced to incur debt against their wishes. Of the callers who participated in the survey, 52% reported coerced debt. The researchers asked what would happen if they didn't comply with the demand. Here's what they found:
Most of the respondents (66%) who disclosed a consequence described fearing psychological consequences, such as name calling, yelling and screaming, or threatening to end the relationship. Over a third (38%) of participants who disclosed a consequence cited fear of physical consequences for saying "no," including being beaten or killed. Ten percent (10%) explained that they feared some form of economic consequence, such as job, money, or property loss, if they did not do as their partner wished.
The women's credit was damaged, and many became financially dependent on the abuser. As a result, 73% of the women stayed longer in the relationship than they wanted to because of concerns about financially supporting themselves or their children.
Little to be done
Sociopaths often ruin their targets financially and leave them in debt. Unfortunately, in many cases little can be done about it.
If the sociopath fraudulently applies for credit in your name, and you're not married to the con artist, you might have a shot at claiming identity theft and not being responsible for the charges. If you are married, things get murky.
Read more: In debt due to fraud? Guess what — it's yours
I knew my husband's debt was on my credit cards. But my situation doesn't even meet the above definition of coerced debt. Montgomery never threatened me; I was doing my best to keep us afloat financially. But it sure felt coerced.
Unfortunately, if you did like I did and put the sociopath's expenses on your card, or if the sociopath put the bills in your name, well, there may be no recourse.
What to do about betrayal
Financial exploitation and coerced debt are forms of betrayal, and they're devastating. I remember feeling desperate, afraid and disoriented, wondering how I was going to survive. Now I know that I was experiencing a trauma response.
When dealing with a sociopath, the chances of financial restitution may be slim to none. You may need to come to terms with the fact that this person exploited you and is going to get away with it. Therefore, you need to find a way to deal with the betrayal. It's no fun, but it can be done.
Recovery begins with making a plan. That's one of the points that Colleen R. Baker, a registered nurse and nurse educator, makes in her Lovefraud Continuing Education webinar, Beyond Betrayal: How to recover from the trauma.
Colleen explains how trauma affects your brain and your health, and offers evidence-based recovery strategies. If you're dealing with trauma, financial or otherwise, this webinar will help you.
Learn more: Beyond Betrayal: How to recover from the trauma