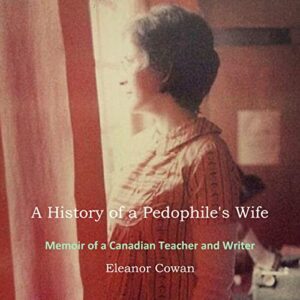 Editor's note: "How could a mother not know?" This is the question often asked about families where incest has occurred, which the Lovefraud author, Eleanor Cowan, answered in her book, "A History of a Pedophile's Wife." Eleanor has just released her book on Audible, and she recently discussed her experiences in the American Conversation podcast. I asked Eleanor about her experience of narrating her story for the audio book. Here's what she wrote:
In 2022, a young man, a long-haul driver, told me he'd wanted to read my paperback memoir, but he only buys audiobooks now. Criss-crossing North America weekly, with no time to turn the pages of a paper book, he listens to two 11- hour narrations a week and audios are, he says, the best of schools. He said he wanted to vet my book before suggesting it to his mom, who'd also married a pedophile, his father.
Months later I approached the audio production studio with a thermos of warm honey water and within minutes, found myself reading a test page with a meticulous audio editor. With such competent guidance, I was soon on a roll, narrating at least 50 pages each day.
As I read and repeated the words I'd authored, a growing sense of confidence began to replace the embarrassment I'd worried about when I first published my story.
The old shame-based rule was to say nothing and carry on, despite lugging heavy secrets. Today's way is to share with caring others, and then, yes, carry on, but reassured that I'm never all alone.  I realized, as I spoke every line aloud, that I still meant every single word. I know a lot more today about sociopaths than at the time of writing, but having only told the details of what happened, I felt sure readers would be able to connect the dots and name what I could not label then.
Narrating my story with my own voice, rather than with a quiet pen on a silent page, was a new kind of unsilencing for me. I entered the audio room worried that I might now be critical of my work. Instead, I felt pride that somehow, I had gathered the courage to share my story. I walked out into the beautiful sunshine on the fifth day, the 225 pages read, and knew I'd never again silence, shame, or mute myself.
Book review: A History of a Pedophile's Wife