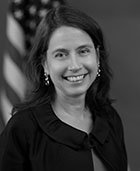 Last week five big international banks were found guilty of rigging international currency markets and fined $5.5 billion.
The very next day, the Securities and Exchange Commission issued the banks waivers from automatic punishment so they could continue business as usual.
SEC Commissioner Kara M. Stein did not agree with letting the banks off the hook and issued a scathing dissent. The banks UBS, Barclays, Citigroup, JPMorgan Chase & Co, and the Royal Bank of Scotland had already been granted a total of 23 waivers after previous wrongdoing.
Bank traders actually met in an online chat room called "The Cartel" or "The Mafia" and conspired to rig rates. The scheme ran for years.
According to USAToday:
"It is troubling enough to consistently grant waivers for criminal misconduct," wrote Stein. "It is an order of magnitude more troubling to refuse to enforce our own explicit requirements for such waivers.

"Further, I am concerned that the latest series of actions has effectively rendered criminal convictions of financial institutions largely symbolic," concluded Stein. "Firms and institutions increasingly rely on the Commission's repeated issuance of waivers to remove the consequences of a criminal conviction, consequences that may actually positively contribute to a firm's compliance and conduct going forward."
Why is Lovefraud posting this story? To remind you that psychopaths are everywhere. Dr. Robert Hare, author of Without Conscience, has said that if he weren't researching psychopaths in prison, the next place he'd look for them would be the stock market.
So the legal authorities who are supposed to protect the world economy don't put a stop to criminal behavior.
At least one woman is outraged.
SEC official blasts waivers for bad-actor banks, on USAToday.com.
Lone SEC dissenter objects to letting banks off the hook, on Philly.com.
Commissioner Kara M. Stein's dissenting statement, on SEC.gov.