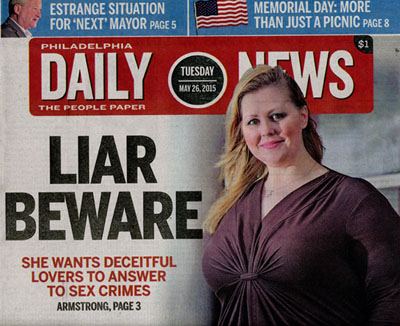 Lovefraud has followed the story of Mischele Lewis, of Florence Township, N.J., who fought back against William Allen Jordan, an bigamist and international con man. Jordan is now serving time for fraud.
After reading media coverage about her plight (the original story was written by  Donna Andersen for the Daily Mail), New Jersey Assemblyman Troy Singleton, D-Burlington, wrote a bill to make "sex by deception" illegal.
Yesterday, Mischele was on the cover of the Philadelphia Daily News, interviewed for a story about the bill. Here it is:
Watch out, lovers who lie! Sexual assault by deception could become a criminal offense, on Philly.com.
Will Allen Jordan, aka Will Allen, on Lovefraud.com.