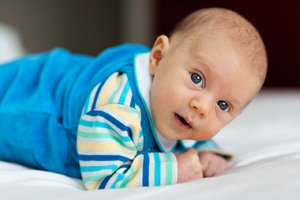 Recent research suggests that babies who prefer to look at a red ball, rather than a human face, may be at risk for developing callous-unemotional personality traits.
These traits, when seen in children, can precede the development of full-blown psychopathy.
Researchers at King's College in London studied five-week old babies. They hypothesized that babies who paid more attention to an inanimate object, rather than a human face, would show higher callous-unemotional traits when they were two and a half years old.
The researchers were right.
Callous-unemotional
Psychologists who study the origins of antisocial behavior have noted that people who turned out to be psychopaths as adults often exhibited callous-unemotional (CU) traits as children. These traits include a lack of responsiveness to, or concern for, another person's distress.
CU traits are often associated with offending and aggression.
The parenting that a child receives, as well as a child's early environment, are known to influence the development of callous-unemotional traits.
Importance of eye contact
Children at risk for developing CU traits often do not make eye contact with parents or care givers.
As the researchers in this study noted, "Eye contact occurs during interaction with a parent or caregiver and forms a critical component of an infant's early social communication, influencing the development of the social brain."
In the first few months of life, the researchers noted, faces are processed by a particular part of an infant's brain. This is thought to influence the development of the social brain network, which as the child grows, is responsible for recognizing and understanding social stimuli.
Failure to pay attention to a person's eyes may be present early in the development of CU traits, leading to an inability to respond to another person's distress.
Eventually, this could lead to the psychopath's well-known lack of empathy and remorse.
Study results
Even after controlling for other conditions such as deprivation, the study found that when the five-week-old babies preferred looking at a ball, rather than a human face, it predicted higher callous-unemotional traits when the children were two and a half years old.
The study authors caution that these children have not been evaluated at a later age to see if they begin to exhibit antisocial behavior or other psychopathic traits.
But they suggest that this "relatively basic perceptual bias" may influence a child's later ability to process social cues.
More information
Reduced face preference in infancy: a developmental precursor to callous-unemotional traits? on BiologicalPsychiatryJournal.com.
Can you tell if a baby will grow up to be a psychopath? on HuffingtonPost.com.
Thank you to the Lovefraud reader Jan7 for first posting on this topic.