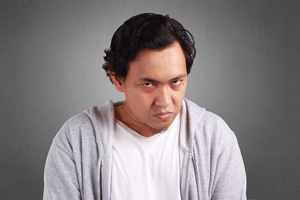 Sometimes evil sociopaths will tell us exactly who they are. Unfortunately, many of us refuse to believe them.
I've heard this many times from Lovefraud readers. Their romantic partner said things like:
"I'm really not a very nice person."

"You should get away from me. I'll ruin your life."

"I'm a sociopath."
But instead of running for the hills, the people who heard these statements stayed in the relationships. Needless to say, they turned out badly.
Why do we do it? Why, when someone comes out and tells us that they will hurt us — at least emotionally, if not worse — why do we ignore the warning and stay? I can think of several reasons:
We do not know that sociopaths exist
Approximately 12% of the population are sociopaths, meaning they could be diagnosed with antisocial, narcissistic, borderline, histrionic or psychopathic personality disorders. That means about 30 million adults in the United States, and 243 million around the world, are disordered. But no one tells us about them. No one teaches us the warning signs. So we are frighteningly clueless about the human predators who live all around us.
We believe everyone has good inside
Our society doesn't warn us about sociopaths, but we are bombarded with cultural messages like, "everyone has good inside," "we're all created equal," and "we're all God's children." We take these messages to heart, and therefore believe that we all want to do the right thing and treat others with love and respect. Yes, this is true of most people, but not of the sociopaths.
We believe love can heal the pain
We're aware of our own emotional wounds and baggage; we're looking for love to help heal them. We therefore assume the same is true for our partner — he or she has a wounded child inside that just needs to be loved and comforted. Especially when we hear horror stories about our partner's vicious, crazy exes, we believe that our love is different, and we are able to reach this person when everyone else has failed. Unfortunately this effort is doomed to fail, because sociopaths cannot love, and they cannot receive love.
We are already addicted to the relationship
Relationships with sociopaths are highly addictive, and the addiction can happen very quickly. We may already be feeling psychologically bonded. We've experienced intimacy — emotionally, physically or sexually — and this sent oxytocin coursing through our bodies, making us feel calm, trusting and content. We've also felt the rush of dopamine. The last thing we want to do is crush the buzz of our exciting romance.
Learn more: Sociopathic seduction — how you got hooked and why you stayed
We believe the statement is an anomaly
Yes, evil sociopaths may reveal their true natures, but they don't usually do it right away. We've already experienced the love bombing, the flattery, the sex, the promises for the future, so the admission of a dark side may seem totally contradictory to the person we think we know. Therefore, we assume our partner is depressed, anxious or having a bad day — not revealing the truth.
Take note of the warning
If your partner — or anyone for that matter — ever admits to being a sociopath, narcissist or psychopath, pay attention. If someone says they're not nice, or describes engaging in deceptive, manipulative or exploitative behavior, do not dismiss the warning and assume that they will never be that way with you.
Even if you don't want to believe the statement, at least take it seriously. It may be the best warning you'll ever get that you are involved with an evil sociopath.