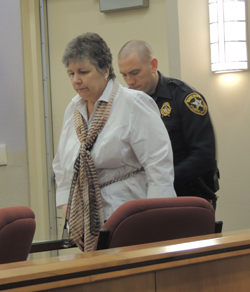 Loretta Doyle Burroughs, 63, of Mays Landing, New Jersey, is accused of murdering her husband, Daniel Burroughs, in 2007.
"This defendant killed her husband in cold blood, eviscerated his corpse and placed him in Tupperware to rot for seven years," said Seth Levy, Atlantic County chief assistant prosecutor, in his opening statement.
Photos of the remains were shown to the jury last week. Donna Andersen, covering the trial for the Daily Mail, obtained exclusive photos of the remains.
EXCLUSIVE: Photos of dismembered body parts positioned on a white sheet shown to horrified jurors as woman stands trial for stabbing her husband, chopping him up in pieces and then storing them in Tupperware containers, on DailyMail.co.uk.