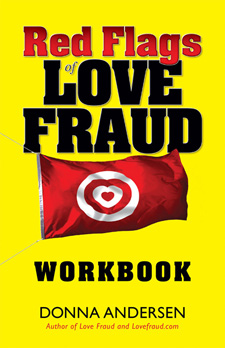 As I learned more and more about the depths of my one-time husband's deception and betrayal, one of the things I kept asking myself was this:
How did I get myself into this mess?
I was a college-educated journalist and business owner. I'd been dating for more than 20 years. Yet nothing this man promised me was real, and I couldn't see it until it was far too late.
How did this happen?
Since my personal experience, and hearing from thousands of Lovefraud readers, I've discovered that we all have vulnerabilities, and sociopaths are experts at finding them.
Recognizing our own vulnerabilities will help us understand why we were targeted, and what we have to do to recover. More importantly, knowing our vulnerabilities can keep us safe in the future.
To help you, I created the Red Flags of Lovefraud Workbook. And, now, for the first time, it is available as an ebook or a printed book.
This slim little pamphlet offers you the opportunity to gently look at your strengths and weaknesses, so you can evaluate for yourself how you were manipulated. And if you are still involved with the sociopath, it can help you plan your escape.
The Red Flags of Love Fraud Workbook covers the following topics:
Buying into the myths
Assessing your vulnerabilities
Trauma bonds
Your assets
Were you hooked by a sociopath?
Warnings about the individual
Sex
Power, control and dominance
Reality of the relationship
Analyzing your reactions
Leaving the sociopath
Escape
No Contact
Protecting yourself from predators
Making changes
Within each topic, you'll find checklists and/or questions to ask yourself. You can write your answers directly in the Workbook, whether you choose the ebook or the printed version.
If you want a more thorough explanation of any of the topics, the Workbook is designed to coordinate with my other book, Red Flags of Love Fraud 10 signs you're dating a sociopath.
The Red Flags of Love Fraud Workbook costs only $4.95, and it is available only from Lovefraud.com.
This book will help you see how you were, or could be, targeted. Get it now to protect yourself.
Red Flags of Love Fraud Workbook is available in the Lovefraud Store