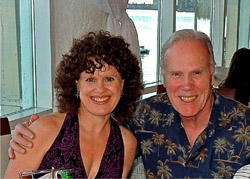 UPDATED FOR 2020
A girl walks into a bar. A band was playing and the place was packed, so there were no empty bar stools.
The girl had had a rough few years. First she married a man who turned out to be a con artist that took all her money. Then she dated a guy who wasn't a con artist, but broke her heart.
A tall, nice-looking man leaned against the bar. He offered the girl a place to put her coat. Then he offered to buy the girl a drink.
She accepted. They chatted. They danced. And they lived happily ever after.
This story is true. The girl is me, and this happened on April 28, 2001, when I met Terry Kelly, the man who became my husband.
Did I know on that day that I had met the man I would marry? No, I did not. The relationship evolved as relationships should.
But before I met him, I worked really hard to heal my heart, not only from the con artist, but from all my misconceptions that had made me vulnerable to the scam. I wasn't totally healed when I met Terry, but I was far enough along that I could once again risk opening my heart and hope to find love after the sociopath.
Overcoming the sociopath
Many, many Lovefraud readers wonder if they can again find love after the sociopath.
The answer is yes, you can. First, however, you need to recover from the sociopath.
There are two aspects to the recovery. One is overcoming the betrayal of the sociopath. This, of course, is not easy, and it is not instant.
Even if you were involved with the sociopath for only a short time, these relationships are very damaging. You may have suffered terrible abuse — emotional, psychological, financial, physical and/or sexual.
When you're just starting out, recovery may seem overwhelming. Every aspect of your life may be in shambles. So you chip away at it. You work on getting your finances stabilized. You work on processing the emotional pain. You work on rebuilding your health.
It is not unusual for the process to take several years. All you can do is slog through the mess. You keep going until you reach the other side.
Processing the emotions
Although rebuilding the physical and financial aspects of your life are important, the real work, with the real payoff, is in treating your emotional wounds.
Because of the sociopath, you are certainly feeling a full gamut of negative emotions: Anger, fear, betrayal, disappointment, embarrassment, grief, shame, hatred, anxiety and depression.
All these emotions need to be purged from your system. This is important for two reasons: First, if the emotions stay within you, they will fester and turn into some kind of illness. Secondly, the emotions will make you vulnerable to another sociopath. (That's why it's never a good idea to start dating before you have healed.)
How do you get the emotions out of your system? You allow yourself to experience them — preferably either alone or with the help of a competent therapist. You cry, moan, yell, curl up in a ball, pummel a punching bag — whatever it takes to release the emotional steam.
The original vulnerability
As you're doing this, you'll probably find that your negative emotions are attached to another experience in your life. Perhaps you had previous dysfunctional relationships or a bad childhood. Or even if you didn't suffer overt abuse, you may have developed negative beliefs about yourself, such as, "I'm not attractive," or "Nobody wants me."
When you remember these earlier experiences or beliefs, congratulate yourself, because you have discovered what made you vulnerable to the sociopath in the first place.
Once you see the connections, what do you do with them? You treat them exactly the same way that you treat the negative emotions caused by the sociopath. You allow yourself to experience the pain — in whatever way enables you to release it.
Again, this takes time.
Focusing on peace and joy
As you clear out the negative energy, be sure to replace it with good energy. How? By doing anything that makes you happy and brings you joy — anything from reading a good book to enjoying a walk in the park to spending time with friends.
By clearing out the pain and replacing it with peace, you shift your emotional structure and your outlook on life. This changes everything.
Then, you may someday walk into a bar, or someplace else, and meet the person with whom you can share a true and lasting love.