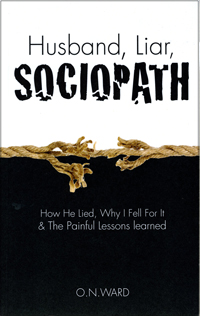 By O.N. Ward
For several months, I've posted an entry here every Thursday. Some entries have been edited excerpts from my book "Husband, Liar, Sociopath: How He Lied, Why I Fell For It & The Painful Lessons Learned" (available via Amazon.com, just click on the title or book cover) while others have been inspired by things I've read both on the Lovefraud website and elsewhere.
From this point forward, I'll be posting chapters from my book in order, one at a time.
Forward In Disguise
The book is a memoir about having my life entangled for about 20 years with someone I now believe is a sociopath. The experience was soul destroying and life altering. As my life and spirit became undone, what strength remained fueled me to understand how and why it had all happened. I had to write this book. I had to derive purpose from my pain. I had to share the knowledge that I paid such a high price to gain.
I wrote my story using a pseudonym and modified names, places, and specifics (both in the book and in all references to it), but not the dynamics. I wrote my story this way out of concern for my children and fear for my safety. My ex-husband's mantra is "I'll do whatever I want!" I believe him.  He scares me.
So, my name is not Onna, and my ex-husband's name is not Paul. I do not have a daughter named Jessica or a son named Daniel. I am not from Vermont, and I do not have an undergraduate degree from Harvard or an MBA from Yale. Yet, just as I do have more than one child and I do have multiple degrees from top colleges and universities, the essence of everything in this story is true—based on actual events, including conversations and bizarre behavior as best as I remember them or, later on, recorded in my journal. Twenty years after marrying Paul, I stumbled through a train-wrecked life, tried to salvage what I could, abandoned what I couldn't, and searched for understanding.
Someone who read my book wrote to me, "Your book represented clarity to my past life that I so desperately needed to find."  I hope this book can also bring additional clarity and closure to anyone who is struggling to heal from the trauma inflicted by a sociopath. For me the struggle has been long and hard, but I am healing. I am moving onward.
Chapter 1—He Deserves Me
During my first few months in Yale's MBA program, I hardly noticed Paul. Although we shared many courses, he rarely participated in class discussions, and our friends and study groups did not overlap.
That changed in January when Paul and I were assigned to the same team in a school-wide simulated business competition. When I learned who else was in my group, I felt both lucky and cursed. My team comprised some of the smartest but also the most egotistical students in the program—a potentially noxious combination if it led to head butting instead of problem-solving. If we could not figure out how to work together, I was in for two days of frustration and disaster rather than intellectual challenge and success. Ironically, Paul was not one of the students who concerned me. Like me, he was one of the older students in the program. Other than that, I knew little about him.
Each business school team was put in charge of a hypothetical company. We started with the same resources, but forty-eight hours later, after making a series of interdependent business decisions, only one would emerge the winner—the one with the most profit. After all, this was business school.
My fears about my team materialized immediately. After two hours, we had no assigned responsibilities or overall strategy. We were deadlocked, and the clock was ticking. While others postured like competing peacocks and engaged in unproductive discussions, Paul sat quietly, reviewing the materials provided and the interactions among our teammates. Then, in a moment of exasperation, he stood up and took control.
I don't know how Paul did it, but it happened seamlessly, with everyone suddenly willing to take on the roles and responsibilities Paul suggested. We worked hard, long hours, laughed a lot, and ate way too much junk food. Other than returning home to grab a few hours' sleep, the team spent most of the forty-eight hours together. With the clock down to zero, and with Paul still at the helm, we emerged victorious.
Over that weekend, I came to see Paul in a whole new light. In fact, I was smitten. When we were not crunching numbers or reviewing the moves our competition had made and how our pseudo company should respond, Paul and I opened up to each other. I told him that I was from Burlington, Vermont, where my dad was a professor of education at the university and my mom was a high school librarian. I had one brother, and my small family was athletic, shared a love of the outdoors, and was intellectually vibrant and emotionally close. I had considered an academic career in psychology, my undergraduate major, but I loved the immediacy and challenge of the business world.
Prior to returning to school to get an MBA, I had worked in the nonprofit sector and then, for about five years, in a small regional advertising company. It was more important for me to believe in what I was doing and to work with people I respected and enjoyed than to become wealthy. I still played squash, a sport in which I had competed nationally in my youth and as the top player at Harvard as an undergraduate. Hiking and cross-country skiing were other passions of mine. The outdoors, especially in winter, filled me with a sense of magic and wonder.
Paul seemed so modest that, at first, it was hard to get a lot out of him. Yet, after I opened up about myself, it seemed to break the ice, and he started telling me about himself. Paul joked about being picked last for teams throughout grade school and middle school and not even attempting to participate in organized sports in high school or college. As a late bloomer, he was now making up for lost time. Paul was an avid downhill skier and loved to work out and hike. He also enjoyed the outdoors, especially in winter. Like me, he said he was pursuing an MBA not because he wanted to pave a road to considerable financial and material wealth but because he valued having a challenging, rewarding career. Being intellectually alive was paramount to him. As Paul told me about himself, I felt an immediate connection. We were so much alike.
That weekend, Paul mentioned that he wanted to work hard for about ten years and then retire to a university town where he could teach and have an outdoors-oriented life, similar to the lifestyle I had known growing up and that my parents still enjoyed. From spending time skiing in Vermont, he adored the place and could see himself retiring there or to a similar location with mountains and snow. Paul also said he had volunteered with underprivileged kids prior to business school and could not wait to have more free time to do so again. I admired Paul for his leadership and for being helpful to others as well as for being unruffled in a high-powered academic environment that most people, including me, found taxing.
Like me, Paul had also been married before and had decided to go to business school as a fresh start after his divorce. His short marriage to Jenny, a fellow undergraduate at Stanford, ended when he discovered she was cheating. Paul was crushed. Trust and honesty were paramount to Paul, so he could not live with a wife who lied. He had made no attempt to mend the relationship.
Paul seemed shaken as he talked about Jenny's betrayal—his eyes glassy, his words deliberate, and his voice tight. Sometimes he stopped to regain his composure so he could continue his story of deep love and devastating heartbreak. I warmed to Paul. How could such a nice person be so mistreated by the woman he loved? Paul deserved so much better—he deserved me.
Go to next chapter:
Notes
Identifying names, places, events, characteristics, etc. that I discuss here and in my book have been altered to protect the identity of everyone involved.
Husband, Liar, Sociopath — How He Lied, Why I Fell For It & the Painful Lessons Learned, is available on Amazon.com.