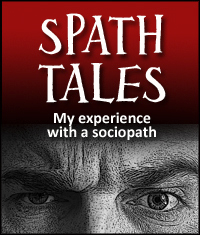 Editor's note: Lovefraud received the following story from a reader whom we'll call, Marsha21. She believes her son is a sociopath, and describes his behavior from childhood to the present. Donna Andersen responds to her questions after her letter.
I think my son is a sociopath.
I say this with heaviness in my heart. Saying it out loud makes me sound like a terrible mother. I often chastise myself as to where I went wrong, how I could have done better, I take the blame.
I'm still not entirely convinced that he is, but I do know there is something definitely wrong with him (his whole life).
Even as a young child, I think he was manipulating me. Besides the "normal" things kids sometimes say when they are mad (I hate you mom), he used to say other things. I can't remember exactly what they were (who'd want to remember?) But what I remember most is the "shock" of hearing him say them. I remember the pain I felt from hearing him say those shocking things. I remember having to take a step back, and to hide my emotions (because even then I seemed to know that he took pleasure from it so I took that away with my blank expression).
He was in essence, using my love for him against me. He was trouble, fought me at home all the time, did poorly in school, threw rocks at parked cars (and got caught) and by the time he was 10, he was stealing. Anything and everything under the sun. The ONLY things I knew at the time that he stole was my loose change and loose dollar bills from my father (we lived upstairs from them).
Accepted his childhood lies
There were other things that seemed odd, but I would always dismiss them and accept whatever lie he told me even when my gut was telling me it didn't make any sense. What I learned about later in life (he told me himself) was that he stole bicycles and toys from friends, he stole a friend's mom's pocketbook, he stole magazines from the corner stores until he was caught and banned from them.
How could I have NOT known about all that?? How could all that have been going on under my roof and I didn't know? He told me the bike parts were thrown out, the toys were trades or gifts, the pocketbook he found in an alley.
I believed every one of his lies because I didn't want to face the ugly truth.
He then moved on to burglary of a friend's house in his teens, stealing from me an iPod, more change, and cartons of cigarettes. I had to take my most prized possessions and stick them in a closet and put a lock on the outside of it. I felt like I was living in a prison in my own home.
The outer door locks meant nothing when the person stealing is living inside those walls. I kept my pocketbook in my locked car. The final straw was the theft of 2 of my credit cards to which I promptly called the cops and had him arrested.
He was also in angry rages back then, punching doors, threatening to put me in the hospital. I got a restraining order so he couldn't come back.
Partying in the real world
Once he was in the real world, I hardly heard from him. He had to get 1-2 jobs to survive, sometimes he stayed at his dad's, a couple times he had his own apartment until he was kicked out of them for partying.
And he partied. He drank, he smoked, he did those little whip it canisters? You name it, he tried it. Countless car wrecks. It seemed he was on a self-destruct path and there was nothing I could do about it.
But I believed even then, that the reason I didn't hear from him too often was because he was a user and had no more use for me. (He knew I wouldn't put up with his b/s anymore.)
I already had anxiety from all the things his father put me through during the 3 years I was with him. I finally found the courage to leave him after my son was born and he barely had anything to do with his own child, only to have his child still turn out like him.
Dating a sociopathic woman
We really didn't reconnect again until he was much older, after I had already moved out of the state. He was dating a woman with a child, had an apartment, pretty steady job. I knew the person he was dating (she is my 2nd cousin). This woman is definitely a SPATH right down to the VD she passed on to my son. I begged him not to, he dated her anyways.
She wanted a child, I told him it was a bad idea, he did it anyways. They were like TNT and a match. Never a dull moment, plenty of fighting (excitement). She has been diagnosed with O.D.D. and D.I.D. and is a recovering heroin addict. After she relapsed, he broke up with her and kept his daughter.
We talked on the phone a lot then, started to have a good relationship, he seemed to become more responsible with a child even though he still smoked and drank after she was in bed. He struggled financially and here is where I started to feel manipulated once again.
He would video chat with me often with the baby. I think he realized that he couldn't toy with my emotional attachment to him anymore, but behold a child is born, my granddaughter. It worked. She is an innocent bystander in it all.
I sent him money on several occasions but really the only way I could help was for them to move to where I lived (with us until he could get out on his own). So a year after their breakup, he moved here with us. Originally the plan was to stay with us only until he could get his affairs in order and get a place of his own.
Her son moves in
She is now over 3 years old and I am again a hostage. I LOVE her to death and don't even feel comfortable with him having her all on his own without someone watching over them. I am trying to instill as many good traits in her as I can while she is here, I babysit as he works.
At first things were fine, then he seemed to turn back into that troubled teenager again. I let my guard down in our "new found relationship" and he was able to "shock" me once again. He comes out with such outlandish accusations against me that it floors me! He knows just what buttons to push to get me angry or upset. I never let him see me cry. But I have let the anger slip. Now I just walk away and don't say anything more when I see he is in one of his moods.
I thought he was close to my sister and her daughter who is the same age as him. They were attached to the baby also and would often help out on the weekends and give him a night or two off. (And probably gave him money from time to time.)
However, he was apparently just using them because he hardly talks to either of them now that he is down here and they can't be a free babysitter for him.
He's not like other sociopaths
But here's what's strange and different from everything I have now read on SPaths. For starters, he does NOT have a high IQ (he even dropped out of high school and seems to have a comprehension problem). He is NOT really charming or charismatic; he is more like a wallflower.

He seems to KNOW there is something wrong with him. He has come to me a few times since living here and asking me if he should go see someone. He says he knows there is something wrong, not sure what it is, and wants to get help. On the other hand, I have had the distinct thought that he was maybe trying to get a hold of some drugs the legal way but not take them as prescribed.
I should mention here he has quit smoking weed and isn't happy about it. He said it helped him. I'm not positive if he's really quit or not, and I think if he was around other people doing it, he would.
Which is another issue, he is a follower, not a leader. I think he may have low esteem but that doesn't stop him from always trying to look his best. He always has to have the perfect haircut and beard trimming. He wears name brand clothing and expensive sneakers along with an expansive baseball hat collection. Image is important to him although he says he doesn't care what other people think of him; he does it for himself.
Problems with rage and rules
He has talked about having a deep rage inside of him all the time. And I saw that in the beginning (or was that withdrawal symptoms?). I told him I had thought the anger had improved but he said no, it's still there, he's just better at controlling it.
I do know he is always keeping "score" and points out all the things he does for us "around the house." Then I have to point out that HE TOO lives here and is EXPECTED to do those things. He has no qualms with eating our prepared or takeout dinner foods although he won't buy or prepare food himself for us all. He takes every free thing he's offered.
I do know that he does have a hard time following rules and regulations, he's always been like that, and he's even admitted that. He even has said that if someone tells him one thing, he has a strong desire to do the opposite. Even when it comes to a job, he always feels like he knows how to do it best.
He often thinks everything revolves around him. That even new changes at work were being done to "test him." Or if someone wears a shirt like his, that he started a new trend. I have to keep telling him, not everything is about you.
He has also told me he does not like doing repetitive things and gets bored easily. He always has to be doing something or going somewhere. He'll go to the state park to swim in the lake even though we have a large 4' pool to swim in.
He also says he gets depressed a lot but I also don't know if he says that for sympathy or he thinks of it as a way to get more drugs. He hasn't gone to do that yet but then we don't give him sympathy either.
More lies and locks
I do know he still lies like a rug even over things he has no reason to lie about. I know most of the time he does it to try to stay out of trouble.
I do know we went back to our "lock" days, I dare not keep any of my prescriptions out or my money (just in case).
I know sometimes he tries using "guilt" to control me and get what he wants. For example, I charge him $50/wk for babysitting, and $50/wk for living here. He has told me countless times that none of his "friends' families" would charge them anything. Or a supposed coworker said it. I know he doesn't have too many friends and only a few girlfriends since he's been here and he has done the breaking up.
I know he doesn't take much responsibility for anything, blaming everything and everyone else. Or uses that to "justify" himself doing it even if it's illegal (like smoking weed). He'll say: everyone else is doing it.
Sometimes he seems totally normal
And he knows the history about his father and has told me it's like there are 2 people battling inside him (one good and one bad). So, I'm truly curious, is this one example of a person who is trying to battle being a SPath? He has so many similar characteristics according to the books I read including yours, however you seem to believe there is no changing, no improving. But oddly enough, sometimes he seems totally normal (not extra normal like charmingly) and then he goes through those other bad spells.
But I thought I'd share my story anyways because it seems most of your stories involve relationships like husband and wife and that is not my situation, I cannot just get a divorce. And because of my granddaughter, I cannot just kick him out. For her own safety and well being, I must become a prisoner again but would like to arm myself with as much knowledge as I can. Sorry this is so long, but there was no short way to tell my story.
Donna Andersen responds
Thank you, Marsha 21, for sharing your story. Although most of Lovefraud's information is related to sociopathic romantic partners, we have told the stories of parents who realize their own children are disordered. You can find them here:
Read more: For parents of sociopaths
You asked me, is this one example of a person who is trying to battle being a sociopath?
The first thing to understand is that sociopaths are not all the same. Yes, many are intelligent, charming and charismatic, but not all of them. There is a variety of sociopath that engages in a parasitic lifestyle, and your son seems to be doing that.
He is leveraging his daughter for both of them to live in your home for $100 per week. I do agree with you doing everything you can for your granddaughter, but in reality, your son has a cushy deal right now. You're providing him with room, board and babysitting services at a very low price. He'll probably be content to just stay there for a while. He'll also probably be able to maintain reasonable behavior as long as he feels like continuing to live with you.
Does that mean he is trying to overcome his disorder? I know you would like to think that, but I would caution you against getting your hopes up. He is just like his father. He has been disordered all of his life. Your son may be able to keep a lid on antisocial behavior as long as it suits him, but I don't think he will actually change is character. The ability to love and empathize develops in childhood. Because of his genetic disorder, your son never internalized the ability to love and empathize.
Your granddaughter
This is actually why it is so important that you are caring for your granddaughter. Both of her parents are disordered, so she is genetically at risk. While she is young, you have the opportunity to teach her about love and empathy. If you can do that, you may be able to divert her from growing up like her parents.
Learn more: Overcoming children's genetic risk for externalizing disorders
So yes, you may feel trapped. But you also may have the opportunity to save your granddaughter.