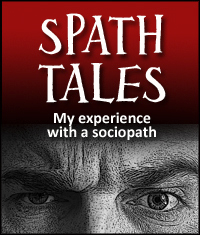 Editor's note: Lovefraud received the following story from a reader who posts as "refresh1."
It was a random comment I made to a mutual friend that started the whole nightmare.
I made a passing comment that this individual would be my 'end up with' guy… eventually one day we'd probably end up together – it was an off-the-cuff overly romanticised comment about a 'charmer' that had always tried to pursue me. I hadn't seen him for years and I was in a long term relationship of seven years with a nice guy at the time.
She told him!
Almost immediately the sociopath came into my life, turning up to where I worked, making excuses to come into the shop where I would serve him and he would make innuendo filled small talk – I was flattered.
Then on my 22nd birthday he really turned up the heat… seduced me with all the right words and behaviours and we kissed.
I knew it was a mistake and when he called me the next day I told him so. He begged me to give him a chance, he'd loved me for as long as he could remember and could even remember what I was wearing at the youth disco when he first laid eyes on me – I was just 11 at the time.
By now I was about to qualify as a teacher, he had completed his City and Guilds qualifications and of course he shared all of my ambitions.
I had a clear goal – get married, have four children, adopt 2 more – possibly children with disabilities and retire at 40 in a 7 bedroomed house with a swimming pool in a hot country far away from England where we both lived.
He bombarded me with flowers and gifts, insisted that I meet with him, starting running past my house where I lived with my parents and even camped out in my back garden… eventually I gave in.
It was perfect! He held my hand and public displays of affection were the norm. He introduced me to his family as his future wife and before I knew it he had rented us a small apartment to live in. Two years later and we were married.
We travelled a lot, enjoyed expensive nights out and designers bags/watches. Before long we bought our first house. We both enjoyed holidays together and separately with our friends. We renovated the property and made money. Before long we were making plans to emigrate and we had our first baby boy. I was well and truly invested.

He got a job in Dubai and I followed, he 'helpfully' sent out my CV to a number of employers and luckily I received a job offer before we left England. Good job, since when we arrived in Dubai, his job offer had fallen through. We struggled for a couple of years and son number 2 was born.
When he explained after job number 4 that the 'economic climate' was preventing him from securing employment we returned to the UK. I immediately returned to work as a Deputy Headteacher and son number 3 was on his way.
Out of the blue I received a call one day at work from an employer in Abu Dhabi that had received my CV and they invited my to a job interview the following day in London (quite a trek from my hometown). He of course was so happy and supportive that he drove me 'heavily pregnant' to the interview and I was offered the job almost immediately.
The next day we welcome son number 3 and made plans to emigrate to Abu Dhabi. Again he struggled with holding down a job and after just one year we returned to the UK – by this point I was pregnant with son number 4.
I had travelled from Abu Dhabi to complete my headteacher qualification – of course he lovingly organised the flights, the cheapest he could find, with various connections and by the time I arrived I was emotionally and physically exhausted.
In the meantime, he was enjoying luxury skiing holidays with the lads.
I completed my qualification and secured my first headteacher position in a school I loved! This was it! I had my perfect husband, my perfect life and my perfect family – my four boys. We had a 3 bedroomed detached house, a rental apartment and a plot of land. We used the money from my savings, some inheritance and gratuity payment to build a house and then sold our family home to move into it.
Then we went to buy another house and the mortgage application failed! He said it was my brother or his brother…something.
Then the whole thing started to unravel right before my eyes.
I was so invested that I couldn't wouldn't see it and refused to accept it! We all make mistakes right? So when he told me that the real reason was that the flat we had was too difficult to rent and maintain so it had been repossessed, he didn't want to worry me he took care of it but 'we broke even.'
I thanked him for taking the burden and responsibility – I would have been so stressed – thank goodness I had him to take care of things right?
Then when I found another job opportunity in Dubai where I was so happy he told me that we couldn't because they had accidentally sent me too much gratuity and we could get into trouble. For the next couple of years I questioned him about that, it didn't make sense – if they'd paid us in error all we needed to do was pay it back, right?
Then there was the 25K deposit we paid for a house in Abu Dhabi that didn't get built! He was so angry… he followed the developer around and eventually came away with a signed autobiography which he was furious about and of course, who wouldn't be right?
Then I received a message from my friend saying that a bank had contacted her for my husband's details. I confronted him, I was going mad, it didn't make sense… I knew he was lying and I went to speak to my parents… my dad knew – he knew that the flat had been repossessed (my brother had told him – he and my husband were friends) I confronted him and he lied – I threw him out – that was it!
But what a waste, he wouldn't lie to me again, he'd learned his lesson, he told me other lies in the past but always had a reasonable explanation. He was so sorry, so sorry that he proposed! He booked a beautiful ceremony to renew our wedding vows in Ibiza and hired a singer to sing our original wedding song, It was beautiful.
We were starting afresh! We had it all! We were building the seven bedroomed house of 'our' dreams and had another property, we started a property development company and soon we had 2 houses.
I retired from work, financially secure, now it was my time to be a mum, work hands on with the renovation and building work – it was July 2014.
The more I got to know, the more questions I started to ask and he changed, right there and then, almost instantly! We argued constantly and I couldn't understand why he was never at work… of course there was the one time I had come home from work unexpectedly and caught him in bed with his suit on but we laughed it off – my friends and I called him 'Chandler Bing' from friends because we never were quite sure what he was doing…
Then people were stopping me in the street asking if he had any houses available to rent, sure he was a bit of an exaggerator but he always said 'if you're boring, exaggerate!' To keep me busy he came up with another business venture – an astroturf company and I was going to run it whilst he took care of the houses.
Literally within months – the whole thing had imploded, he literally turned evil, he would walk past me, look me up and down and say 'you're a F***king joke you. He said I should take more care of myself and get a decent job if I was so bothered about money.
He assaulted me again (the first time had been 10 years ago and it was due to steroid abuse so I didn't count that… nor did I report it). He looked over me as I lay on the floor and laughed, he told me I deserved it!
I begged him to forgive me for 'pushing him too far' and I apologised over and over again. We went to marriage counseling and the counselor saw straight through it. He referred him for anger management and off he went every week and return full of lies and pent up anger, then came the letter to say he hadn't attended, then I found out he'd been sacked again, then off he went on his lads holiday.
The businesses were a mess, in debt and I couldn't make sense of anything. The jobs were a mess, we were getting emails about his reckless driving, complaints were coming in thick and fast and I was paying compensation now out of my own savings to try and salvage what was left.
A couple of days after he returned he screamed and shouted, swearing in my face and he walked out, I packed everything he owned and dumped it on his mother's front lawn.
He 'tried' to come back after that and bought me gifts but I was destroyed. I started counseling and turned to domestic violence helplines, the Samaritans and anyone I could to help me make sense of what the hell just happened.
I had no money, no career and no self-esteem. He was out partying all the time and I was trying to keep some normality and protect the boys. He went in his brand new Audi A1 (company car) to the food bank and delivered charity food to our house and my mum bought the rest of my shopping. I sold furniture to pay for school dinners and had nothing.
I remember the time that I heard him lie to my brother about me and I lost control, he apologised because he had been caught out and told me another story of how he suffered as a child.
People were asking me why I had 'really' given up work – he had told them I had been sacked for bullying. I lost some of my best friends!
I remember the time that I fell out with my dad – I was really upset and he 'being the hero' went and spoke to him and my dad came to see me – I was so grateful!
When I reminded my mum of this she told me that he had been to tell them that I was psychologically ill and that he needed their support to get me some professional help. The children were apparently in danger and he needed to protect them.
I filed for divorce, he ignored, I resent recorded, he ignored, I had him served in person and he denied his identity- had to be photo ID'd.
I still let him stay at the house on Christmas Eve for the sake of the children, they were staying with him alternate weekends and New Year. It was New Year 2016 and it was the worst night of my life!
The children's behaviour was changing – he sent me emails saying 'I know I am ill, I am going for counseling – I have booked in sessions.' He started a new job and was 'working away' enjoying steaks whilst me and the children were living off charity food… of course I then found his fake name and profile on a well-known dating website – his comments made me feel sick.
I put a tracker on his car and hired a private investigator because his lies were making me insane. I watched on my tracker app as he drove to his meeting and then flew to Thailand. He was driving to his new girlfriends house – 20 year younger than him and the photographs that were taken by the private investigator showed him getting off of the plane with her and staying over at the hotel.
I knew that without seeing it with my own eyes, I was not capable of believing it, I was too brainwashed!
The children were scared. They said he was drink driving, I knew he was taking cocaine and he was involved in some very dangerous behaviour so I called social care for advice. They agreed that I should stop unsupervised contact.
I sent him a message explaining that due to his criminal activity and drug and alcohol abuse including drink driving with the children and paying taxi drivers to allow them to share seatbelts he could not see them unsupervised. I told him he could call them any time and visit at the house, my oldest son was collapsing at school at school, my second oldest was experiences stomach aches, and my third child was becoming increasingly aggressive.
After 8 months of little/ no contact I received a letter from court asking for overnight stays and contact. The judge ordered a social worker to visit the children individually on account of his allegations that I had poisoned them against him, that I was overreacting and that I had told them untrue and horrible stories about him – none of which was true!
Despite everything I had been through, was going through and the mental torture that was the divorce and hideous financial disclosure etc. NOTHING had prepared me for what was about to happen next.
After the first meeting, the social worker told me that the children all needed emergency trauma and abuse counseling for what they had suffered at the hands of their father throughout their lives, they told of incidents where they were beaten and terrified repeatedly, on one occasion my oldest son had recorded the abuse on his mobile telephone but had been bullied and threatened into deleting it.
My youngest son immediately developed a twitch and my world fell apart even more… they received trauma and abuse counseling for a year, my eldest son wrote a letter to the judge that started 'I have been abused by my father for 13 years and watched him abuse my brothers…' it was devastating.
Thankfully the social services and the children's social worker attended the final hearing and heard as the judge ordered 'no contact,' 'no direct or indirect or third party contact.'
He was of course secretly pleased and just up and left, 2 days later he flew on holiday – in divorce court upon his return he said he had been on a sunbed!
His lies were relentless, repeated and outrageous. My professional and social reputations were smashed apart and everybody believed him – even the people who know he is a liar and always has been.
He is still with his young girlfriend, of course – her step father is a multi millionaire.
The divorce proceedings ended and he lost – he wanted half of my pension for the years he had 'sacrificed his career to raise our children' he got none of it – not 1 percent! He got to keep one of our properties that he lived in with his girlfriend and 20% of the sale of the family home.
This website really helped me to see and realise what was happening. I read everything and everywhere I could and found strength in everything I could.
He broke into my house, stole my spare keys, had my car repossessed, stole my jewelry and tapped into my iCloud. I have bank accounts in my name that I didn't know about and despite evidence that he had done all of the transactions – he said he had permission, he was charged with perverting the course of public justice but presented a telephone recording that made the key witness statement 'questionable' and the case was withdrawn. He escaped a charge of mortgage fraud because the provider eventually received their money.
And on the final day of the divorce hearing he produced a bank statement from 10 years earlier proving that I was mentally ill and that I had known all along that he received the 25k cash back for the deposit on the house in Abu Dhabi, really? What about the signed book? What about the meetings with the developer?
The last 20 years of my life had been fake! A total and utter lie! A figment of my imagination!
This really is just a snippet of my story – I was well and truly duped, as were my family and friends… and my children.
The final court date was in May 2018. Since then, I sold my house, went back to work, secured a job offer in Dubai, went back to court for a relocation order enabling me to take the children to live abroad permanently.
I now live in Dubai, the children have never been happier, they are finally starting to believe that I wasn't 'in on it.'
We are still recovering and he is still trying to control. I have a new address, email and telephone number – he still messages my friends on social media and enjoys gaslighting, but I don't get to hear about it much.
The final demand he had was that I 'meet him in a park with the children' then he would agree to sign the relocation papers. I refused and presented the message to the judge who instructed him to sign the document and return it to me within 14 days or he would be charged with contempt of court.