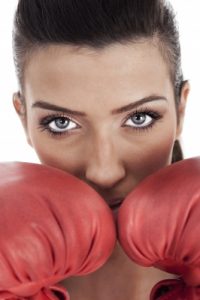 Sociopaths do not believe that the rules apply to them. They do not fight fair.
Therefore, if you choose to fight a sociopath, or if you have no choice but to fight a sociopath, your own fighting style will need to become aggressive as well.
If you're a nice person, if you typically want to do what's fair for everyone involved — well, that doesn't work with a sociopath. A sociopath's objective is not to be fair. It's to win, and possibly annihilate you in the process.
To survive the battle, you'll need to act in a way that is probably contrary to your nature. It will be uncomfortable, but necessary.
First decision — do you fight?
Here's the first and most important decision: Do you fight at all?
Typically, fighting means a legal battle. Here are a few things you need to know about going to court against a sociopath:
Sociopaths love going to court. Often they'll be cool and collected, while you have a meltdown, which makes you look bad.
Sociopaths often hire sociopathic attorneys, so they'll be tag-teaming you.
Sociopaths lie in court. They also get witnesses to lie, either knowingly or unknowingly.
Judges frequently don't understand sociopaths and may not see through the lies.
Court costs money. Sociopaths will keep the battle going until you no longer have the money to fight.
You may know the truth, but may not be able to prove it. Justice may not prevail.
Here are some previous Lovefraud articles on this topic:
Issues to consider before taking a sociopath to court
10 tactics for child custody battles with sociopaths
How to prepare for your child custody court battle against a sociopath
An open letter to lawyers who have clients involved with sociopaths
Staying engaged
As I've written many, many times on Lovefraud, the key to recovery from your experience with a sociopath is No Contact. You have to get the person out of your life, and then out of your head.
If you are fighting a battle with a sociopath, you are still engaged. This person and this effort will continue to drain your energy. It is difficult to move on with your recovery.
So here's the critical decision: What course of action will lead to your recovery the fastest? Even though you want justice, would it be better for you to write off your losses, walk away and start over?
Also, is your physical safety at risk? If the sociopath is violent, do you need to flee to protect your life?
Forced to fight
Some people insist that you should never fight a sociopath; they are so evil that it is impossible to win. I don't necessarily agree with that. I've heard from plenty of people who have won.
Yes, perhaps you should just leave. But sometimes standing up for yourself is the best way to achieve recovery. Sometimes you have to fight in order to protect yourself or the people you love. And sometimes sociopaths leave you no choice — they start the fight, and you have to defend yourself.
So if you are going to battle a sociopath, there will be times when you need to fight fire with fire.
Acting differently
Sociopaths tend to target people who are cooperative, considerate, and forthright citizens. These are wonderful traits — but not necessarily helpful when it comes to battling someone who has none of them.
You're going to need to think and act differently.
At the very least, you need to be guarded. Do not tell the sociopath what you are going to do. Do not tell anyone who might talk to the sociopath what you are going to do.
Do not worry about the sociopath's welfare. Do not try to protect him or her. I assure you, the sociopath is not worrying about you.
Do not assume that the sociopath wants to do the right thing, even when children are invovled. For the sociopath, winning is everything, no matter who gets hurt.
Following the rules
Sociopaths, as I said earlier, do not believe that the rules apply to them. Therefore, if you believe in following the rules, you are at a disadvantage in dealing with a sociopath.
For example, suppose you want a divorce. If you were married to a normal person, you could talk to your spouse, agree that the marriage was over, agree to split your bank accounts right down the middle, and you would both get half of the money.
If you were married to a sociopath, your best bet would be to decide on your own that you want the divorce, go to the bank and get your half of the money (or more), retain a lawyer and then serve the sociopath with divorce papers. You should not inform the sociopath in advance that you want a divorce, because once you got to the bank, all of the money would be gone.
In fighting a sociopath, sometimes you may need to bend the rules. Sometimes you may need to act first and worry about the rules later. I don't necessarily want to recommend that you break the law, but you do need to realize that laws may not serve you. If you're worried about violence or some other crime, remember that something bad has to happen before the police can take action.
I definitely had to bend the rules in dealing with my sociopathic ex-husband. If you want to learn what I did, I tell my whole story in my book, Love Fraud.
Aggressive action
Sociopaths only understand power. Perhaps you've been beaten down so long that you don't feel like you have any. Surprisingly, this may actually be a source of power, because the sociopath will underestimate you.
Make up your mind. Don't reveal your plans. Figure out where you can push the envelope. Then when you're ready, hit the sociopath with everything you've got. The element of surprise can help you win the fight.
If you must battle a sociopath, there is no win-win. You cannot be nice. You may need to find the strength for bold, aggressive action.