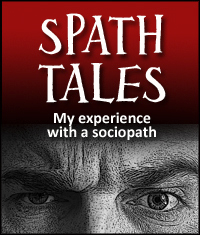 Editor's note: The following was written by the Lovefraud reader who posts as "Mother.Love."
Married him and had 2 children. After the second child we decided I could stay home as his construction business was doing well.
During that time, we remodeled a home, I was diagnosed with Breast Cancer and survived twice and raised 2 children with learning disabilities.
He wanted to build a new home and he became involved with a "spec" house. Unbeknownst to me he took out all the equity in the first house, lied to me about paying our taxes for 5 years, refused to set me up with a retirement account but he had one, didn't pay bills for 3 years, emptied all his accounts, was cheating on me while I was in chemotherapy, brainwashed my son that I was a "gold digger," all I did was sit around at home on the computer, that I spent ALL our money (I only got an allowance) and was never allowed to see our bank accounts, he accused me of the kids not being his, mocked my age, mocked everything about me, and on and on.
We had to file Bankruptcy, I received Innocent Spouse, we lost 2 homes to Foreclosure. During the Divorce I was demonized as not contributing to our finances AND I was blamed for his business failure.
He stole hundreds of thousands from customers, the banks, me and his children.
He lies on every Financial Affidavit in Court, Stole assets, left me penniless at 60 y'o with no job skills.
My divorce lawyer said "the Court has decided you can live on Social Services"…..
Since 2012 he has made an Offer in Compromise to the IRS but I can't get any records. His Income is so low that's impossible so he's taking Cash in his business. He's $12k behind in Child Support and hasn't spent one day in jail. He makes deal after deal, dishonors it and only gets a slap on the wrist.
I have contacted EVERY Legislator in the state, the State Atty General, Domestic Violence, the IRS, and NOBODY GIVES A HOOT ! It's like they're ALL assisting him in this Fraud.
PS – His family is friends with St Atty Gen who made a personal call to my Ex… with a "heads up"…. you know, guy to guy.
I am now facing round 3 of Breast Cancer….. I'm sure it's the Stress.
I can't go on Disability because I stayed home with my children, I lost 16 years of Social Security, my tiny retirement account is gone as I used it pay my rent, …
It's awful what's been ALLOWED to happen to us, the victims, while the System teaches him how to hurt us more everyday. I live under the thumb of the State because of Social Services while he runs amok…….. sickening.—