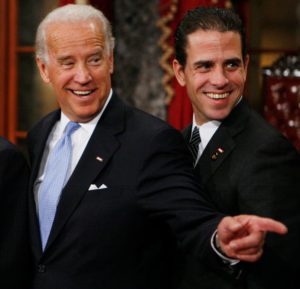 All of us who have tangled with sociopaths have experienced stonewalling. We ask a question. We demand to know what is going on. The sociopath refuses to answer, changes the subject and accuses us of being unfair, paranoid and mentally unbalanced.
Today we are witnessing a massive stonewalling campaign by big media and big tech in regards to the Joe Biden corruption allegations. Media and big tech are trying to prevent you from making an informed decision. This is truly frightening.
I am a journalist. I graduated from one of the premiere journalism schools in the United States, the S. I. Newhouse School of Public Communications at Syracuse University. I won the Gannet Foundation Award. I was taught that news reporting is supposed to be objective, and that our American democracy depends on a free and independent press. I was taught that our role as news reporters was to present both sides of an issue and let the people make up their own minds.
The gold standards of news reporting have all gone out the window.
Journalists reject objectivity in reporting
Today, some journalism professors have publicly called for the end of objectivity. "Journalists need to be overt and candid advocates for social justice, and it's hard to do that under the constraints of objectivity," says Ted Glasser, Stanford Department of Communications professor emeritus and former president of the Association for Education in Journalism and Mass Communication.
Jonathan Turley, a nationally recognized legal scholar and law professor at George Washington University, has been writing about the loss of neutrality and objectivity in journalism for four years. Academics and reporters reject "both sideism" as a trap and a form of racism, he says. Turley adds that publishing opposing views is dangerous to journalism careers.
Read: Stanford journalism professor rejects objectivity in journalism, on JonathanTurley.org
So today we have a situation in which a candidate for president of the United States has been accused of influence peddling, of attempting to make money from people associated with the Chinese Communist Party. This is the biggest news story of the presidential campaign, and most major American media have reported — absolutely nothing.
I am appalled.
Twitter, Facebook and Google censorship
A few media outlets, notably The New York Post and Fox News, have reported the Joe Biden corruption allegations. Then the next phase of the media blackout kicked in — these reports were censored by Twitter, Facebook and Google.
The New York Post broke the story that Hunter Biden's laptop contained emails describing his family's efforts to cash in with foreign companies and governments. Twitter banned users from tweeting the Post's articles and blocked the newspaper's entire Twitter account.
Facebook limited the distribution of the article. In testimony before the Senate, Mark Zuckerberg claimed the FBI warned him to be on the lookout for "hack-and-leak" disinformation, but admitted that no one contacted him about the New York Post article.
If you attempt to investigate Joe Biden corruption allegations on Google, you won't find any of the articles by the New York Post or Fox News in the top search results. As of Friday morning, here are the top two results, one of which claims Joe Biden committed no wrongdoing:
Lara Logan says the Hunter Biden emails expose Joe Biden's corruption, on KUSI.com
Fact check: Biden leveraged $1B in aid to Ukraine to oust corrupt prosecutor, not to help his son, on USAToday.com
What's going on here? Google is manipulating search results. Here's an experiment that you can try yourself. Type the search phrase "Joe Biden corruption" into the search engines Google, Yahoo!, Bing and Duckduckgo. You will see dramatically different results.
Google controls 92% of Internet search traffic. Psychologist Robert Epstein has calculated that through its efforts, the big tech company could switch 15 million votes in this election. Here's a scary interview that Dr. Epstein did Friday night with Tucker Carlson.
How free speech dies
I am truly worried about our ability, as a society, to learn the truth.
Mary Anastasia O'Grady recently wrote an article in the Wall Street Journal entitled How free speech dies. She explained that in countries like Cuba, Peru and Venezuela, the ideals of socialism were originally championed by intellectuals. She wrote:
Full-blown censorship is associated with totalitarian regimes using military enforcement. But dive into the tragedy of tyranny in the Americas and you often find, long before the consolidation of power, insidious support from public intellectuals for controlling thought and speech. Over and over again their role in the 'revolution' has been to define virtue and justice, and unleash the mob to denounce and condemn the unrepentant.
Think about how it all turned out in Cuba, Peru and Venezuela. Here in America, political correctness has morphed into the cancel culture and now to censorship. This is power and control on a grand scale. If we don't resist this, and make it our business to discover what we aren't readily being told, we will all soon be in big trouble.
Joe Biden corruption allegations
So, if you have heard vague rumors about the Joe Biden corruption allegations, but have been unable to find any details, here is a quick summary and some places to look for more information.
The basic allegation is that members of Joe Biden's family, specifically his son, Hunter, and brother, Jim, have been selling influence to people in foreign countries for decades.
The evidence to support this allegation comes from four sources.
Hunter Biden's laptop
Someone, allegedly Hunter Biden, dropped off a computer at a repair shop in Wilmington, Delaware, in April 2019, and never returned for it. The shop owner, John Paul Mac Isaac, looked at the hard drive and found emails that caused him to worry. The laptop was turned over to the FBI in December 2019. Mac Isaac retained a copy of the hard drive, and when he heard nothing more from the FBI, gave it to a friend, who gave it to Rudy Giuliani, who gave it to the New York Post.
Read:
Power and control by Twitter and Facebook, on Lovefraud.com
The computer contained many emails that alluded to Jim Biden, Hunter Biden and their associates pursuing international deals. One of the most incriminating was sent on May 13, 2017, by James Gilliar, a Biden family associate, to Tony Bobulinski, whom the Bidens were courting to be CEO of their new venture. They wanted to do a deal with CEFC China Energy, a company that included several bigwigs who were members of the Chinese Communist Party.
The email outlined a provisional ownership agreement of the new venture, called SinoHawk Holdings (explanations in parentheses):
20 H (20% for Hunter Biden)
20 RW (20% for Rob Walker)
20 JG (20% for James Gilliar)
20 TB (20% for Tony Bobulinski)
10 Jim (10% for Jim Biden)
10 held by H for the big guy ? (10% held by Hunter for Joe Biden)
Read the actual email here:
The New York Post broke this story on October 14, 2020. No one — not Hunter Biden, not Joe Biden and not the Biden campaign — has said that the computer did not belong to Hunter or that the emails are fake.
Tony Bobulinski interview
Joe Biden has claimed on multiple occasions that he had no knowledge of his son's business activities. Tony Bobulinski, a Navy veteran and financier, says that isn't true. He was being recruited to run the SinoHawk venture, and he personally met with Joe Biden twice. He also verifies that "the big guy" mentioned in the above email from Hunter Biden's computer is Joe Biden.
Bobulinski was outraged when elected officials and media outlets said the Hunter Biden emails were part of a Russian disinformation campaign. He came from a family of Navy veterans, and he felt like he was being called a traitor. So Bobulinski did a 45-minute interview on the Tucker Carlson Tonight show, detailing what he saw. You can watch a portion of it here:
After his interview with Tucker Carlson, Bobulinski was interviewed for five hours by six FBI agents in reference to a money laundering investigation into Hunter Biden's activities. Bobulinski described himself as a "material witness."
Bevan Cooney emails
There's another trove of emails. Bevan Cooney was once in business with Hunter Biden and Devon Archer — until he was convicted and jailed for bond fraud. Devon Archer was also convicted and is awaiting sentencing.
Cooney contacted Peter Schweizer, a political consultant, writer and president of the Government Accountability Institute, and authorized Schweizer to access his Gmail account. Cooney essentially turned over 26,000 emails, which also described the Biden business dealings.
Here's an interview with Peter Schweizer:
U.S. Senate report on Hunter Biden, Burisma and Corruption
Finally, members of the United States Senate were already investigating Hunter Biden before all these stories broke. This is the report that Tony Bobulinski mentioned in the video above. Here are the first two paragraphs of a press release issued on September 23, 2020:
Washington — U.S. Senators Ron Johnson (R-Wis.), chairman of the Senate Homeland Security and Governmental Affairs Committee, and Chuck Grassley (R-Iowa), chairman of the Senate Finance Committee, released a report that revealed millions of dollars in questionable financial transactions between Hunter Biden and his associates and foreign individuals, including the wife of the former mayor of Moscow and individuals with ties to the Chinese Communist Party.

These were just some of the findings from their investigation into potential conflicts of interest arising from Hunter Biden accepting a position on the board of, and taking millions of dollars from, Burisma, a Ukrainian energy company with a long-standing reputation for corruption, while his father, Joe Biden, was vice president and the public face of the Obama administration's handling of Ukraine policy.
The report goes on to detail evidence of Hunter Biden's inappropriate business dealings. Read the one-page summary, or download the full report:
Johnson, Grassley Release report on conflicts-of-interest investigation, on hsgac.senate.gov.
Isn't this news?
The Joe Biden corruption allegations are very serious. This man is running for president of the United States. Don't you think journalists should be investigating them? Isn't this news?
Many people want to dismiss the Joe Biden corruption allegations because they help Donald Trump's political campaign. I am not necessarily a fan of Donald Trump. He is a flaming narcissist, but at least he's obvious about it — not like the covert narcissists many of us have encountered. And remember, I live and work in Atlantic City, New Jersey, where Trump once owned three casinos. I know of several businesspeople who lost their businesses because of slow pay and bankruptcy by Trump's casinos. I also heard stories of him cheating on his wife. I'm sure many Lovefraud readers have a visceral reaction to this man, because he reminds you of your ex-husband.
But what we're facing is far bigger than one narcissist. It is a society-wide attempt at controlling what we hear and think, cloaked in an attitude of righteous indignation. Those of us who have been involved with sociopaths have seen this act before, and know that it's dangerous.
I want the free flow information. I believe that reporters should do their jobs, present the information and let us decide what we think about it. And when news is published, I believe tech companies should not censor it.
If you agree with me, you'll have to work to find the information you want. I just discovered a site that may help. It's called Newzit, and describes itself as a "new and unbiased search and aggregation tool for bona fide new sites only." Newzit appears to be affiliated with the Daily Mail, a publication that I've written for. Yes, the Daily Mail is sensational, but the stories are real, and I know for a fact that the editors do their jobs.
So if you want more information about the Joe Biden corruption allegations and other real news, here are a few places to look: