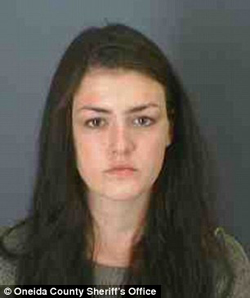 Kaitlyn Conley, 24, was sentenced to 23 years in prison for fatally poisoning her boss.
The victim was Mary Yoder, 60, of Whitesboro, New York, a chiropractor. Yoder was also the mother of Conley's ex-boyfriend.
During the sentencing, William Yoder, the victim's husband, said Kaitlyn Conley "had a fight with my son … and then murdered his mother."
Kaitlyn Conley sentenced to 23 years for the death of her ex-boyfriend's mother, on NewYorkUpstate.com.
Story suggested by a Lovefraud reader, who was a relative of the victim.
.