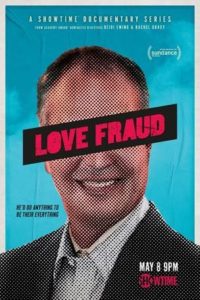 Love Fraud, a four-part docu-series, is coming to Showtime beginning Sunday, Aug. 30, at 9 pm ET. It's not my story, but that's okay — I'm all in favor of anyone drawing attention to the massive problem of sociopaths using love to manipulate and exploit people. I will be discussing each episode of Love Fraud on Showtime on my Lovefraud Live! YouTube show beginning Tuesday, Sept. 1 at 8 pm ET.
This four-part docu-series follows the search for one man, Richard Scott Smith, who over the past 20 years has used the Internet and his dubious charms to prey upon unsuspecting women in search of love — conning them out of their money and dignity. The story as it unravels in real time, as his victims band together to seek sweet revenge by turning to a bounty hunter when they feel the justice system has failed them.
The series, directed by Emmy Winners Heidi Ewing and Rachel Grady, premiered on the first night of the Sundance Film Festival. "Love Fraud on Showtime is a sublime blend of true crime, female empowerment and an unnerving psychological portrait," said Vinnie Malhotra, Executive Vice President, Nonfiction Programming, Showtime Networks Inc. "Heidi and Rachel have turned the true crime genre on its head with this revenge tale full of eccentricities that ring both haunting and, in some cases, amusing."
Reviewers like the show. "A twisty, expectation-defying story of romance and deceit in the digital age," wrote Daniel Fienberg on Hollywood Reporter.
Kristen Lopez of Indiewire wrote, "It's not about a group of women sitting down to warn others of the dangers of dating; it's about a gang of women hellbent on obtaining revenge and justice by any means necessary. "This broken hearts club is out to break some skulls."
According to reviewers who have seen the show, it spends some time trying to figure out why Richard Scott Smith does what he does. I am interested to see what the explanations are, so I'll be watching every episode of Love Fraud on Showtime. Then I'll give you my interpretations on my YouTube show following each episode — join the conversation!
Subscribe to the Lovefraud Live! Youtube channel
Love Fraud — the original story
Love Fraud on Showtime, of course, is using the same title as this website and my original book, Love Fraud — How marriage to a sociopath fulfilled my spiritual plan. (In case you're wondering, this is legal — titles cannot be copyrighted.) My book is celebrating its 10th anniversary — it was published on August 25, 2010,
Love Fraud is available in the Lovefraud Bookstore
Love Fraud, the book, tells two parallel stories. The first is the outrageous story of my marriage to a sociopathic con artist, James Montgomery, originally of Sydney, Australia. Montgomery took $227,000 from me, cheated with at least six women during a two-and-a-half year relationship, had a child with one of them, and 10 days after I left him, married the mother of the child. It was the second time he committed bigamy.
The second story is my personal spiritual journey. Seeking to understand why my life was ravaged, I searched for answers within, and discovered that the object of the exercise was for me to experience and then release the devastating betrayal so that I could return to wholeness.
Although Love Fraud is a work of non-fiction and everything it the story is true, it is written with the lush description, empathetic character development and dramatic tension of a novel. The result is a riveting tale with a satisfying, inspirational ending.
Key points of Love Fraud
Sociopaths have no heart, no conscience and no remorse — and sometimes we engage with them for our own spiritual growth. This book:
Shows the true nature of sociopaths: no heart, no conscience and no remorse.
Portrays in-depth how sociopaths deceive and manipulate their victims.
Exposes the limitations of laws and social institutions in dealing with sociopaths.
Illustrates how metaphysical concepts play out in an individual life story.
Explains how traumas from past lives affect our present life.
Reveals how our souls choose painful lessons to help us return to wholeness.
Sociopaths make up approximately 12 percent of the population, which means there may be 30 million adult sociopaths in the United States. For people unaware of these human predators, Love Fraud is a stern warning. For people who have tangled with sociopaths, Love Fraud explains why it happens.
Read excerpts from the Love Fraud book
Join me on Youtube to discuss Love Fraud on Showtime
Once again, Love Fraud on Showtime airs for four Sundays, beginning Aug. 30. I will discuss each episode during my Lovefraud Live! Youtube show the following Tuesday. So join me. This is a live streaming show, so bring your questions and I'll answer them!