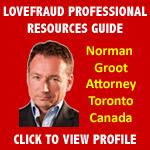 Lovefraud presents a series of Q&A articles with members of the Professional Resources Guide. Norman Groot is an attorney located in Toronto, Ontario, Canada.
Q. What experience have you had dealing with sociopaths or other disordered personalities—personally, professionally, or both?
A. Our law firm, Investigation Counsel PC, has litigated various cases on behalf of victims of "˜lovefraud.' In one case the victim was a gentleman with cerebral palsy who was scammed out of $800,000 by a woman who he met online. After approximately a year of courting, he proposed to her and she advised him that she was carrying his child. She was married at the time to a local drug dealer, and ultimately she faked her own death just weeks before the proposed marriage. We obtained judgment for the full amount of the loss and assisted the Crown in prosecuting her criminally, upon which she was sentenced to 4 ½ years of prison.  The money was spent on lifestyle and otherwise funneled out of the country. No recovery was made.
In another "˜lovefraud,' a gentleman was scammed out of approximately $80,000 by a woman he met through a phone dating agency. Through his investigation, we learned that she had perpetrated the same fraud on at least another dozen gentleman by using a false persona. The fraud went on for approximately three years before it was discovered. We obtained full judgment and are currently assisting the Crown in prosecuting her criminally. Again the money was spent on lifestyle and she has now left the country. To date no recovery has been made.
In yet another "˜lovefraud,' a woman was scammed out of $60,000 by her boyfriend who asked her to invest in a business opportunity. The scam came to light when the same fraud was perpetrated on six of her co-workers. We brought action and recovered $150,000 — being the full amount of the loss, as well as our legal fees. We also assisted the Crown in a simultaneous criminal prosecution.
Q. How do you go about helping clients who have tangled with a sociopath?
A. We investigate and litigate. Nothing more. Any emotional healing is left to other professionals.
Q. What, in your experience, is the biggest issue or problem that people who have been betrayed by a sociopath need to overcome?
A. The most significant issue victims of fraud have to deal with is the recovery from a breach of trust. It is difficult for most people to enter into normal trusting relationships subsequent to their trust being violated.
Q. What's one tip you can suggest for helping Lovefraud readers recover from the betrayal of a sociopath?
A. Open communication with those important in your life about the nature of your personal relationship is imperative.  In all cases of "˜lovefraud' that we have investigated and litigated, the victims did not disclose to their friends and family the true nature of their relationship with who they later learned was a "˜sociopath.'. Rather, each victim wanted to believe that their relationship could work or were embarrassed about certain factors of their relationship, and as a result did not receive any objective advice from those who they could actually trust; i.e. that their relationship may in fact being unhealthy and risky.