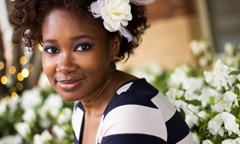 Kathy Morris, a 22-year-old who was about to graduate from the University of Maryland, was found dead on May 6, 2012. Authorities ruled her death a suicide.
Her mother, Rev. Marguerite Morris, believes the investigation was botched.
Kathy had secretly married a U.S. Army soldier. Rev. Morris believes the soldier married her daughter just so he could collect more money from the Army, which is fraud.
"She had all the documentation about the fraud and the next day's she's dead," Rev. Morris told the Capital Gazette. "And that's one reason why I push.
Mother of apparent suicide seeks answers, on CapitalGazette.com.
Here's Lovefraud's original story on this case:
Army Specialist Isaac Goodwin allegedly marries for money, and his wife commits suicide, in True Lovefraud Stories.