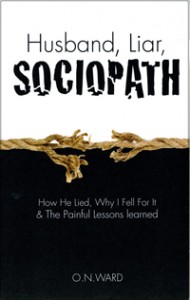 Every week, a chapter of my book, "Husband, Liar, Sociopath: How He Lied, Why I Fell For It & The Painful Lessons Learned" (available via Amazon.com, just click on the title or book cover) will be published here on Lovefraud. To read prior chapters, please see the links at the bottom of the post.
Chapter 37B: "It's Like Deja Vu All Over Again." (Yogi Berra)
Soon after, I required minor surgery. As I had with Jessica's testing, I involved Paul when setting a date for the procedure to ensure he would be available to help the kids and me. I was forced to reschedule my procedure two times, because Paul's work demands kept trumping my health needs. Two days before the surgery, he called me from Chicago.
"Something's come up," he said. "A huge account's at stake, and I can't get back. You can handle this, right? This client's worth lots of money. I need to stay."
I hung up the phone and cried. Nothing had changed. If my health and medical needs and those of the kids could not come first, not even for a single day, not even for something important, not even for something known about in advance, it just punctuated how little we mattered to Paul.
Friends helped me out, gave me rides to and from the hospital, and checked in on the kids and me in the days that followed. Paul remained missing in action in Chicago. I think I knew then, without realizing it consciously, that no need of mine or the children, no matter how big, could ever trump any need of Paul's, no matter how small. What I did not know at any level, conscious or subconscious, was that I was describing sociopath math perfectly.
Although the reality of my doomed marriage should have been inescapable at that moment, I had a problem that I did not have when I hit bottom years earlier. I had stayed in an increasingly hostile environment for far too long, and I was drained. Because I felt trapped, I was trapped. I was like the frog that had not detected the slowly rising water temperature. Finally, when the danger was clear, my body and my will were too weak to flee or fight.
If I hear one more talk show host ask a victim of domestic abuse, "Why did you stay?" and not really listen to the answer or try to understand the psychology of how emotional, psychological, financial, and/or physical abuse can rewire your brain and murder your soul, I will scream, because I do not think the interviewer is really looking for an answer. Instead, it is as if the questioner is seeking to label the victim as "weak" and "not like us." This creates a sense that the victim is different, and that perceived difference creates the comforting illusion that it could never happen to us or someone like us. They were weak; we are strong. They were naive; we are savvy. They were stupid; we are smart. They have no self-respect; we are self-assured. But this is wrong, false, naive, and downright irresponsible. It can happen to almost anyone, and our only defense against it is accepting this inconvenient reality and being alert to the signs that someone with whom we are emotionally involved might be a sociopath—a sociopath who will blind us with love and the fulfillment of our dreams while leading us down the road toward self-destruction.
Almost anyone can become the target of a sociopath, and someone like I was, like most of us, who does not understand this is at even greater risk of being targeted. We need to understand and defend ourselves from this brutal reality. Evil exists in the world. Sociopaths are real and frighteningly common. They will present themselves as Prince Charming, poison us slowly, transform into the devil, and then feed on our souls, all the while making us feel so emotionally weak and confused that we stay on the "What am I doing wrong?" treadmill, unknowingly sowing the seeds of our own destruction. We need to know this and to watch for those fleeting moments when the disguise falters and the truth is revealed.
If you have not experienced the emotional and psychological erosion at the hands of a master puppeteer, it is probably hard to comprehend how profoundly your life can be altered by living with such subtle but chronic toxicity. Your strength is sapped, your confidence in your ability to perceive, decide, or "be" is all but gone. You cannot will it back to life with overused clichés to "Buck up," "Get back on the horse," "Get on with your life," "Don't give him power over you," or "Just think—GIRL POWER." Your strength is not hidden in a box that you simply have to discover and reopen. Even if you find the box and pull back the lid, it will be all but empty. Confidence and strength have to be remade, rebuilt, and coaxed back to life from all that is left—dust. There is no quick fix once you are so depleted. The road back is long and hard.
Over the years of consistent and discretely worded criticism that devalued my role as a mother and wife and being gaslighted, I was no longer "me." Not only was I spent emotionally and altered psychologically, through a series of decisions that seemed to make sense at the time, I felt compromised financially as well. As the money started flowing from Paul and Anne-Marie's consulting business, I let my own business die. The kids' medical issues, the need to fill in the all too frequent gaps in education even at the best public schools, as well as the after-school lives of both children, became my priority. It was too exhausting to try to keep my business alive when it was not necessary to pay the bills. Daniel and Jessica needed me. I loved being their mother, coaching their teams, volunteering at their schools, applauding their victories, and wiping the occasional tear. And if not me, who? I had no family within 200 miles, and Paul was rarely available to help with homework, life, or even with transportation to and from an occasional after school event. He was just too important, too unpredictable, and too busy with work—or, if not work, too deserving of much needed recreation and relaxation, right?
Start from the beginning:
Go to previous chapter:
Go to the next chapter:
Notes
Identifying names, places, events, characteristics, etc. that I discuss here and in my book have been altered to protect the identity of everyone involved.