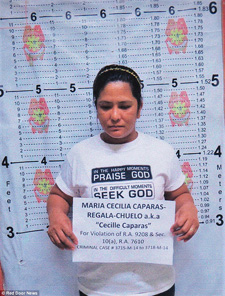 Maria Caparas-Regalachuelo of the Philippines, aka the "Sextortion Queen," boasts that it only takes 30 minutes to convince men to get naked and perform sex acts via Skype. Then she posts the videos to YouTube and threatens to send them to the victims' families, unless they pay up.
In an exclusive interview with the Daily Mail, she details exactly how the scam works. She has a crew of "chatters," mostly young girls and transgender men, who troll the Internet looking for targets. When they find a target, they play a pre-recorded video of an Asian woman performing a striptease, and then send a string of racy text messages.
The whole process is tightly scripted.
Caparas is now in prison in the Philippines. She claims to be sorry for her actions.
EXCLUSIVE: 'I trick stupid men into stripping naked then performing SEX acts on Skype': Chilling confession of 'Sextortion Queen' in Philippines who uses striptease and sordid sex-texts to blackmail Westerners online, on DailyMail.co.uk.