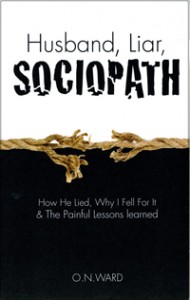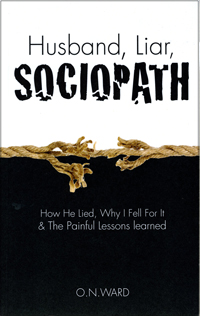 Every week, a chapter of my book, "Husband, Liar, Sociopath: How He Lied, Why I Fell For It & The Painful Lessons Learned" (available via Amazon.com, just click on the title or book cover) will be published here on Lovefraud. To read prior chapters, please see the links at the bottom of the post.
Chapter 38A:
I always considered Paul honorable and honest, so it took me an embarrassingly long time for inconsistencies in his version of events to register as what they were—lies. I knew my husband had faults and, in all likelihood, had had an affair with Anne-Marie, but it never occurred to me that he was fundamentally dishonest and a chronic liar. But I could not escape the observation that Paul lied seamlessly about even the smallest things.
One night, I asked Paul if he had locked up the house. That task typically fell to me, but I was not feeling well and had already gone to bed. "Of course," Paul replied. The next morning, I was up before Paul and noticed that the front door was unlocked and a window in the kitchen was wide open. From then on, when Paul told me he had locked up, I found an excuse to get a glass of milk or leave a note for myself in the kitchen, only to discover that Paul had lied about locking the house for the night. Perhaps it was just too beneath him or too much effort, and it was easier to lie than take the extra minute to check if the doors were secure and his family was safe.
Sociopaths lie for the sake of lying. They lie about little things. They lie about big things. Some people have observed that sociopaths will even lie when telling the truth would be more advantageous. Others have observed that sociopaths lie not only to cover up questionable and even nefarious activities but also to feel in control and to manipulate others for the sheer fun of it. Why lie about locking the house for the night or taking the dog for a walk or forwarding a phone message? That's just what sociopaths do. Dishonesty and chronic lying are their hallmarks.
One summer evening, on Daniel's twelfth birthday, we planned for Paul to pick up a pizza and be home no later than 6:30. I called in the pizza order. Paul knew the timing was important, because I had to leave by 7:00 to get both children to their sports practices forty minutes away. Daniel wanted a special mushroom and pepperoni pizza from his favorite pizza place, which happened to be close to Paul's office.
Daniel, Jessica, and I waited and waited. Six-thirty came and went. No Paul, no pizza, and no phone call. At 6:50, I called Paul's cell phone. No answer. At 6:55, there was still no sign of or word from Paul. Just as we were about to get in the car to leave, Paul pulled into the driveway. He got out of his car holding a pizza. It was 7:02.
"Where are you going?" he asked, his voice laced with annoyance.
"Practice. We'll just heat up the pizza when we get back," I said.
If you are a reasonably normal person and you did not get home on time with a pizza requested by your pre-teen son on his birthday, what would you do? Wouldn't you apologize and try to do your best to make it right. Not if you are a sociopath.
First, a sociopath does not care that his son is disappointed or hurt. With no empathy, a sociopath does not have even a flicker of concern for another human being's feelings, even those of his own child.
Second, a sociopath cares only about himself. The only true emotions he can experience are anger and frustration. (A sociopath can experience pleasure and pain, but those are sensations, not emotions.) Paul felt frustrated and angry that he took time to stop whatever he was doing to get a pizza and to get home before he really wanted to be there. Now his family was leaving, and he would be alone (something he detested, because sociopaths dislike being bored), and it was not even the kind of pizza he liked. The fact that he knew his family had to leave at 7:00 did not mitigate the fact that he was the one who had been inconvenienced and he was the one who felt abandoned.
Third, a sociopath never thinks he does anything wrong, because he is an inherently superior being. If something has gone awry, it must be someone else's fault. As always, I was a convenient target of Paul's blame. I had grown accustomed to being held responsible for everything from misplaced credit card invoices (I had not figured out yet that Paul took them on purpose and hid or destroyed them so I would not notice his spending on "extracurricular activities") to having no socks to wear (the fact he never put them in the laundry hamper was my fault somehow) that I hardly noticed.
Start from the beginning:
Go to previous chapter:
Notes
Identifying names, places, events, characteristics, etc. that I discuss here and in my book have been altered to protect the identity of everyone involved.