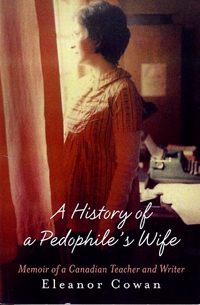 By Eleanor Cowan
During our coffee break at our desks, my co-volunteer at a local community center, a fundamentalist religious whom I'll call "Barb," asked, in a warm manner, if this was the week I'd finally accept her invitation to attend her evening sacred text group. On four previous occasions, I'd declined her invite. This time Barb pressed me for a "viable reason."
I quoted Timothy 2:12, "A woman must learn in quietness and full submissiveness. I do not permit a woman to teach or exercise authority over a man; she is to remain quiet."
Barb, an anxious older woman, replied that every such word, phrase or sentiment can be interpreted with the help of a knowledgeable theologian. She offered to pick me up on Thursday and we'd zip over to her cleric for help. He would, she said, be delighted she'd brought me along.
"But Barb," I replied, "I don't need any help in understanding the passage." I offered Barb a technique called "opposites," one that works to highlight glaring differences.
"Let's flip the passage a bit. What if it read: 'Timothy 2:12: "A man must learn in quietness and full submissiveness. I do not permit a man to teach or exercise authority over a woman; he is to remain quiet."' Now, Barb, do you think that would be fair?"
"It's not my place to interpret or change sacred text," she said, her lips pinched closed.
"Whoever told you that, Barb? You have a right to decipher meaning for yourself. It doesn't take a rocket scientist to figure out the general theme of Timothy's quote, does it?"
It dawned on me that Barb was living the injunction in Timothy's passage. She was being submissive. Was it possible she thought so little of herself? Who told her that her role was merely to bring newcomers to the fold?
It was Barb's lunch break. "All blessings, then, Eleanor," she smiled as she walked to the kitchen to eat her sandwich at the staff table. A half-hour later, her lunch-mate confronted me.
"You've upset Barb, Eleanor. Look, she's a simple, sweet, unassuming woman who loves her God with all her heart. She's all alone in this sorry world and hugely appreciated by this preacher she's so attached to. Every time she brings in new people he praises her to the rooftops. His attention means everything to her. So how 'bout you leave it at that? She's not into interpreting complex ancient passages either. She simply invites you and others as she is requested to do, every week, by the cleric in charge. She's just following orders, no more, no less, end of story."
Apparently, I was now the bad guy, the upsetting delinquent who'd jostled the status quo. I'd offended the norm. My offer to talk things over between us was offensive?
Was I not entitled to my feelings too? The passage I'd quoted to Barb, Timothy's ordinance of submission and silence specifically for women, denoted, to me, notions of ownership. Possession. Submission. Proprietorship. Hierarchy. In other words, legalized patriarchy.
I wondered, what had happened to Barb? How come she could comfortably talk about the newest cataract surgery but not about two lines of her own sacred text?
When Barb left that day, we waved goodbye from a distance. Silence had indeed ruled.
Barb once shared with me that she'd married a pedophile. When I said, "Me too," she hastened to add that upon that horrible discovery, after the arrest and imprisonment, she wished only one thing for her ex and for all pedophiles: That they are lined up and shot dead.
"Right?" she asked, seeking my full accord.
"No! Not at all," I replied. "My ex came from a big, neglectful family who never introspected. They never examined their polished, public personas which, over time, unraveled on their own. They never ever talked things over and swiftly muffled any complaint of injustice. So yeah, that roiling nest of unquestioning obedience could indeed produce a miscreant."
"So, they should all trot off, scot- free?" Barb asked
"No, of course not, Barb. I left my ex. I reported him, twice, to the authorities. I did my investigative work and still do, not of his life, but of my own. Isn't it about repair over revenge?
"Today sexual health centers all over the world offer help to people brave enough to admit they're attracted to children. I value those who study the malaise that perpetuates this crime."
"I'll be happy when I read his obit," she said, dismissing the conversation.
Months later, I overheard Barb solicit another newcomer to her church. The volunteer, a single mom new to Alberta, accepted her invitation.
"Guaranteed, you'll never, ever be lonely again," Barb reassured her, a comment which, to me, betrayed Barb's main motive for membership in her group. "I have many friends, endless get-togethers, weekend retreats and there's even a summer camp-out for families!"
As I walked home that day, I thought about our critical belongingness needs. We all need a spot to peg our tent. I know how grateful I am to eat supper with someone who loves me, and for caring calls with my treasured friends. I really do get it.
I also get that our huge needs for inclusion can be highjacked, milked, compromised and manipulated quite easily by those skilled at spotting the vulnerability in others. I wondered if Barb was but an unwitting pawn, her passive, pleasant nature perfect for the mercenary objectives of the preacher, someone content to ignore Barb's toxic rage at her ex-husband while exploiting her to grow his flock.
Barb deserves a far better life than earning a pat on the head for boosting attendance. I believe that if she truly faces herself, she'll find her own voice.
Eleanor Cowan is author of "A History of a Pedophile's Wife," which is available on Amazon.com. Visit her at eleanorcowan.ca