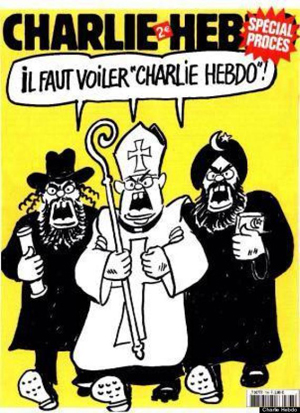 Three Islamist terrorists shot dead 12 people at the Charlie Hebdo satire magazine in Paris, including four famous cartoonists.
The magazine was targeted because its cartoons supposedly defamed the Prophet Muhammad.
Actually, Charlie Hebdo was an equal-opportunity offender. The publication criticized anyone who deserved it.
In solidarity with Charlie Hebdo, which was among the few media outlets willing to draw attention to evil, Lovefraud has posted one of their cartoons. You can see more here:
These are the Charlie Hebdo cartoons that terrorists thought were worth killing over, on HuffingtonPost.com.
And here are tributes drawn by other cartoonists from around the world:
Charlie Hebdo: Cartoonists pay tribute to fallen satirists, on CNN.com.
Breeding terrorists
After the Islamic terrorist killed 12 people at the Charlie Hebdo office in Paris on January 7, 2015, another Islamic terrorist killed a French policewoman yesterday and two people in a kosher grocery store today. (The total number of dead hostages in the store was later updated to four.)
Two dead in new Paris siege: Gunman takes six hostages including woman and four children in kosher grocery — and police fear it is the same killer who killed policewoman yesterday, on DailyMail.co.uk.
Cold-blooded murder is sociopathic behavior.
The terrorists may not have started out life as sociopaths. But the combination of disaffection with their lives and brainwashing by radical imams enables them to commit atrocious acts, and believe their actions are justified.
Inside the immigrant ghettoes where terror breeds: Concrete warren divided into 'boxes' houses 10,000 Muslims in grim Parisian enclave, on DailyMail.co.uk.
But somewhere in the jihadist hierarchy, sociopaths rule. The leaders of Islamic terrorist organizations, the masterminds of terrorists plots, are more like cult leaders than prophets.
Cult leaders are sociopaths on steroids.
Speaking up about evil
The attack on Charlie Hebdo highlights a key sociopathic tactic: Silencing opposition.
This is a tactic that many Lovefraud readers have experienced. From the pedophile who subtly cajoles a kid with "don't tell Mommy," to the sociopathic spouse who launches a smear campaign so that the target won't be believed, to the disordered business partner who files defamation lawsuits, sociopaths do everything they can to keep people quiet.
I hope this shocking assault on Charlie Hebdo and the city of Paris wakes people up. We need to recognize evil in all its forms and speak up about it.
In silence, evil thrives.