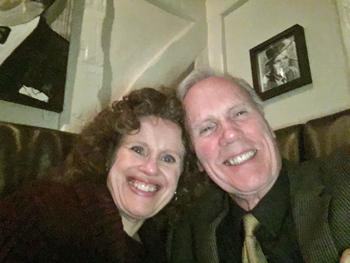 I've written quite a few times about the wonderful relationship that I have with my husband, Terry Kelly. Yes, there is love after a sociopath.
Terry is my business partner in Lovefraud. He funded building the website and the printing of my books. When business decisions about Lovefraud need to be made, he's my consultant. He even handles shipping when we receive book orders.
I'm writing this as I sit in the ICU waiting room of our local hospital. Terry suffered a heart attack on Tuesday. It's been a long week.
This came totally out of the blue. Terry does not have any of the typical risk factors of heart disease. No family history. No smoking. He's not overweight, he eats well, he exercises.
I was at my desk Tuesday morning, working on Lovefraud, when Terry left to go the gym. Then he went to the nearby Acme supermarket. There, he collapsed.
Luckily Acme had an AED (automated external defibrillator), and store employees started working on him right away. They called 911; an ambulance took him to the hospital.
My phone rang it was the emergency room. They wanted me to come right away. All they told me was that he collapsed.
When I got to the hospital, the doctors had already taken him for a catheterization. Afterwards, the doctor came out to talk to me. "Your husband is lucky to be alive," she said.
Afterwards they moved Terry to the ICU. I was standing there when the nurses asked Terry to raise his hand, and nod his head. He could not follow directions. They became concerned about brain damage.
So they initiated a "therapeutic hypothermia," which meant they cooled his body temperature down to 32 degrees celsius for 24 hours. To do it, they had to give Terry a heavy sedative.
After the 24 hours, they slowly warmed Terry up again. Eventually they took him off the sedative. But it takes a long time for the sedative to wear off. So my husband was unconscious, or barely conscious, for five days.
And the entire time, no one knew if Terry had suffered neurological damage.
Yesterday, Terry finally started waking up. As the day progressed, he became more and more coherent. He still couldn't talk, because he had a breathing tubes in his throat. But he could respond appropriately.
A nurse asked him if he was in pain, and he nodded "yes." They gave him medicine. Later, another nurse, having learned that Terry was a drummer, asked if he would give her drum lessons when he got better. He nodded "yes" again.
Terry's family and our neighbors visited, and he recognized everyone, responded appropriately to conversation, and waved goodbye.
This was a huge improvement. I slowly began to feel that maybe, just maybe, my life wasn't going to fall apart again.
Terry almost died. His heart stopped. If he hadn't collapsed in the supermarket, if the supermarket didn't have the AED, and employees who could use it, well, he would be gone.
All week, when I didn't know if he would live or die, my emotions were all over the place. Fear that I would lose my husband. Worry I depended on Terry for so much; how would I handle everything? Resentment my first husband was a sociopath; hadn't I already been through enough crap?
It's interesting though now that the situation appears more optimistic, I can observe how different it is from the crisis I experienced because of the sociopath. Yes, this is a life-or-death crisis, but there is no betrayal. No manipulation and no deception.
So it's an honest crisis, not an exploitation. My sense of self is not shaken.
The crisis isn't over Terry is not out of the woods. So I will be somewhat distracted for awhile, and perhaps not as responsive to Lovefraud readers as I usually am. I am sorry, and I hope you'll be patient.
Please keep Terry in your thoughts and prayers.
UPDATE 2/29/16 2 PM
Tremendous news! My husband, Terry, is off the respirator. I just spent 2 hours with him and he is getting better by the minute. It must have been all the prayers and good wishes, because he literally looked better and better right before my eyes.
Terry will still be in the hospital for a few days and may also need a rehab facility he spent seven days in bed, so he may be a bit unsteady on his feet. Or maybe not he's a strong guy, and he wants to come home.
Thank you all so much!