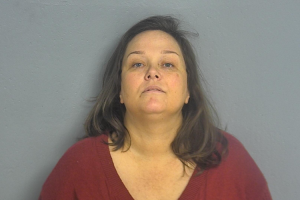 Elizabeth McKeown, 46, is charged with murder after she intentionally drove into Barbara Foster, 57, of Springfield, Missouri, according to what she told police.
McKeown was stopped at a busy Springfield intersection, behind Foster. Frustrated that Foster wasn't moving, McKeown accelerated her black Mustang into Foster's car. Foster then got out of the car to inspect the damage and yelled at McKeown. As Foster returned to her vehicle, McKeown ran her over. The Washington Post reported:
According to police, she told investigators "I tricked her, you know, make her think I was going to be nice, be still and everything." Instead, she said she slammed her car into Foster and "cut her in half," police said.
McKeown dragged Foster's body 58 feet. Then she tried to flee the scene. But outraged witnesses is other cars saw the entire incident and boxed her in, so she couldn't escape.
Two shocked witnesses told their story to the local TV station, and even provided cell phone video. Be sure to watch the video:
Witnesses recall seeing hit and run that killed Springfield woman, on KY3.com.
So who is this woman? McKeown was once a nurse but had been caught stealing Nubain, an opioid painkiller, from the hospital where she worked. Other news outlets reported that McKeown had financial problems and has claimed she took "heroin, molly, jane and tai" before the crash.
So here are signs in the news reports that McKeown may a sociopath:
First of all, murder
Tricking the victim, and then running her over
Total lack of emotion after the murder
Bragging about tricking the victim
Drug use
Theft
Financial problems
Poor Barbara Foster. She was just in the wrong place at the wrong time, with a sociopath, possibly high on drugs, in the car behind her.
Story suggested by a Lovefraud reader.