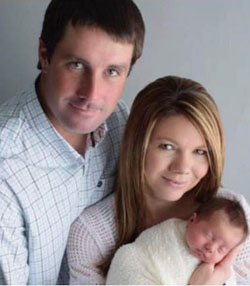 Here's one of the worst cases of narcissistic manipulation I've ever seen:
Three times, Patrick Frazee, 32, of Florissant, Colorado, tried to convince his girlfriend to murder his fiancée. When the girlfriend couldn't do it, Frazee allegedly beat Kelsey Berreth, the mother of his child, to death with a baseball bat. Then he called his girlfriend, Krystal Lee Kenney of Idaho, to clean up the mess.
Frazee and Kenney began an intimate relationship in early 2018 — and Frazee probably began his narcissistic manipulation right away. Eventually, Kenney was "under his spell," as former FBI profiler Pete Klismet said in an interview with KRDO TV in Colorado.
On Sept. 23, Frazee wanted Kenney to give Berreth a poisoned caramel macchiato drink, CNN reported. Kenney couldn't do it.
On Oct. 15, Frazee wanted Kenney to assault his fiancé in her condominium parking lot with a metal pipe. Again, Kenney couldn't do it.
On Oct. 21, Frazee wanted Kenney to beat Berreth with a baseball bat. She refused.
Finally, on Thanksgiving, Nov. 22, Frazee went to Berreth's apartment to exchange their daughter for visitation. He allegedly beat her to death with a baseball bat. Then he ordered Kenney to clean up the mess and help him dispose of the body.
In his interview with KRDO TV, Pete Klismet called Frazee, "a bald-faced liar, narcissist that is all out for himself." My guess is that Frazee was more than a narcissist — likely a psychopath.
Kenney has pleaded guilty to witness tampering, and she will be testifying against Frazee. But how did she get into this situation to begin with?
I don't know for sure, but I can take a few guesses.
First of all, as narcissists, antisocials and psychopaths are prone to do, Frazee was running a smear campaign against his fiancée. According to CNN, he accused Berreth of being abusive to their child and using drugs. How many Lovefraud readers have heard similar accusations?
Frazee likely expressed worry about his child's safety, and kept telling Kenney that his daughter was in danger.
He probably also took steps to make Kenney feel trauma-bonded to him. First, he created pleasure for Kenney, so she became attached to him. Then he engaged in behavior that created fear and anxiety for Kenney — perhaps threatening to end the relationship if she didn't do what he wanted. If she resisted his demands, he could have engaged in the silent treatment — that's what lots of narcissists do. Then, when Kenney was sufficiently upset, he would reconcile with her — and the cycle would start again.
I haven't seen this behavior pattern reported in this case, but it's typical of narcissistic manipulation.
Some people may wonder how Kenney could have stayed with Frazee, and why she didn't go to the police before the murder took place. Most people don't realize the power of narcissistic manipulation. In extreme forms, it can become mind control, like that exerted by cult leaders. Jim Jones convinced hundreds of his followers to drink the Kool-Aide and die.
I'm sure Kenney was traumatized, and trying to figure out what to do. Luckily, Kenney didn't totally lose herself in the manipulation. She managed to retain enough of her core that she refused to carry out the murders. Klismet, the FBI profiler, actually commended her, saying she left a trail of breadcrumbs so that authorities could find evidence of the crime.
In view of the extreme narcissistic manipulation she probably endured, Krystal Kenney did the best she could. She probably never believed that Frazee would go through with the killing.
Read more:
Former FBI profiler discusses Patrick Frazee's murder charge, on KRDO.com.
Investigators depict gruesome murder scene with new details in Berreth murder case, on Gazette.com.
Colorado man tried to have his fiancée killed 3 times before fatal beating, investigator says, on CNN.com.
Kelsey Berreth Case: Krystal Lee Kenney pleads guilty to witness tampering, on Denver.CBSlocal.com.
Story suggested by a Lovefraud reader.