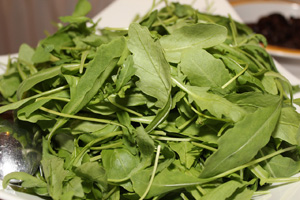 Every day, my breakfast is topped with curry powder, which contains turmeric, which is bitter. I must have my coffee in the morning. For lunch I usually eat a salad containing arugula and radishes. I love using fresh herbs from my garden, such as parsley, basil and cilantro. And I'd love to eat dark chocolate every day, but I resist that.
All of the foods I mentioned are bitter, so I must be a sociopath.
Researchers from the University of Innsbruck in Austria say that they've found an association between people who say they like bitter foods and antisocial personality traits.
According to reports on Science Direct and Medical Daily, almost 1,000 people all Americans were handed long lists of foods and asked how much they liked them. (Apparently nobody ate any food for this research.)
The research subjects were given a battery of self-report personality questionnaires to assess Machiavellianism, psychopathy, narcissism, everyday sadism, trait aggression and the Big Five personality factors.
Then the researchers ran a statistical analysis and found a correlation. They wrote:
"The results of both studies confirmed the hypothesis that bitter taste preferences are positively associated with malevolent personality traits, with the most robust relation to everyday sadism and psychopathy."
I wonder if the researchers considered the possibility that people with malevolent personality traits may still be concerned about their health? Because apparently, eating bitter foods is good for you.
According to the Nature's Sunshine blog, some of the best herbalists in the world say that eating bitter foods creates a chemical reaction in our bodies that has numerous health benefits. Among the foods we should eat should eat, according to the author, are:
Kale
Dark chocolate
Coffee
Dill
Sesame
Dandelion
Horseradish
Watercress
Parsley
Radish
Aloe
Cilantro
Arugula
Bitter melon and gourd
Japanese eggplant
Turmeric
Leafy greens
Barley
Basil
Jicama
Lettuce
Chamomile
Here is the article, along with a slideshow that also extols the virtues of bitter foods:
5 reasons why you should eat bitter foods and herbs, on Blog.NaturesSunshine.com.
10 bitter foods that cleanse the body and boost performance, on Active.com.
So I'm having a hard time taking seriously the research about a link between liking bitter foods an antisocial personality traits. If you want to read what the researchers say, here are some articles about the studies.
Individual differences in bitter taste preferences are associated with antisocial personality traits, on ScienceDirect.com.
Personality traits and eating habits: Enjoying bitter foods linked to the 'dark triad,' on MedicalDaily.com.
Story suggested by a Lovefraud reader.