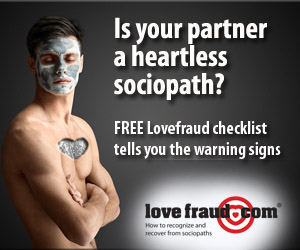 Almost every day, I receive email from people who have discovered Lovefraud and have a burning question to ask me: "Am I involved with a sociopath?"
I've heard this question so many times that I've finally created a quick and easy way to help answer it Lovefraud's "Is your partner a sociopath?" checklist.
The 29 items on the checklist are drawn from the Lovefraud Romantic Partner Survey, which was completed by more than 1,300 respondents in 2012. It identifies the behaviors that people who were in relationships with sociopaths experienced and witnessed, time and time again. These are the same behaviors I continue to hear about from hundreds of readers.
So if you are wondering about your partner, I invite you to get the cheat sheet. It's free, and it's available only from Lovefraud.
"Is your partner a sociopath?" the exclusive Lovefraud checklist