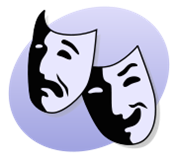 Now that I've had my own life derailed by a sociopath, and now that I know up to 4% of the population is sociopathic, I see sociopaths often in everyday life. I also see sociopaths in literature and film.  Yet, before my own life was train wrecked by a sociopath, I viewed these stories and characters as entertaining aberrations, not as anything or anyone about which I really had to worry. Weren't sociopaths rare, and wouldn't I somehow know if such a person entered my life?
I'm guessing I'm not that unusual.  Before it happened to you, did you know how high the odds were that your life could be profoundly scarred by a sociopath?
Why Aren't We Warned?
Why isn't every young adult repeatedly warned about sociopaths by their parents or even by teachers?
Young children are told to be wary of strangers. But the odds of a child being abducted by a stranger are miniscule.  The odds that someone will grow up and encounter a sociopath who will inflict significant physical, emotional or financial harm are palpable.
Examples of sociopaths wreaking havoc in people's lives go back to the earliest times and appear in early literature—in Greek tragedy, for example. Yet, even as we study the behavior of these sociopathic individuals, teaching opportunities are lost.  Even worse, we are taught to explain away sociopathic behavior as strong responses to profound love, jealousy or betrayal, not to some individuals simply being hard wired differently—truly lacking a conscience and lacking empathy.
We Sidestep The Simple, Correct Answer
By not correctly attributing horrible behavior to a lack of conscience and empathy, the unstated implication seems to be that we all have these types of responses in our repertoire if the right buttons are pushed. But do we?  I'm not convinced.  I have studied enough psychology to understand that many of us are capable of behavior we cannot even imagine if put in the right situation.  Yet, I'm also guessing that it is often a sociopath creating that toxic situation, and the range of what a typical sociopath is capable is far beyond the range of behavior for most nonsociopaths.
What also shocks me is that even when people see behavior that looks to be caused by a lack of empathy or ethics, we excuse it away as if that simply cannot be the answer. Why aren't we better at using literature dating as far back as Greek tragedies like Medea to reinforce important cautionary tales about life? Why is it so unpopular and deemed so unsophisticated to believe that evil people walk among us? They do and, apparently, they always have.
Medea
In the play Medea, a 431 BCE Greek tragedy by Euripides, Medea is the wife of Jason.  After Medea helps Jason obtain the Golden Fleece, she murders her brother to distract her father in order to allow her to escape with Jason.
Even after this dreadful act, Jason maintains a relationship with Medea. (Perhaps he attributes this as an act of love and loyalty for him, not a glimpse into Medea's hollow, dark soul—a profound mistake.)  However, to forward his political aspirations, Jason soon leaves Medea for another woman—the daughter of a king.  Medea poisons the princess Jason hopes to marry, and her father, the king, is poisoned as he attempts to save his daughter.
To exact further revenge on her unfaithful husband, Medea murders two of their own children.  Medea gloats over the pain she's caused Jason.
Wow!  Now that's a Greek tragedy.
How Is Medea Analyzed?
When students study this play, what lessons are they encouraged to learn?  One online analysis of this play states that the play is about how Jason's betrayal transformed Medea's love and passion for her husband into rage, revenge and unbridled destruction.
I'm a believer in the complexity of human behavior and motivation. Yet, all science classes I ever took stress simple solutions over complex ones, all else being equal, of course. Why is it that with the prevalence of sociopaths in our world and the destruction they cause, the analysis of this play is not even simpler?
Medea is a sociopath.  Everything flows from that root cause.  She aligned herself with Jason hoping for things sociopaths crave—power and prevailing. Yet, when things did not go according to plan and Jason discarded her for another woman, Medea did what sociopaths do—seek revenge and try to destroy.
As Jason is not sociopathic (he is pained by the death of his children), there is nothing that could hurt him more than the loss of his own children.  So even though they are Medea's children too, Medea kills her own children as a way of exacting the ultimate revenge against her husband. No remorse. Mission accomplished.
As a sociopath, other human beings, even her own children, have no value to Medea other than as pawns and leverage.  Her own children trigger no empathy, love, or maternal feelings. None. Their usefulness is in the fact that someone she wants to control, manipulate or hurt cares for them.
To A Sociopath, Children Are A Smokescreen At Best; Pawns And Leverage At Worst
Beware; as this tactic is not only part of Greek tragedy, it is part of life with a sociopath if you are a parent.  A sociopath will not hesitate to use your children to manipulate, hurt and drain you emotionally and financially.
I know this from personal experience, because my ex-husband used his considerable wealth to "buy off" one of my teenage children, insisting the child not see or contact me if the child wanted a constant flow of money and gifts.  Having this child alienated from me was emotionally gut wrenching and traumatizing.  This contributed to the profound insomnia I developed.  But, that was clearly the plan. The more my ex weakened me while we were in mediation and litigation, the less clearly I'd be thinking and the more I'd just want it all over. Years later, I still have virtually no relationship with my oldest child. Letting go of wanting a relationship with a child, with whom I was once very close, has been brutally hard.
What was best for my youngest child was used repeatedly to try to extort money and concessions from me (e.g., in exchange for allowing one child to continue in karate, a sport in which he excelled, my husband wanted me to pay him thousands of dollars so he'd allow our son to attend classes the weekends my son was supposed to be with him.)  My ex-husband is wealthy and does not need the money, but he knew I needed the money to continue defending myself against him in court.
A sociopath will use any means possible to hurt.  He or she will not hesitate to use their own children—think of Medea.
A Red Flag Ignored; A Huge Price Paid
Like so many victims of sociopaths, Jason had a huge red flag, but ignored it.  Medea murdered her own brother so she and Jason could escape. Perhaps she framed her brutality as a sign of the depth of her love for Jason. But wait a minute!  She just murdered someone.
To think that that kind of evil would always be used for his benefit and never turned against him makes Jason beyond naïve. Yet, we do this all the time. We excuse behavior that is callous, unethical and unfeeling, even sometimes glamorizing it as being savvy and "just business," (Wow, he really screwed his ex-wife in their divorce"¦ha, ha, ha, ha, way to go!).  At the same time, we fail to take away an important kernel of truth—even in the absence of any unusual circumstances the person at issue is capable of monstrous, unethical behavior.  That should bother us. But even if it doesn't, to think that someone capable of horrific acts will never direct such behavior against us or someone we love"¦well, that's naïve.
Medea As Sociopath—The True Lesson Of The Play
That Medea is a dangerous sociopath and that Jason missed a pretty big warning flag should be the moral of the story, not that once betrayed, Medea's deep love and passion were transformed into rage and revenge.  After all, if she was a sociopath, she was not capable of feeling love for anyone.  She always craved power and prevailing.  Looked at that way, she was never transformed, but remained true to her dark sociopathic self throughout. If she ever appeared any other way, it was just a ruse to get what she wanted from other people, because that's what sociopaths do.
(What I learned about sociopaths from my corrosive marriage and toxic divorce is chronicled in my book Husband, Liar, Sociopath: How He Lied, Why I Fell For It & The Painful Lessons Learned, available via Amazon.com.)
Identifying names, places, events, characteristics, etc. that I discuss here and in my book have been altered to protect the identity of everyone involved.