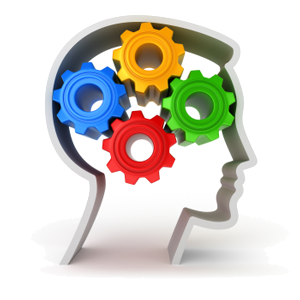 Sociopaths are superb natural psychologists, but they use their insights about human behavior to control and erode.
Past Frameworks Bias How We Perceive New Information
The world is not black and white; it includes countless shades of grey. To create meaning and clarity out of the grey, we use past frameworks (e.g., my ex-husband, "Paul," is a good, honest person) to process incoming data (the fact that he so often works late reflects his dedication to his career and commitment to support his family). Yet, once this framework has been established, and once we create an explanation (accurate or not) for how an event fits into the framework, we have created a pathway.
Repetition Increases The Speed Of Mental Processing
At first, this pathway is weak and inconsequential. Yet, like all learning, if you visit this pathway repeatedly, what started off as a goat path in your brain becomes a dirt track, a country road, and then a two-lane highway. Ultimately, the connection in my brain between Paul working late and the excuse I provided for Paul based on the false assumption that he was an honest, wonderful man has become a superhighway, allowing me to travel on it automatically, at lightning speed.
The same learning process that allows an elite athlete like Peyton Manning to throw a football accurately under pressure (i.e., lots of practice that creates super-fast neural connections) was likely at work in my brain, making an instantaneous connection between Paul's behavior, such as working late, and the excuse I made for him in my mind when I was 100 percent convinced he was a great guy.
Old Pathways Remain
The way our brains work, we cannot blow up that super highway even when we realize the assumption on which it was built is faulty (i.e., that Paul is not a good, honest, loving man). The highway remains. The best you can do is to erect a "STOP" sign in front of the highway's on-ramp and start the difficult process of making other connections and methodically reinforcing them instead. Doing this is hard, because even when you get information that is screaming at you to put up that STOP sign, sociopaths are experts at dampening those screams and reducing them to whispers. Did I hear what I thought I heard? Did I see what I thought I saw? It is not always easy to tell. The world abounds with uncertainly. Consciously and unconsciously, we all attempt to validate our perceptions by seeing how they compare to others' perceptions, and these adjusted perceptions become part of our unique reality.
We Tend To See What Others See
Sociopaths, and others who strive to control people, fashion their victims' world so that the sociopath is the main source of their victims' continuous, automatic calibration. This is another reason why abusers attempt to eliminate or minimize their victims' contact with other people. If you doubt that people can influence others so easily, a psychology experiment performed by Solomon Asch in 1958 may shock you.
In Asch's study, subjects were asked to look at eighteen sets of cards. The first card in each set showed only one line and a second card in the set showed three lines of various lengths, one of which was exactly the same length as the line on the first card. The other two lines were of noticeably different lengths. These cards were shown to groups of eight to ten students, but only one of these students was an actual subject. The others were in on the experiment.
For each pair of cards, the students in the group were asked to indicate which line on the second card was the same length as the line on the first card. The first two times, the confederates gave correct answers. This gave them initial credibility. Then, for later trials, the confederates all gave the same incorrect answers. The actual subject in the experiment always went near the end so that he or she would hear the other students' faulty answers.
The disturbing result of the study is that we tend to see what others see. About seventy-five percent of the subjects conformed to obviously incorrect answers at least once. About thirty percent conformed on seven or more of the eighteen trials. This happened in groups as small as three to four people. Interestingly, if just one other person gave the correct answer, the subjects conformed to the false majority view only one-fourth as often as they did if no dissenter was present.
Isolation Works
In light of this, is it any wonder that sociopaths and others who seek control isolate their victims physically or emotionally? If you tend to see what others see, the sociopath wants to be the only other opinion available, since having just one other person who sees things the way you do gives you confidence in our observations and convictions.
Keep in mind that the confederates in the experiment were just students of a similar age whom the subject neither knew nor held in particularly high regard. Imagine the impact if the other members of the group comprised people the subject held in high esteem or viewed as an authority or an expert.
Perceived Authority Matters
We know from the Stanley Milgram experiments conducted at Yale in the early 1960s that human beings are influenced strongly by those viewed to be in authority. In this experiment, subjects were asked to deliver an electric shock when a person in another room did a task incorrectly. (The person in the other room was a confederate of the experimenter and no shock was actually administered.)
At the direction of a man in a white lab coat, someone who was viewed by the subjects to be in charge and knowledgeable, subjects were instructed to increase the voltage as punishment for wrong answers, ultimately reaching dangerous levels (if the shocks had been real). Even with screams of protest coming from the person being "shocked" in the next room, many subjects continued to deliver high level shocks for incorrect answers. The experiment is considered a disturbing classic in demonstrating how easily most of us are influenced by someone we consider an expert or authority.
Self Importance And Confidence Are Proxies For Authority
The sociopath's inflated, grandiose view of him or herself, the extreme confidence and clarity in his or her convictions (due to lacking doubt and fear), and the sociopath's ever-present self-confidence tend to elevate the sociopath's status in other people's minds. Undermining the credibility of other potential sources of influence also enhances the relative influence of any sociopath (e.g., "Your father just doesn't know how things work in the real world.").
These are just some of the reasons why living with a sociopath like Paul made me question my perceptions, lose confidence in myself, and fail to come to obvious conclusions—even when relevant information was staring me in the face for a long time.
As these experiments demonstrate, it's likely that the same fate would have also befallen many other smart, capable people under similar circumstances. Hence, victims of sociopaths are not especially weak or naïve, their main flaw is that they are human.
As sociopaths are such good natural psychologists, exploiting how people automatically process information and how learning takes place in the brain, these are among the reasons it can take victims of sociopaths a very long time to see what has been in front of them all along as well as to act on the information.
Notes
My own cautionary tale of unwittingly investing almost twenty years of my life into a relationship with a sociopath and sometimes diverting from the best path, is chronicled in my book Husband, Liar, Sociopath: How He Lied, Why I Fell For It & The Painful Lessons Learned (available via Amazon.com, just click on title above). As I don't get a "do over," hopefully some of my painful lessons can help others impacted by these toxic people.
 Identifying names, places, events, characteristics, etc. that I discuss here and in my book have been altered to protect the identity of everyone involved.