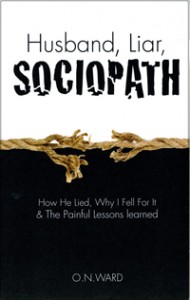 By O.N. Ward
Every week, a chapter of my book, "Husband, Liar, Sociopath: How He Lied, Why I Fell For It & The Painful Lessons Learned" (available via Amazon.com, just click on the title or book cover) will be published here on Lovefraud. To read prior chapters, please see the links at the bottom of the post.
Chapter 7: What's In It For Me? Another Red Flag Missed
Against the vast, sparkling sea of emotionally and intellectually fulfilling time spent together studying, attending classes, working out, sharing dinners, and looking for jobs, the ripples that appeared in my relationship with Paul hardly registered. No person or relationship is perfect, so of course there would be disagreements, small hurts, and misunderstandings. Only now am I wise enough to know that the root cause of the minor discord in our relationship was the important part —not the mere fact of the discord.
It was easy to think that Paul and I shared important interests and values, because, throughout our second year in business school, our narrow goals (to get good grades and get good jobs) and our lives overlapped almost perfectly. How could I imagine what would happen if our goals ever diverged or conflicted? The only way I could have done that would have been if I had extrapolated New Year's Eve to sharing a life with Paul. However, I did not know why that short interaction with Paul on New Year's Eve left me so unsettled. I just knew that it did.
It never occurred to me that a key reason Paul was sharing so much of his life and time with me was that talking to me about our assignments helped him get better grades with less effort than studying on his own. I just assumed that Paul loved the intellectual banter with me, that he valued my opinions, and that he enjoyed the learning process, as I did—that we were so alike, soul mates. Starting out with these assumptions, and having them reinforced by the rewarding time we spent together, meant it took me far too long to abandon that framework and understand the truth.
I am not alone in being unable to discard firmly entrenched but inaccurate assumptions. People tend to have a "confirmation bias." We interpret new information in the context of an existing framework—looking for evidence that confirms our current viewpoint and discounting evidence that contradicts it. Thinking the world was flat, humankind rejected strong evidence to the contrary for centuries. Old worldviews that have served us well are not cast aside easily, even when opposing evidence abounds.
Perhaps not by accident, Paul and my second-year MBA course selections overlapped almost perfectly, allowing us to study together and even co-author papers and work together on projects. Paul, however, took one class in the fall that I did not take until the spring.
One night in April when I was preparing for class, I asked Paul for help. Paul refused, which struck me as odd. Hadn't we always studied together and helped each other? When I pressed him, he became annoyed and said he had such high ethical and moral standards that he did not think it would be fair to discuss the topic with me or to tutor me, because he had already taken the class and knew the professor's point of view. This would give me an unfair advantage, and, as a highly principled person, he could not do that. It was almost a burden that he was so exceptionally honest, ethical, and honorable, but his integrity, and that of anyone in his life, was of the utmost importance to him.
I backed off and did not ask for any more assistance, but Paul's stance struck me as bizarre, because there was no basis for it. In fact, students who had taken and excelled in a class one semester were often asked by professors to tutor students in the class the following semester. Several professors had asked me to do this, and I was able to earn a fair amount of spending money that way.
What was going on? Although I was blind to it then, I know now that this was one of the few times in our narrow, almost perfectly overlapping MBA lives that Paul's goals and my goals conflicted (as they had for a few hours on New Year's Eve). Paul had already taken the class; so devoting an hour of his time to discussing the coursework with me was of no value to him. There was simply nothing in it for Paul, especially when there was a Mets game on television. Paul's high moral ground was a smokescreen for not wanting to put any effort into something that would not benefit him, even if it would be quite beneficial to me. Sociopath math, remember? No empathy. If it was not a means to a better grade for Paul, and if he could fabricate an excuse that would not blow his cover (his lofty morals and ethical character—brilliant!), Paul had zero interest. None! He'd rather watch baseball, and that's what he did.
Conflicting needs should trigger discussion not annoyance. A person in a mutually loving relationship should not hesitate to help his or her partner, especially when the partner's need is high and the price of helping is low. (Sorry, guys, but missing a Mets game does not qualify as a high price. You can always record it.) Paul wrapped himself in claims of honor, honesty, and integrity to hide exactly the opposite qualities. My love for Paul blinded me to these red-flag, no-empathy moments early in our relationship when the price of getting out was far, far lower than it was two decades later.
Start from the beginning:
Go to previous chapter:
Go to next chapter:
Notes
Identifying names, places, events, characteristics, etc. that I discuss here and in my book have been altered to protect the identity of everyone involved.