For more than two years, I've shared my story and relevant insights here once a week.
That's coming to a close.  My book, Husband, Liar, Sociopath chronicles my marriage and the painful lessons learned. My book, Narcissists, Sociopaths & Wolves  includes a summary of some of the warning signs of being in a relationship with a sociopath. I hope the excertps I've shared from them have been helpful.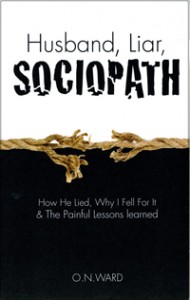 I didn't know.
Before I married "Paul" (not his real name), I never imagined my life could be so derailed and that my soul could be turned to dust. I didn't know sociopaths are common, often hiding in plain sight. I didn't know that they feed off of the thrill of manipulation (which will always be denied) and of emotional pain that they've purposely inflicted. I had no idea that to my husband I was not a person to be loved, encouraged, and supported, but, instead, I was "fuel" for his insatiable, black narcissistic needs.
I needed to derive purpose from pain.
The impact my marriage had on my life was so horrendous that I needed to turn my profound loss and pain into something positive. I am grateful for Donna for the opportunity to share my story and thoughts here and for all the comments and insights that, in turn, have been shared with me. Thank you.
This community has been so important to my own healing process.
It has been a source of insight and of feeling less alone. So many of us feel utterly alone in the experience of being in a relationship with a sociopath. Family and friends often don't "get it," or, even worse, they blame us for the experience or discount it completely.  Not here.  Here we are heard and our reality is validated.  It's such an important part of recovery. Thank you.
Don't compromise "you" as you fight "them."
Years ago, I read a book about recovering from trauma, and I recall that it mentioned that among the people who have the most difficulty recovering from trauma are those who acted in ways that were fundamentally inconsistent with who they were and what they valued before the trauma.  That gives me hope, as part of what worked for me in defending myself against Paul's relentless and ongoing legal, financial, and emotional attacks was that I fought hard to defend myself, but never in ways that I would regret.
Even if he lied, I would not lie. If he cheated, I would not cheat.
Yet, I would use every bit of emotional and intellectual strength I had to defend myself; advocate for myself; and when taken to court by Paul, to unmask his lies as well as his unethical and sometimes illegal tactics.  Although with a sociopath, often the only way to "win" is "not to play," that path is not always available. As I've been taken to court countless times by Paul, I often did not have the choice of "no contact." Instead, and to end on a positive and slightly humorous note, I learned to channel Marie from Aristocats, "Ladies do not start fights, but they can finish them."
Notes
Identifying names, places, events, characteristics, etc. that I discuss here and in my books have been altered to protect the identity of everyone involved.