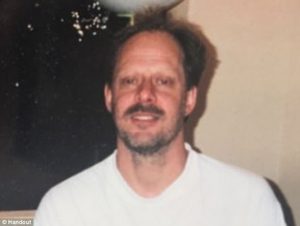 Here's the big question after the horrible massacre in Las Vegas: Why?
Sunday night, Stephen Paddock, from his room on the 32nd floor of the Mandalay Bay Casino, started shooting at the 22,000 people attending a country music concert. From his elevation, and with automatic weapons, it was like shooting fish in a barrel. A total of 59 people were killed and more than 500 wounded. It is the worst mass shooting in recent American history.
Stephen Paddock, 64, is the son of Benjamin Hoskins Paddock who robbed two banks between 1959 and 1960. He was sentenced to 20 years in prison in 1961 — but escaped in 1968.
Benjamin Paddock, Las Vegas gunman's father, robbed banks and fled FBI, on NYTimes.com.
With his escape, Benjamin Paddock ended up on the FBI's most wanted list on March 18, 1969. The wanted poster actually says:
CAUTION
PADDOCK, DIAGNOSED AS PSYCHOPATHIC, HAS CARRIED FIREARMS IN COMMISSION OF BANK ROBBERIES. HE REPORTEDLY HAS SUICIDAL TENDENCIES AND SHOULD BE CONSIDERED ARMED AND VERY DANGEROUS.
The fact that Benjamin Paddock was diagnosed as psychopathic in 1969 is pretty amazing. At that time, there was no standard way of diagnosing psychopaths. In fact, about the only book on the topic was Hervey Cleckley's Mask of Sanity.
Stephen Paddock was eight years old when his father was sent to prison. Benjamin Paddock was not in the lives of his sons as they were growing up.
Stephen Paddock attended college and worked for a predecessor company of Lockheed Martin. He eventually got into real estate and made a lot of money. In recent years, he was a professional gambler.
But he had no criminal record and was not violent. According to his brother, he had no political agenda and no religious affiliation.
Stephen Paddock, Las Vegas Suspect, was a gambler who drew little attention, on NYTimes.com.
So the question remains: Why did he do it? Was he a psychopath also?
From what's been released so far, only one psychopathic trait fits — it looks like Stephen Paddock had a need for excitement. He lived his life by gambling. He had a pilot's license and owned two airplanes. He also had hunting licenses.
After the shooting, we can say that Stephen Paddock must have had a lack of remorse, guilt or empathy — it's the only way he could kill so many people in cold blood. But were there indications of this before Sunday?
I don't know if Stephen Paddock was psychopathic or crazy. But if he was, in fact, a psychopath, here's what I think happened: He kept a lid on his tendencies all his life. Then he couldn't do it, or decided not to do it, any more.
Lovefraud's research on senior sociopaths found that they either stay the same or get worse as they age. Several of our survey respondents said the sociopaths they knew lost the ability to keep the mask in place any longer, or couldn't be bothered to try.
Maybe Stephen Paddock was like the school shooters who wanted to go out with a bang — except he waited until age 64 to do it.
I'm not sure we'll ever know.