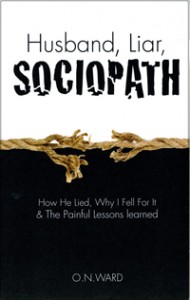 Every week, a chapter of my book, "Husband, Liar, Sociopath: How He Lied, Why I Fell For It & The Painful Lessons Learned" (available via Amazon.com, just click on the title or book cover) will be published here on Lovefraud. To read prior chapters, please see the links at the bottom of the post.
Chapter 51C: The Earthquake Strikes
I tried to fight the wave of despair cresting above me. I could not. Gravity won—it always does. Anguish and hopelessness pounded down, expelling the air from my lungs and the tone from my body. Yet, driven by the instincts of a mother bear protecting her cub, I pushed through the emotional train wreck and crafted a response to Paul's email.
As before, the inaccuracies and untruths in your email are too numerous to list, so I will not attempt to do so. Suffice it to say, I agree with nothing you wrote. I also disagree 100% with your taking away your support from Daniel's karate. It is all he has and lives for. Especially at a tumultuous time in his life, he needs anchors and stability and sources of self-esteem and pride. He needs Ella back and he needs karate. As for school, I believe his 3.5 GPA while taking honors and Advanced Placement classes is amazing, given his inability to sleep and focus due to our family's upheaval and actions you have taken. I do not agree with your message to Daniel. I will not deliver it.
Before I could hit "send," I received another email from Paul. He had copied me on an email to the karate studio where Daniel trained. In Connecticut, Daniel had been working hard, with the goal of becoming one of the best in the state. Now, in less populated Utah, he was already among the top five in his age bracket and was a clear contender for state karate teams that would be sent to compete nationally. Karate was a source of great accomplishment and pride for Daniel, his main source of exercise, and a venue for interacting with his peers, something Daniel found difficult. In my view, it was critical for Daniel to continue in karate. Paul's email read:
I am sending this letter to officially withdraw my son, Daniel, from your program. Please no longer use my credit card for monthly payments. Also, Daniel will not be traveling to any tournaments, so please give his spot away to a more deserving student. If Daniel's mother makes any attempt to re-enroll him, please contact me immediately, as she does not have the legal authority to do so.
Kindest regards
I sent my email to Paul and then called my lawyer for clarification. I had the legal authority to enroll Daniel in any program as long as it was not harmful to him. Like so many sociopaths, when the truth was not convenient, Paul offered an alternative reality, and he did so with such calm confidence and conviction that he was rarely questioned. His version of events typically sounded plausible but often was neither accurate nor true. I called the confused karate studio and ask them to put everything on hold and not give away Daniel's hard-earned spot on their competitive team until I could figure out the finances. They agreed to work with me so that Daniel would not have to withdraw.
When Daniel returned to the house an hour later, he went into his room and slammed the door so hard that a picture fell off the wall and crashed to the floor. Glass shattered; I cleaned it up. An hour later, he emerged, tears welling in his eyes and his cell phone in hand.
"Daniel, what's wrong?" I asked.
"Dad sent a text that I owe him an apology and that he withdrew me from karate. Mom, what am I going to do? I love karate. The only reason I didn't hang up when you held up the sign is that Dad said if I hung up he would take karate away from me. And he did anyway." Daniel's voice choked, and tears overflowed his eyes. "I just couldn't take it any longer. Mom, I hate him."
Hours later, when Daniel calmed down, I urged him to send a text to apologize for calling his father a "shit," but I did not see anything else he had done that was disrespectful. In fact, I had been amazed at his poise and maturity in such a difficult situation.
Daniel did as I suggested. Here is what his father texted back.
Apology accepted. I will still not allow you to participate in karate. Since you will not be doing karate anymore, I want a list of new activities to keep you busy and in shape, and I expect your grades to improve. I love you very much and only want what is best for you.
Your loving father
Start from the beginning:
Go to previous chapter:
Notes
Identifying names, places, events, characteristics, etc. that I discuss here and in my book have been altered to protect the identity of everyone involved.