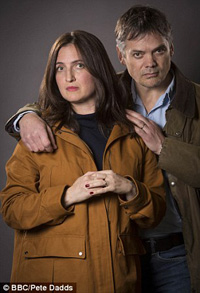 By our reporter in Borchester, Michael Path
Charismatic, charming and controlling Rob Titchener, the 'perfect' husband and step-father, was knifed by his heavily pregnant wife Helen last April after she decided to leave him. Shortly before the knife attack, Titchener told her she was 'clingy, feeble-minded, an over-sensitive harpy, desperate to be loved, desperate to be needed . . . An unhinged, single-parent disaster zone, a lonely, frigid spinster just yearning for a real man to complete her'.
After telling her that 'You're mine. Wherever you are I'll always be there' and slapping her, he put a knife in her hand and taunted her that she was 'nothing' without him. He then dared her to commit suicide like her former partner, Greg Turner, telling her, 'It's the only way I'm ever going to let you go'. After threatening her son, Henry, Titchener was then stabbed and badly wounded.
His wife has been found not guilty of attempted murder.
Helen (37) described a life of isolation, emotional and physical abuse, and rape. During the trial it was revealed that the former businesswoman had been reduced to a shell of her former self.
The story began in 2013 when Titchener moved to Ambridge, UK as a dairy manager. Six months later and with problems in his marriage, his friendship with single mum Helen, and her young son Henry, developed into an affair. The affair was brief; Titchener claimed he wanted to 'make a go of it' with his wife, Jess, who moved to Ambridge in October to be with him. However, after the breakdown of his marriage to Jess, the affair with Helen resumed in January 2014. There was a brief shock when his wife Jess fell pregnant and claimed it was Titchener's child, but Titchener denied the baby was his and said that to take a paternity test would show Helen didn't trust him. A later test showed that he wasn't the father.
Titchener chose a stunning engagment ring for Helen and in August 2015 they were married on the Isle of Wight. Shortly after that the abuse began in earnest.
Helen described how with hindsight she endured constant criticisms, public putdowns and controlling behaviour even before their marriage, ranging from how she drove and how she did her hair to what she wore. She recounted that she once prepared a meal of baked tuna for an intimate evening, having first checked that he liked the dish, only to be informed by Titchener that he actually 'loathed' the smell of tuna and that he 'obviously hadn't been listening properly'. At Xmas 2014 Titchener told her that the dress she'd chosen for the Lower Loxley Ball was 'too tarty' and insisted that she wear a less revealing, high-necked dress instead. A keen member of the local hunt, Titchener duped anti-hunt activist Helen into participating in a fox hunt. At other times she was treated like a child and praised for being obedient and a 'good girl'.
In late 2015, having declared that she wasn't ready for another baby and wanting to wait until the family farm shop was on a sound financial footing Helen was plied with drinks and raped by Titchener. A witness noticed marks on her wrists. Under questioning, she confirmed that Titchener had often forced s*x on her. His previous wife Jess alleged that she was also regularly raped, with Titchener holding her by the wrists or throat. A tearful Titchener denied the allegations. Jess stated that Titchener had been very controlling, and that when they were living in the USA he wouldn't buy her a car and that she only had money when he gave it to her. She described him as paranoid and said that he told her his friends were monitoring her. As a result she felt isolated.
In May 2016 Helen and Titchener's son John Anthony Archer (Jack), who Titchener now calls Gideon Robert Titchener, was born. Helen struggled to bond with him.
Helen endured increasing isolation at the hands of Titchener. She was prevented from visiting her family on Christmas day and her family became convinced that she had mental health problems, was becoming unpredictable and wasn't fit to look after Henry. On one occasion after being taunted by Titchener, Helen raised her arm and was then punched by him. Titchener convinced her that he acted in self-defence. On another occasion he claimed she threatend her son, Henry, whilst she was sleep-walking. He also told her, 'You get overwhelmed very easily, don't you? What if you became so overwhelmed that you hurt one of the children? Can you imagine?' Titchener persuaded her that she was having a breakdown and needed to tell a psychiatrist that she neglected to look after Henry, was forgetful and had anger issues. The psychiatrist suggested anti-depressants, which Helen refused to take because of her pregnancy.
After the Borsetshire floods of March 2015, Titchener was seen as the local hero. Although he antagonised Helen's brother, Tom, he managed to successfully turn around the low opinion that Helen's mother, Pat, had of him and persuade most residents that he was a doting husband and father doing his best to look after his unstable wife. However, there are unsubstantiated allegations that by deliberately blocking a culvert, he actually made the floods far worse than they could have been.
In November 2015, a pregnant Helen, an organic cheesemaker and manager of the Ambridge Organics farm shop, was persuaded by Titchener, after a minor accident, that she 'wasn't safe on the road' and shouldn't have possession of her car keys, and that she 'wasn't strong enough to work.' She spent an increasing amount of time alone at her home in Blossom Hill Cottage. Titchener walked out of his job as a dairy manager after irregularities were found in the accounts by his former farm boss, Charlie Thomas, and stepped into her job at the shop. He allegedly demanded good references from Thomas in return for keeping Thomas's sexual secrets. By now Helen's wages were being paid into their joint account. A ten thousand pound wedding gift from her grandmother remains the subject of speculation.
Helen's best friend Kirsty Miller, embroiled in a constant feud with Titchener, was thrown out of Blossom Hill Cottage by Titchener after a huge argument in early 2016.
During the early months of her pregnancy Titchener, aware of Helen's history of anorexia, told her that she was 'blooming' and 'filling out', forcing her to eat puddings she didn't want and buying her clothes that were too large or too small. He told villagers that he was concerned about her mental health, and against Helen's wishes, asked his manipulative mother, Ursula, always on his side, to stay with her. Ursula was unaware that Titchener had a partner and thought Helen was the cleaner.
As well as her minor car accident, there were several other incidents. Henry was scalded in a bath that Titchener secretly topped up with boiling water, and he also received minor burns after playing with a sparkler. There was also a muddled up stock order at the shop. Titchener made sure that the responsibility for these accidents lay clearly with Helen. Helen alleged that Ursula, his mother, deliberately misinformed her about cooking times, with the result that Helen burnt Titchener's meal.
Helen, who has a history of failed relationships, and who became anorexic after the suicide of her former partner, Greg Turner, had conceived Henry by artificial insemination. Titchener loathed his stepson, was gradually turning him against his mother, had become his legal guardian and had taken over the discipline of the child with an emphasis on 'obedience'. He was also planning to send him to boarding school, telling Henry that it was their 'secret'. In response, Helen, seemingly irrational, exploded and said in front of her mother, Pat, that 'if he does I swear I'll kill him!' Titchener later pointed out that he was only concerned for Helen's well-being and didn't think she could cope with two children, whilst dropping hints to Pat that Helen had seen a psychiatrist and been prescribed anti-depressants. Pat expressed her gratitude to him for being so concerned.
The prosecution implied that Helen's outburst showed an intent to murder; the defence successfully argued that it was a figure of speech.
After throwing away Henry's toy because he ate chocolates without permission, and blaming Helen for spoiling him, Tichener told Helen that she wasn't coping, and that in Henry's interests she needed to start taking her anti-depressants.
Helen finally opened up to her friend Kirsty, who rang a helpline on her behalf and then encouraged Helen to ring up. Helen, now frail, dazed and lacking in self-confidence, soon put down the phone. Titchener chose this time to relent in their fight over a home or hospital birth Helen and the doctors wanted a hospital birth, Titchener wanted a home birth.
Kirsty, determined to help her friend, suggested that Helen ring up Titcherton's first wife, Jess, and compare notes. Jess was adamant that Helen needed to get away or else he would 'crush you until there's nothing left'. Helen packed her bags ready to leave, but after Titchener discovered her bags she backed off. After a meal of tuna, in which Titchener denied ever having said he didn't like tuna, he discovered Helen with a mobile that Kirsty had given her, and forced Helen to tell Kirsty that everything was fine. Shortly after that the stabbing occurred.
In court Titchener walked in with the aid of a stick, even though he'd been coaching the cricket team without it. On the witness stand he wept, asking, 'Why, Helen? All I ever did was love you. Was that so very wrong?' and claimed that Helen had been hysterical that evening and that 'every day was like walking on thin ice.' Although admitting to once slapping Helen, he said, 'I've never regretted anything more in my life. I was near the end of my tether', calling her a 'compulsive liar' and saying that he 'wanted her to get better so we could be a family again.' His mother, Ursula, called her unstable and unpredictable and stated that when she went home after a visit her nerves were in tatters.
Titchener's father, Bruce, called Helen a 'gold-digging tart' and later had to be helped from court after what witnesses described as a 'terrifying outburst of rage.'
There are allegations that Titchener assaulted a hunt saboteur. Shula Archer, a witness, claims that she was pressured to back up Titchener's lies, and that later he said that he was the 'good guy' and that the saboteur deserved it. There are also suspicions over the disappearance of a farm worker, 'Stefan', and claims that his ex-wife, Jess, has been intimidated not to give evidence. These allegations were not brought up in court.
During the court case and whilst on remand, Titchener looked after Helen's son, Henry. A family court hearing has been set for 14th September. Titchener hopes to gain full custody of both Henry and Jack ('Gideon').
Sandra Horley, CEO of 'Refuge', said '76% of domestic homicides occur during separation or up to six months afterwards … When Helen told Rob she was leaving, his aggression escalated and she clearly felt that both she and her son were in danger.'
A new offence of 'controlling or coercive behaviour in intimate or familial relationships' now exists in England and Wales.
Controlling or Coercive Behaviour in an Intimate or Family Relationship (Serious Crime Act 2015 – England and Wales)

Controlling behaviour: A range of acts making a person subordinate and/or dependent on their abuser. These include isolating them from sources of support, depriving them of means needed for independence, resistance and escape and regulating their everyday behaviour.

Coercive behaviour: A pattern of acts of assault, threats, humiliation and intimidation or other abuse that is used to harm, punish, or frighten their victim.
Update: in a surprise revelation, Titchener has admitted to being a 'passive-aggressive, narcissistic psychopath.' After taking legal advice we invite your comments and opinions below.
I'm an abusive, narcissistic, psychopath who bullies his wife and may be a murderer… and I love it! Timothy Watson on being The Archers' arch villain as one of its most chilling storylines draws to a close, on DailyMail.co.uk.
Donations for the Helen Titchener rescue fund can be given here:
https://www.justgiving.com/fundraising/helentitchener
Twitter: #savehelen
More on the story:
The Archers verdict on Helen Titchener concludes storyline that gripped the UK, on TheGuardian.com