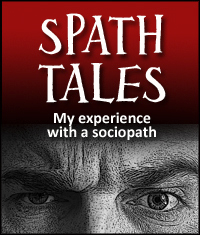 Editor's note: The Lovefraud reader who posts as "raisingtwins" sent the following story.
When I met my sociopath, he was good looking, fit, charismatic and career driven. In 2002, I moved across the country with him, since he was transferred back to an office with the company he worked for. We had a baby together in 2003 and he wanted nothing to do with getting married. I should have seen that as a giant red flag. He threw lavish parties for his work team and worked long hours.
We married in 2005 and his behavior was always very erratic. His weight went up and down and his episodes of anger started getting progressively worse. It was a life of constantly walking on eggshells.
In 2005, we bought a 3,600 square foot house and all at once he renovated the kitchen, bathrooms, put in an expensive pool, and hired landscapers.
In 2012, I began to notice strange behaviors, including him going to a baseball game with a former "girl" from high school and the two of them coming home drunk. I would find women's hairs in the shower or receipts in the car from restaurants.
On Christmas Day of 2013, he kicked my mother out of our home since she began questioning his strange behaviors. My mother stayed in a motel on Christmas night. I knew then that this was not normal. I would Google things like "intermittent anger disorder," as I had no idea about narcissists or sociopaths.
Ultimately, I reset his Gmail password and discovered he was leading a double life. He had multiple mistresses, a porn addiction, began ordering drugs from Canadian drug companies, and was meeting up with young prostitutes at high-end hotels. We began getting calls from collection agencies, as he had completely stopped paying all of his bills, including our mortgage. We lost our house and I was lucky enough to get away and rebuild my life. Ironically, he works in the banking industry.
As you know, these people are incredibly charming and manipulative. As my attorney used to say, he presents well in his pinstripe suit and glasses. He ultimately pleaded the 5th amendment to prostitution in our divorce case. Yet he coaches football in our local town and is well liked by the parents and children.