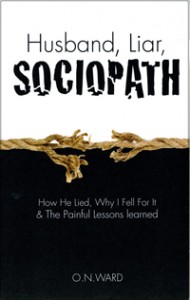 Every week, a chapter of my book, "Husband, Liar, Sociopath: How He Lied, Why I Fell For It & The Painful Lessons Learned" (available via Amazon.com, just click on the title or book cover) will be published here on Lovefraud. To read prior chapters, please see the links at the bottom of the post.
Chapter 49B:  Clarity And Its Consequences
With each interaction with Paul, each toxic email, each review of my scary financial situation, each new piece of evidence confirming who and what Paul really was and how much my soul and strength had been sapped in his presence over nearly two decades, depression loomed and increasingly would not be denied. It was as if the earth opened up and swallowed me, dragging me down into a cold, damp inescapable void. I could not will myself out. This is what my marriage and the past twenty years of my life had really been. This is who Paul really was. This is what had been going on all along—manipulation, deceit, and exploitation. Processing it all was overwhelming, exhausting, excruciating.
Fool! Fool! Fool! depression taunted, draining my physical strength and emotional resolve. I could see why so many turn to alcohol, pain killers or other "substances" to numb the pain. My outer and inner life had exploded. My assumptions about the inherent goodness of people, and my faith in myself and, therefore, in my future, were mere dust. I turned to TV to self-medicate. I was drawn almost obsessively to shows about people who were not who others thought they were—people who were probably sociopaths. It was as if I needed to know everything possible about these masked vultures. Perhaps I also sought reassurance that I was not the only smart, capable, loving person whose life had been derailed by a master puppeteer.
Sometimes a new day brought temporary relief before the next communication from Paul reminded me of the blackness of his soul, the charade of my marriage, and the uncertainty of my future. I felt I was in a fight I could never win. He had probably hidden sources of money. I had not. He accepted no moral, ethical, or legal bounds on his actions. I had always honored all three, and I would stay true to that no matter how underhanded Paul chose to be. Fighting seemed futile, but capitulation was not an option.
Increasingly, a night of sleep did not erase the darkness of my mood. Soon, sleep itself proved elusive. Sometimes I slept only a few hours, at other times, not at all. Fighting exhaustion, I stumbled through the days, struggling to focus, to will myself into not being short-tempered with Jessica and Daniel, driving as little as possible for fear of my fatigue causing an accident, and doing only the minimum required for fear that anything I did would be marred by mistakes and misjudgments.
My lawyer, friends, and family all said things like, "Don't let him get to you!" "Why do you give him so much power over you?" "You have to grow a thicker skin." "Maybe ask your doctor for some medication." "Just think about it differently." I could not help but feel that the unstated premise was that they would not be bothered by any of it, and I should just snap out of it. Such attempts to help backfired, leaving me feeling like a weakling for being so shaken by Paul's carefully crafted, unremitting emotional assault.
But I wasn't a weakling. His communication was designed to drain my resolve, confidence, and feelings of self-worth, and it was being done by a person who knew my sensitivities better than anyone. With the emails ostensibly regarding the children, I had to read them, because the courts required that I do my best to co-parent, even with a man who viewed his children as mere pawns.
The cumulative effect of this unending barrage from Paul—most of it couched in respectful, polite language and carefully veiled threats to divert a potential third party, such as a judge, from the true intent of the communication—was poisonous. Some days, I fought just to breathe. Other days I simply surrendered to the searing emotional pain that was now my life.
With my computer serving as the conduit for most of Paul's venom, I developed an anxiety response to checking my email and eventually to even turning on my computer for any reason. As a result, sometimes I went days without checking email. I refused to configure my phone to receive emails. I did not want to fear my cell phone as well.
At first, when I read Paul's toxic emails, I wanted to scream. How could someone I was married to for eighteen years do this? How could the father of my children say that? How could someone I loved and supported want to hurt me so much? These are exactly the kinds of questions people ask when interviewed on television after someone they thought they knew did something unforgivable. Most newscasts and talk shows miss the mark on this crucially important teachable moment. The answer is often frighteningly simple. Paul was and is a sociopath—he lacks empathy and ethics, and he is an amazing actor, masterful at using language to deceive and manipulate. Just as lions are beautiful but deadly, sociopaths may appear to be pillars of the community when they are actually vengeful, manipulative, sabotaging, chronic liars who thrive on power and manipulation.
Start from the beginning:
Go to previous chapter:
Go to the next chapter:
Notes
Identifying names, places, events, characteristics, etc. that I discuss here and in my book have been altered to protect the identity of everyone involved.