Guida and Julia Gordon
One of them was Julia Gordon, of Concord, North Carolina. Julia's relationship with a man who she thought was her true love had ended, and on March 18, 2009, she was in the depths of depression.
Julia lay on her bed, with her dog beside her, grieving her lost relationship. "I had cried so much I was afraid I may even become dehydrated," she says.
But that wasn't the worst of it. "The bottle of pills was open in my right hand. The bottle of vodka in my left hand. No glass, no shot glass, just the bottle. I began taking the pills one by one. Seven of them were already gone.
""˜Sad' does not seem to cover the grief I was in," Julia says. "I just wanted to die. I kept thinking, will these pills hurry up and kick in?"
In that moment, Julia received an email from Tom Guida. Julia had previously posted a profile on a dating site, and he responded to it.
Guida told Julia that he was a psychologist who specialized in grief and bereavement.
"We talked for hours about how the pain of a breakup was far greater than that of a death," Julia says. "He told me how to get over it, how to feel better, and he just seemed like he knew exactly what I was feeling and what to say to make it better.
"In a roundabout way, he saved my life," Julia continues. "If he hadn't talked and comforted me that night I might have taken the pills. He told me he loved me that very night. He was going to move to Raleigh, and we were going to make it work."
Moving to take care of Guida
Guida told Julia that he was a Marine reservist. He said he was an interrogator at the Guantanamo Bay detention camp in Cuba, and was being investigated by the government because of his involvement with waterboarding, according to Julia.
Guida said he was giving a seminar in Raleigh, North Carolina, on April 26, 2009, and invited Julia to meet him afterwards for dinner. She accepted.
They had a lovely dinner, and then they stayed up all night, talking in a hotel lobby. Julia grew more and more fond of him.
"I was in such a deep depression weeks earlier "¦ I was about to kill myself "¦ how could I possibly be feeling such strong feelings so soon after?" Julia relates. "This was all so weird. I felt in my spirit that things were just not quite right. But how could I deny his charms? How could I deny myself the right to feel so good?"
Julia tried to investigate Guida's story. She Googled him, even tried to reverse search his pictures, but found nothing.
"It made me believe the government story," Julia says. "He must be a secret agent, because I can't find anything on him."
Guida visited Raleigh again, and they saw each other. But on Guida's third visit, although they had a great time, he kept bumping into things, falling over, and complained of a horrible headache.
When Guida left, he said he was going to get a CAT scan. Three days later, he called Julia and told her he had a brain tumor. He had only 15 to 18 months to live.
Julia was in shock. She'd found the perfect man, and now he was going to die.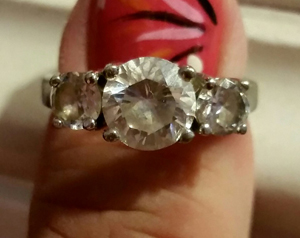 A few days later, Guida called Julia again. He asked her to move from North Carolina to New Jersey to spend his last few months with him. He said they would marry, he had a $1.5 million life insurance policy, and when he died, she would get it all.
Julia asked her family and church to pray about it. They all agreed that she should go and take care of him. So she packed up her car and drove to Somerset, New Jersey, where they lived together in a Homewood Suites extended stay hotel.
Working at the Beacon of Hope House
Guida was still working at the Beacon of Hope House on Staten Island, New York. According to his resume, he was responsible for supervising daily programs, clinical programming, monitoring documentation, creating reports and providing crisis management. He also had weekly sessions with the center's 23 clients.
"He said he had multiple Ph.D.s," says Deborah Jones, of Staten Island, New York, who worked there a caseworker. "He had certificates all over his walls grief counselor, psychologist, all these different degrees."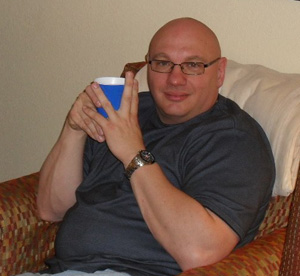 Guida told the staff he was recently home from the war in Afghanistan. "He was afraid they were going to bring him back to Afghanistan, because he was such an asset to the military," Deborah says. "He talked about all his stories the stories were real graphic sometimes."
Guida told his co-workers that he had post-traumatic stress disorder, and that he probably contracted the brain tumor while in the war, according to Deborah.
"We were told that his wife threw him out because she couldn't deal with his cancer," Deborah says. "He made her sound awful."
Eventually Guida had to leave his job because he was dying, Deborah said.
By this time, Julia was living with him in the hotel, and in the fall of 2009, she decided to throw an "end of life" party for him. She invited his former co-workers.
They took up a collection for Guida, raising $1,500 or $2,000, according to Deborah.
Driving to the party, Deborah and another co-worker were apprehensive, anticipating that Guida, who had been such a big, strong man, would be skinny and frail. "We expected to see him lying in bed," Deborah says. "We walk in, and he's in jeans, a t-shirt and sneakers. If anything, he looked a little thicker."
They were also told that Julia was "just a friend" who had given up her job to take care of Guida, and was paying for everything. But Deborah thought they looked like they were more involved than "just friends."
Deborah asked Guida what was going on. "My wife doesn't want to speak to me any more, but my friend is helping me," Guida answered, according to Deborah.
"We had no reason to think anything different from what he told us," Deborah says.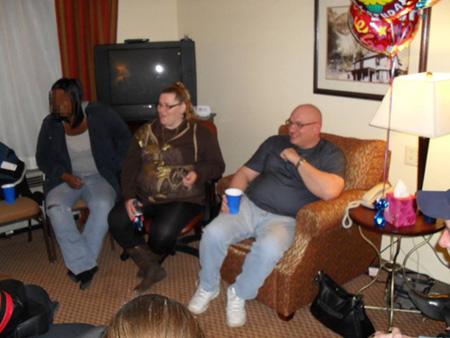 Blood in the bathroom
A few weeks later, Julia celebrated Thanksgiving with Guida and his family. Afterwards, they returned to their hotel, and Guida said he had a terrible headache. He went in the bathroom and soon there was blood everywhere on the walls, in the tub, in the toilet.
"It looked like a massacre," Julia said.
Guida collapsed on the floor, but didn't want to go to the hospital. He said he'd call his doctor the next day to get everything set up at the hospice.
But after hours of Julia begging and pleading, Guida agreed to go to the hospital but only if she agreed not to mention the brain cancer.
Julia saw this as a big red flag.
She called Guida's sister and father. While at the hospital, Julia told his sister that they were going to get married.
"He can't marry you," the sister said, according to Julia. "He's still married."
Then the sister put her head in her hands. "Oh, no. Please tell me he is not doing this to you too," she said, according to Julia.
Guida's sister revealed that he had made Mrs. Guida move to North Carolina, then back to New Jersey, because of his so-called cancer. Afterwards, he promised his sister that he would never do it again.
Julia was in shock.
Julia connects with Mrs. Guida
Although the blood was from a kidney problem and not brain cancer, doctors kept Guida in the hospital overnight. Julia went back to the hotel. She searched Guida's duffel bag which he carried with him all the time and found his birth certificate, indicating that he was not 38 years old, as he told her, but 46.
She also called Mrs. Guida, who was driving on the highway when the call came in. She was so shocked that she passed all her exits.
Mrs. Guida told Julia to get away from Tom Guida.
The next day Julia picked Guida up from the hospital and confronted him intentionally being gentle. "I told him that I forgave him for lying, and he has this one chance to clean the plate, to tell me everything, to be honest and make everything right."
Guida insisted that he was a Ph.D. psychologist and a Marine reservist, and he was not married.
Guida and Julia sat on the sofa in the Homewood Suites. Julia texted Mrs. Guida, but told Guida she was texting her daughters.
Mrs. Guida texted her husband, suggesting they get together to reconcile. Tom Guida jumped at the opportunity. Through text messages, they made plans to go out to dinner together.
Mrs. Guida, in the meantime, forwarded everything to Julia.
So both of them sat on the couch, texting. Guida said he was texting about "work drama." Julia said she was texting her daughters. In reality, they were both texting Mrs. Guida.
Guida texted that he wanted to see his wife, but first, he had to take care of "a little problem."
When Julia saw the message, she texted back to Mrs. Guida: "Is he getting ready to kill me?"
Julia wanted to leave, but she had no money. She'd spent her entire savings, $5,700, on Tom.
That night, Mrs. Guida drove to the hotel and left $50 for Julia at the front desk. The next day, when Tom Guida went to work, Julia picked up the money, packed up her car and bolted as fast as she could.
To continue, click 3 below.