Guida and Kristen Hall
Kristin Hall, of Raleigh, North Carolina, had placed an ad on an online dating site, and on November 26, 2011, she received a response from Tom Guida.
"In the first few emails from Tom, he explained to me that he was a psychologist specializing in grief, trauma and addiction," she says. "He also told me that he was a captain in the Marines and part of the Special Forces unit that traveled all over the world to get the "˜bad guys' as he called it."
Guida told Kristin he was working for Department of Homeland Security, which is what brought him to Raleigh. They spent part of New Year's Eve 2011, together but then he left, claiming he had to work security downtown.
By early 2012, Guida was promising Kristin that they'd be together. "He told me how much he loved me, and it was mutual," she says. "He was the perfect boyfriend. I felt we had a very deep connection. He was very attentive and understanding and very passionate."
In April 2012, Guida told Kristin he was leaving Raleigh and going back to New York. He asked if they could continue a long-distance relationship until he retired, which would be soon. Kristin agreed.
Kristin saw Guida for the last time in early May 2012. He left, and she never heard from him again. The cell number he gave her was disconnected.
"I had a really hard time getting over that relationship," Kristin says. "I never had closure and also I felt so betrayed by him. I gave him my heart and soul and thought he genuinely felt the same. To know that someone has lied to you like that for so many months, it makes it very hard to trust."
Chance meeting in a hospital
Mrs. Guida tried to move on with her life. She was still living in Woodbridge, New Jersey, where she had lived with Tom Guida, and still married to him. Even if she wanted to initiate a divorce, she had no idea where he was.
In May 2012, Mrs. Guida had a car accident on the way to work and broke her arm. After treatment in the emergency room, she needed follow-up orthopedic surgery. Family members recommended adoctor who practiced in Toms River, New Jersey, so that's where she went for the surgery.
Afterwards, as she lay in the recovery room, one of the nurses asked Mrs. Guida if she knew Tom Guida. The nurse said the man was involved with one of her co-workers, and they suspected he was lying about his identity.
"I was shocked," Mrs. Guida says. "I'm laying in the recovery room thinking, oh my God, this is happening again. Somebody knows him. He's done it to someone else.
"I tried to contact the lady, but she didn't respond. I got discouraged. What can I do?"
Guida and Deb Besinger
Deb Besinger of Raleigh, North Carolina, is a seasoned online dater. In fact, she's a dating coach.
So when a man named Tom Gatto responded to her online dating profile, she knew not to get excited, even though he seemed more interesting than the other men who replied to her:
March 13, 2014
Good afternoon my name is Tom I am 41 and just relocated to Raleigh from New York. I am a psychologist and work for the Government. I am a Marine reservist and just returned home from a long deployment in Afghanistan. I want to meet someone who loves to laugh and have fun. To go out and explore places together. I love to dine out, travel, be by the ocean. I go to Rehoboth Beach every summer. I love great conversation amusement parks, cooking, and reading. God I sound like an e-harmony ad lol. I am 6 foot blue eyes bald 250 lbs. muscular build. I would like to get to know you. Have a great afternoon.
Tom
Deb responded, Gatto called and they talked and texted for a week. Then, eight days after they met online, they met in person at the fanciest restaurant in town, a steak house at a hotel. But Deb made sure the man knew that she wasn't going to his room.
Gatto didn't pressure her. In fact, Deb says, he seemed a bit nervous.
After dinner, they went to the hotel lobby to talk.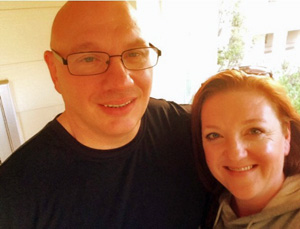 "We sat side by side on a couch and we had a genuine connection, although he still seemed nervous," Deb says. "The connection, though, was palpable, so much so that the girl at the hotel desk yelled across the lobby, "˜You guys must have been together forever "¦ you can tell how in love you are.'"
Deb now wonders if Guida paid the young lady to say it.
Deb and Guida saw each other the next two nights as well. Guida said he was "activated" by the Marines a few days later. Although they texted and spoke every day, whenever they made plans to see each other, Guida cancelled at the last minute, citing he had no control over the military.
Finally, in September 2014 six months after they met Deb flew to Philly to see Guida. They stayed at a hotel in Mount Laurel, New Jersey.
"It was a good visit," Deb said. "We said we fell in love with each over. We wanted to say it face to face."
Deb didn't want to get married again, but they did talk about their future life together.
Deb Besinger had doubts
Still, Deb never fully believed the man. On their first date, he paid for dinner with his credit card. Deb noticed that the name on the card was not "Tom Gatto," but "Tom Guida." When she asked him about it a few weeks later, he said "Tom Guida" was a fake name he used for his government job, and his real name was what he told her Tom Gatto.
"Between the first and second time I saw him, I looked up how to tell if someone is lying," Deb says. "He passed every test."
So they continued the talk-and-text relationship. Deb's birthday was coming up, and although she views herself as "low maintenance," it was important to her that he do something special on her birthday.
Guida did nothing. No gift, no flowers just their normal text conversation and phone call.
Guida's birthday was coming up in November, and then the holidays, and nothing was said about any celebration. Deb was feeling "coupled but alone."
"You probably don't want me to meet your family," Deb texted to him. "You still haven't admitted that you lied about your last name "¦ I found your sister online. Your name is Guida."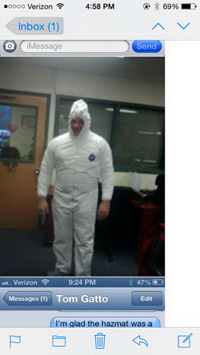 Guida was evasive. "I just don't even think about it," he said, according to Deb.
Finally Deb texted, "I'm going to have to break up with you."
Guida's response: "I wish you every success and happiness."
Deb was shocked at his coldness. "That was the moment when I knew he was a psychopath," Deb says. "I was, oh no, there's something really wrong here."
Deb went into investigation mode. She found Guida's two wives.
Deb had her friend contact the first Mrs. Guida via Facebook. The friend sent a photo of Deb and Tom, asking if Mrs. Guida knew him.
The message was sent on November 15, 2014. She received no response.
The "other" folder
On February 2, 2015, Deb finally heard from Mrs. Guida.
The night before, Mrs. Guida was at a party where someone was talking about the "other" folder on his Facebook page. That's where messages from people who weren't his Facebook friends were stored.
She never knew about the "other" folder. She went home, logged into Facebook, opened the folder and found messages from four different women about her husband.
One was from Deb Besinger's friend.
One was from someone who knew Kim King.
Two were from people concerned about another Mrs. Guida her husband's other wife.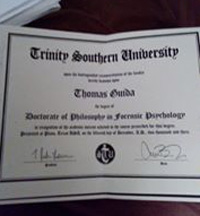 Mrs. Guida responded to all of them. Yes, she was married to him. No, he wasn't a psychologist, he wasn't in the military, and he didn't have brain cancer.
The women began comparing notes. Deb set up a private Facebook group so they could stay in touch. She also created a blog to try to warn the public about Tom Guida:
Tom Guida, Tom Gatto: Love Scammer Marine, on blogspot.com.
For Mrs. Guida, finally being able to talk about her experience with people who know how it could have happened is a big relief.
"My friends don't understand," she says. "These people understand."
The group encouraged her to file charges against Tom Guida. She did, but it was not a pleasant experience.
"The cop was horrible," she says. "He said, "˜Guys lie in the bar. What makes him different?'"
But Mrs. Guida's biggest concern is for the other wife. "She's stuck where I was," she says. "What would it have taken for me to leave? Maybe if there was proof things weren't making sense. I know what it's like."
Judge Kevin H. Morse, municipal court judge in Woodbridge, New Jersey, will soon be ruling on her case.
Mrs. Guida hopes the judge will find Tom Guida guilty of bigamy and it will be the proof that the other Mrs. Guida needs in order to escape.