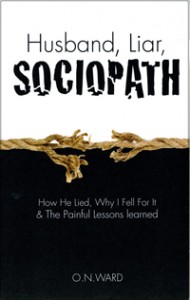 Every week, a chapter of my book, "Husband, Liar, Sociopath: How He Lied, Why I Fell For It & The Painful Lessons Learned" (available via Amazon.com, just click on the title or book cover) will be published here on Lovefraud. To read prior chapters, please see the links at the bottom of the post.
Chapter 36: One Big, Happy Extended Family
Two years after starting A-M-P Consulting Solutions, we were stable enough financially to do something we had not done in years—go on a family vacation.
I was excited about getting away, just Paul, Jessica, Daniel, and me. My enthusiasm was short-lived, however. Paul and Anne-Marie realized if they conducted business while on "vacation," they could write off part of the vacation as a business expense. From then on, Anne-Marie, her husband, their two girls, Paul, Daniel, Jessica, and I vacationed together. Paul's soft, velvety voice was back when he spoke to Anne-Marie. The rest of his behavior seemed to dance along the line of professional versus personal. I could not get a good read on the situation. Maybe I could but was afraid to see what was right in front of me. They were now 50-50 business partners. My financial life depended on the success of their partnership. It was complicated. I begged Paul to have a vacation with just our family, but he would not hear of it. It wasn't financially prudent, he argued. I was being unreasonable, illogical.
Often when on one of these shared vacations, if I planned an activity with just Paul and the kids, Anne-Marie would find out about it and ask if she and her eldest daughter, Rebecca, could join us. Rebecca was about six years younger than Daniel and almost nine years younger than Jessica—too big an age gap for the older children to regard Rebecca as anything but an annoyance, but Paul always said, "Yes." Increasingly, I tried not to mention such plans to Anne-Marie, but Paul always let her know about our daily schedule. Once, I garnered the strength to suggest as kindly as I could to Anne-Marie that we had been looking forward to doing the activity just as a family, and that I was sure she would understand. (We never inserted ourselves into the activities she planned with her family.) Paul was horrified and told Anne-Marie in front of me, that, of course, she and Rebecca were always welcome to join us.
I pulled Paul aside and expressed how much I felt we needed family time together, and for the sake of our family to please back me up and ask Anne-Marie and Rebecca not to come along this time. I felt strong for standing my ground and expressing my needs and sure that, because I was so flexible and accommodating of Paul 99.9 percent of the time, he would be more than happy to take my very reasonable request into account.
Paul refused to back me up. I felt humiliated. Anne-Marie and Rebecca joined us that time and consistently in the future, sometimes even sitting next to Paul on a boat trip, lunch, or other activity before Daniel, Jessica, and I could find places to sit. I rationalized it as Paul bending over backwards to be nice to his business partner. After all, he was such a kind, considerate, thoughtful man, wasn't he?
Over the years, I developed a closer relationship with Anne-Marie's husband than with Anne-Marie. She never seemed at all interested in what I did or in my opinion. Her husband was the main caregiver to their children, so I talked to him more parent-to-parent than I did to her. I suspect Paul told her little about me. In his mind I was so unaccomplished and irrelevant, what was there to say? Although I had been one of the best squash players in the country during college, and Anne-Marie was getting Rebecca involved in squash at an unusually young age (which seemed odd to me), Anne-Marie registered surprise that I had even played the game, especially at such a high level. Paul seemed very interested in Rebecca's evolving skill at the game, even though he refused to allow our kids to play squash. It was too elitist, he argued. The whole situation seemed beyond bizarre.
Start from the beginning:
Go to previous chapter:
Go to the next chapter:
Notes
Identifying names, places, events, characteristics, etc. that I discuss here and in my book have been altered to protect the identity of everyone involved.