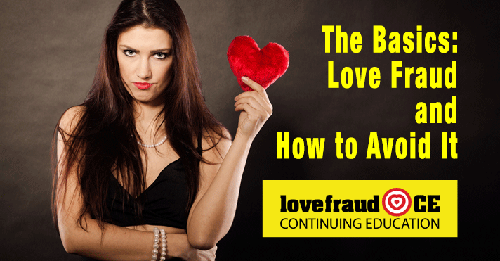 Upcoming webinar:
The Basics: Love Fraud and How to Avoid It
Jan. 16, 2019 • 8-9 pm ET
$18.75 — or FREE with the Lovefraud 5-part Masterclass
Instructor: Donna Andersen, author of Lovefraud.com
More info
Sociopaths and narcissists are easy to spot, once you know what to look for. That's exactly what I'll teach you in this 1-hour webinar, so you can keep them out of your life.
This is the original Lovefraud webinar, and I'm presenting it again for the first time in almost three years, updated with the latest information. Here are highlights of what you'll learn in the webinar:
What is a sociopath? Where are they?
Male and female sociopaths
10 signs you're dating a sociopath
How sociopaths seduce their targets
How to protect yourself from sociopaths
The live presentation is Wednesday, January 16 at 8 pm ET. Even if you can't make that time, you won't miss anything. The webinar will be recorded, and you can access it whenever and as often as you want.
Along with the information, you'll have access to a special online forum, only for webinar participants. You'll be able to ask questions of me, and share experiences with fellow survivors. The forum will always be there as well — just log in to read and post comments.
In a special Lovefraud offer, you get The Basics webinar for FREE when you sign up for the Lovefraud Understanding and Recovery 5-part Masterclass. The Masterclass includes five of my most popular webinars, which I'll be presenting on Wednesdays at 8 pm ET, starting Jan. 30.
Knowledge is power! Sign up to increase your knowledge with these webinars: