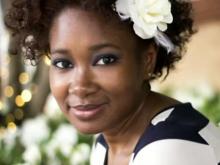 Four years ago, Katherine Morris, a young woman who was two weeks away from graduating from the University of Maryland, died suddenly.
The police said the death was suicide. Her mother, Rev. Marguerite Morris isn't so sure and she is still working to uncover the truth.
Katherine Morris was married to a soldier, Isaac Goodwin. But her mother contends that the marriage was a sham, that Goodwin married just to defraud the government of Basic Allowance for Housing pay, and he was never held accountable. In fact, Goodwin received a $100,000 insurance payout for Katherine's death.
Lovefraud wrote about this tragic story previously. You can see it here:
Army Specialist Isaac Goodwin allegedly marries for money, and his wife commits suicide
Rev. Morris continues to investigate the circumstances of her daughter's death. She believes investigations by the police and the military were flawed, and her daughter may have been the target of foul play.
But Rev. Morris also wants to protect other military spouses from the travesty that her daughter suffered. So she is launching an effort to pass legislation the "Katherine Morris Military Spouse Protection Act." The legislation will address Basic Allowance for Housing fraud and other loopholes in existing laws that allow military spouses to be shortchanged, even abused.
Rev. Morris is sponsoring a luncheon on Friday, July 8, to kick off the event. It will take place at the Odenton Regional Library, 1325 Annapolic Rd., Odenton, Maryland, from 11 a.m. to 2 p.m.
For more information about the luncheon and the Katherine Morris case, visit ForKathysSake.com.