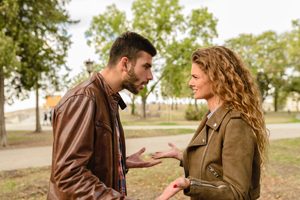 You've felt like something was off about your romantic partner for a long time, but you could never quite figure out what it was. Then, suddenly and harshly, you learn the truth.
You discover that this person is cheating on you. Or forged your signature to open up credit cards. Or has kids you never knew about. Or is only pretending to go to work every day. Or is married to someone else.
However it happened, you learn that your partner is betraying you.
Your first instinct is to confront your partner and demand answers.
DON'T DO IT.
When you learn what is really going on, the best thing you can do is nothing, at least temporarily. Do not lash out. Instead, no matter how angry and hurt you are, pretend that nothing has changed.
Why? Because when sociopaths know the jig is up, they engage in all kinds of destructive behavior. They may:
Talk circles around you, convincing you that you are wrong
Wipe out joint checking accounts or steal any remaining assets
Destroy evidence you need, such as documents and computer files
Launch or intensify a smear campaign against you
Cry crocodile tears in an effort to appeal to your sympathy
Fly into a rage and destroy your property
Fabricate criminal charges, such as accusing you of domestic violence
Claim that you are insane and try to commit you to a mental institution
Engage in physical violence, injuring you, your children and/or your animals
Disappear, taking your money or property with them
Drop all pretense of being your sweet romantic partner, and turn blatantly miserable, cruel and vindictive
So do not react. What you need to do now is gather more information and think about your next move. It's best to do this while the sociopath doesn't know that you know the truth.
The bottom line is that if you're involved with a sociopath, the only reasonable thing to do is extricate yourself from the relationship. But doing that safely, while protecting your assets, family and property, may require planning. You may need to:
Move your money into new bank accounts that the sociopath can't access
Make plans to move out, preferably when the sociopath isn't around
Go to the police and/or find a lawyer
Make copies of important documents, such as mortgages and deeds, health insurance info and credit card statements
Gradually move valuables to a safe location
Back up computers and hard drives
Line up friends or family members to help you
Learning the shocking truth of the sociopath's behavior is a game-changer. You were always part of a game that the sociopath was playing, but you didn't know it. Now you do.
Right now, you have an advantage — the sociopath doesn't know that you know. Maintain that advantage as long as you can.