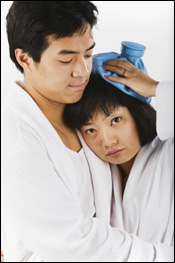 One winter, my husband, Terry Kelly, and I traded colds. I got sick first, and Terry made chicken soup and did what he could to make me feel comfortable.
Then, despite my best efforts to keep my germs to myself, Terry got sick.
By this time I was feeling better. So I went to the store and bought cold medicine, tissues and orange juice, because I'd used everything up. I made him chicken soup. I even made him a pot of chili.
As I did all this, I noticed a warm feeling within me.
It was the joy of taking care of someone I loved. I was concerned about his health and wellbeing. I was happy and energized to help him.
It was a feeling sociopaths never experience, because sociopaths can't love.
Three behavioral systems of love
When we talk about romantic love, what exactly do we mean? We may associate it with excitement, or a warm, squishy feeling about someone special.
But Drs. Philip R. Shaver and Mario Mikulincer, social psychology researchers, have explained romantic love in a way that's helpful for people involved with sociopaths to understand.
Psychologists have come to believe that human beings have innate motivational systems, also called behavioral systems, which have evolved over millennia to help the species survive. Shaver and Mikulincer suggest that three of these systems are involved in the experience of romantic love: the attachment, sexual and caregiving behavioral systems.
Read:
Attachment, Caregiving, and Sex within Romantic Relationships: A Behavioral Systems Perspective, by Mario Mikulincer.
Real love includes caregiving
For non-disordered people, real love, therefore, has three components:
Attachment — attraction, the compulsion to be with the person we love
Sex — no explanation necessary
Caregiving — the desire to take care of the person we love
Sociopaths only experience two of these components. They definitely feel attraction, at least in the beginning of the relationship. And they definitely want sex. Usually lots and lots of sex.
But sociopaths do not experience caregiving. They really have no desire to take care of anybody not you, not their kids. They are only concerned about themselves. They do not think about what will benefit someone else.
Fake caregiving
In the beginning of your relationship, you may have seen what appeared to be caregiving. The sociopath was always doing things for you, or buying things for you.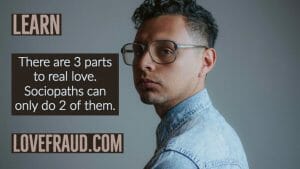 This was not authentic caregiving. It was a seduction tool as the sociopath was reeling you in. He or she appeared to be concerned about you and your welfare, but it was an act. You may have noticed that once your were hooked, it stopped.
In fact, one of the big telltale signs of a sociopath is how this person behaves when you need help. Unless a sociopath has a specific agenda, a payoff for helping you, often he or she cannot be bothered.
Lovefraud originally posted this article on Dec. 2, 2013.