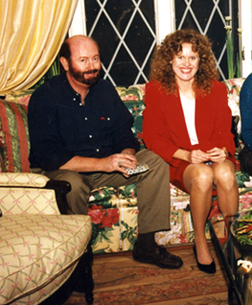 The holidays are quickly approaching. It's the season when we decorate our homes, spend time with family and friends, and buy thoughtful gifts for the ones we love.
Everyone wants someone to hug over the holidays. So even if things have been strained or rocky with our romantic partners, we may still want the holidays will be pleasant, even romantic. We may go out of our way to make them special, hoping our partner will reciprocate, or at least acknowledge our efforts.
Sometimes we hope but fear that our partners will disappoint us. If you're apprehensive about how enjoyable the holidays with your partner will be, read on.
Christmas with my ex
I spent three holiday seasons with my ex-husband, James Montgomery. Here's how they went:
Christmas 1996 We were engaged to be married in three weeks, in January 1997. In the six months that I'd know him, Montgomery had squeezed me for more than $50,000, although at the time I didn't realize he was scamming me. I had no idea how we were going to pay for our wedding.
Montgomery was away for New Years. He told me he was visiting the parents of his previous wife, who had died. I later found out he spent the holiday with another woman. This was two and a half weeks before our wedding.
Christmas 1997 In addition to wiping out my savings and draining my current income, Montgomery had put $40,000 in debt on my credit cards.
I worked to make the holidays nice, but I was concerned about our finances. Montgomery agreed to a "board meeting" on the day after Christmas to discuss them. I quickly realized that he was just placating me. As far as he was concerned, his grandiose plans were sure to succeed and I should stop worrying about money.
Christmas 1998 We moved from New Jersey to Orlando, Florida because Montgomery told me he had a deal for one of his grand schemes, the Titanic exhibition.
He drove down before me. I arrived on Dec. 23 with a U-Haul truck, my car on a trailer, five pets and a small Christmas tree. We planned to go out to dinner on Christmas, not realizing that all the restaurants were closed. We had to settle for leftover chicken.
A month later, I learned that Montgomery had lied to me about the Titanic deal. There was no deal. I'd drained the last of my money and moved 1,000 miles to Florida for nothing.
Sociopaths ruin Christmas
It is impossible to have a truly loving, giving Christmas with a sociopath.
Sociopaths may go over the top to make the holidays special, or spend lavishly on Christmas gifts. But it's never out of love, it's because they have an agenda. Either they're reeling in a new target, or maintaining a charade of togetherness, because the current target is still useful to them.
If sociopaths are no longer bothering with the charade, they can be downright cruel on Christmas, intentionally ruining the holiday for the people who are supposed to be their loved ones.
Why? Just to see them get upset. Sociopaths love provoking a reaction.
In short, sociopaths ruin Christmas although you may not realize right away what they are doing.
Get out sooner rather than later
If you suspect that your partner is a sociopath, and you're thinking of dumping him or her, don't bother waiting until after the holidays. Christmas will likely be miserable anyway.
If the romance is suddenly back in your relationship, it's probably not a Christmas miracle. Your partner may sense that you're withdrawing, and is turning on the charm to hold on to you. If you agree to stay, the Christmas magic will likely soon be gone, and the cold, unloving Grinch will return.
So how do you know if your partner is a sociopath? I've put together a list of 30 warning signs. If your partner matches them, your Christmas will likely be merrier without him or her.
Get the Lovefraud checklist: Is your partner a sociopath?