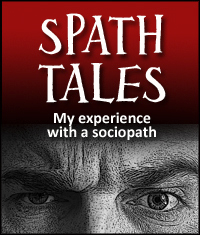 Editor's note: Lovefraud received the following story from a reader. Names have been changed.
My name is Elisa. I was born in Central America. I lived in my native country until I was 18. I was raised by my two parents. As an adult I have identified that every male role model in my family was a narcissist, including my dad and grandparents.
I went to school in Texas. I had two boyfriends prior to my college days, which by studying all the information I can diagnose them with either narcissistic tendencies or BPD. Male figures with these characteristics where what normal was for me. I didn't know better.
During my freshman year I met Tom — he was my brother's roommate. I found him fun and charming — not too polite but full of self-confidence. He was a football player at the time. I had just broken up with a boyfriend and was heartbroken. I targeted winning Tom's heart as a friend because I wanted to meet people at school.
Prior to being interested in him I was always hanging with Latin people and needed a change — he was from New York. Tom was athletic, loud, very extroverted and he always did what he wanted to do. I found this very attractive.
One night we drank a bit too much and we ended up kissing. That was the beginning of what was to be a long on and off relationship.
We had a really abrupt breakup in our college years and I don't recall the details but I remember it was so stressful — I was forced to contact his parents for help. He had become abusive and he was stalking me in my apartment.
He graduated and left. I graduated six months later and didn't see him for a year. As victims of abuse always do, I pursued him again, apologizing for all the drama in our relationship and taking responsibility as if all had been my fault.
I pleaded for him to take me back. It was like the victims of kidnapping that miss their abuser and want to go back to be beat up a few times over. Now I see it as such but before I couldn't tell that I was a magnet for abuse and mistreatment.
It also affected me the fact that El Salvador was under so much political unrest that I saw Tom as my ticket to freedom from all the despair of the war. I denied to myself all the previous violent red flags in him until one day I got engaged. It seemed like such a great plan — I was to move to New York. I was blessed with a job in the city and started to my move to New York City. I moved to a small town and commuted to the city.
My mother in law, looking back, had the genetics of a real sociopath. She was awful and she was abusive to my father in law. She was very strange. She was very well educated but very inappropriate at times. She was definitely the genetic pool where my ex-husband got all his traits. She was truly evil from the start.
The first years of marriage, it was okay. My husband at the time would drink over the weekend and many times I had become his drinking buddy. All his friends where wild and womanizers. I remember one of his closest friends, Roger, was flaming gay but he refused to accept it.
I was 26 and I was so naive of the world and I was raised Latina so I believed I was to yes my husband on everything. He was very selfish. We only did what he wanted all the time. I am not going to say it wasn't fun, but most of the fun times where around drinking. This addiction escalated our episodes of fighting into very toxic battles. He would become verbally and physically abusive and I would rapidly forgive him and move on like nothing had happened.
We lived the fun, no kids lifestyle for five years and then the unexpected happened. I got pregnant. I remember sharing the news with my in-laws and remember my mother in law fighting with me over it. She was miserable; it was like I had cheated with her husband. She didn't speak to me for a month.
When I told Tom the news we were in bed. I told him, so excited, and he just turned his back to me like if I had told him he had cancer. For two months he was unsupportive and didn't touch me for the rest of the pregnancy until I had my first son. I must say I have never seen him so happy and in love with his kid. He did love Jeremy — or so I thought.
During one of our trips to see my mother in law, Jeremy was a baby, and his friend Roger (homosexual not out) came over. I remember Tom never coming back to our marital bed. He spent the night with his buddy with locked doors. There was never an explanation the next day. I was terrified to confront him. I didn't want to see the truth. I put it under the rug and pretended like it never happened.
Eleven months later I was pregnant with my daughter and I was expecting the magic to last forever. It seems to me that his kids gave him a sense of pride. All I wanted to do was to make him happy. That was my purpose in life. He had become my God. He was my everything.
He was controlling and we did only what he wanted to do. I lost all my identity. I didn't know what made me happy. I didn't know who I was for the 18 years of marriage.
He is an importer, very successful. He worked with his dad and brother. He worked hard and was determined to succeed.
He started fabricating drama against his brother to cut his stake in the business. He didn't stop until one day he killed his father from a massive heart attack due to stress from all the abuse he had inflicted on the old man. Even though his father had provided the foundation to his business, he booted him out of the building, tampering with all his equipment and throwing him on the street, calling him senile and crazy.
We lost my father in law so young. I will definitely regret not seeing the signs. When we got the call of the heart attack my ex-husband sighed with relief and said, "Thank God the son of a b*tch asshole is gone." This statement was made right in front of the innocent faces of our kids. My soul couldn't take this situation. My brother in law kept suffering his attacks at the office as well.
I found out during his travels he met with prostitutes and all his salesmen knew this. My mom sent me a full time nanny to help me with the kids and unbeknownst to me, he started an affair with this girl, at the time 18, right under my own roof. I didn't find out about this relationship until the end. She stayed with us for 10 years — they were very good hiding their relationship.
Probably that explains that every pregnancy he wouldn't touch me for 9 months. I guess he was repulsed by my pregnant body. He forbade me to breast feed my children, as it was a turnoff for him. I also believed he triangulated me with a friend that was very close to us at the time.
My relationship got worse every year, with the addition of alcoholism that seemed to get worse over time. He also would make up these horrible stories of surgery causes and hair implants. His hair loss was a major blow for him. He spent close to $70,000 in hair transplants. Post divorce I think he is still going to received botox injections, which have ruined a face that suffers all the effects of an unhealthy lifestyle.
We remained married until 2008-2009. In the downfall of the financial market he suffered a breakdown. He started to become super jealous. He started to accuse me of infidelity. He became paranoid with everything. He started breaking relationships with friends because he became very competitive.
I started to get embarrassed about his rudeness, especially to the help and the service industry. He was condescending and had no sympathy towards nobody.
Every day there was some sort of drama and if there was no drama it was unusual. He started manipulating and trying to control Pop Warner football until he was thrown of the league. He was obnoxious and disrespectful. He would push people to drink with him and he wouldn't stop at anything.
He started to insult me and hit me with no compassion until I couldn't deal with him any more. I thought all our problems where created by the alcohol. Me drinking didn't help, and one day he insulted me with so many horrible things I couldn't take it anymore — it had to come to an end.
We approached a marriage counselor that was crushing me as if it was my fault. I was so confused during these sessions. I had to take him out with a restraining order. In between sessions we were separated by his deadly silent treatment.
Finally through the power of God I was saved by a doctor who gave a me an opportunity for a second chance. He said, "Elisa are you willing to live with the little crumbs that Tom gives you?" That sentence made me snap into a new reality and gave me strength to file for divorce. He told me in private about narcissistic abuse and the lack of empathy.
I took care of my kids in my house and started an arduous road to divorce. He started by cutting all my funds. My father helped me financially until two years later we finalized our divorce proceeding.
I studied divorce books and read every available book on narcissism and I crushed him. I beat him with his lawyers. I got a good settlement, and for that I will not ever be forgiven.
His next weapon was my kids, who he has won with material things, freedom and a huge house that he runs with his mother. Him and his mother moved in together and worked as a team to defeat me. But they didn't. They have my kids now but I know in time I will get them back. I am determined to win one more time.
As for me I got my strength back through my faith and my God. He pulled me up and has transformed me into a new human being. I have finally found who I was meant to be. God gave me my identity and my value back. I understand the spiritual battle I have been fighting. I have fought addictions, despair, depression, post narcissistic follow up relations, but I am still standing.
Post divorce I have dated two covert narcissists and through my keen sense of intuition and inner wisdom, I have defeated them both on their game. Their lies are no longer effective with me. I can only give credit to the power of the Holy Spirit, which has given me discernment to identify their manipulations and lies.
Since this experience I found that my best friend, too, under the pretense of an understanding friend, was hurting me terribly. I know all the red flags and I can identify them a mile away.
My dream is to lead women to understand how to deal with this situation. I have also become a victim of parental alienation and I am fighting this battle from Florida with prayer and love.
It makes me sad how many women are still prey of these men and keep falling for their schemes. They lose their money, their assets and everything they own, in exchange for what they think is love and romance. These skillful men try everything to charm you. They become your dream soul mate, so that you finally feel accepted and loved. Love starts with loving ourselves. Because if we knew true love, nothing like this would ever happen to us.
I wish some day I had a public forum to educate women and to make them understand how their man hunger can lead them into destruction for them and their children. I am still going trough a tough time but I am so proud that I put an end to my generational curse.
Presently I am coaching my sister to exit her toxic relationship with another one of these predators. I feel that by talking about my experiences I have tried to educate many women. Unfortunately I lack the medical background to help as a therapist.
I wish my experience could educate the medical field, as I feel that many therapists, not familiar with this sort of problem, are intensifying the suffering of so many woman. Going to this type of therapist hurt me so much, as they misled me and made me, for many years, question my own experience.
In my dreams I am conducting forums, informing these doctors the way I was attacked in so many ways. This personality comes as an understanding friend, a crazy in love boyfriend, a manipulative ungrateful child. We need to educate our women to stand up to any sort of emotional abuse with self love, and the love that only a life walking with Christ will strengthen to defeat these evil people.