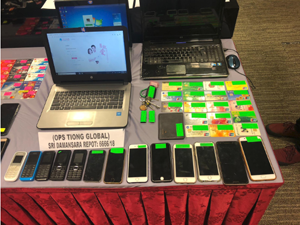 Cops in Singapore, Malaysia and Hong Kong take Internet romance scams seriously — which is more than I can say for U.S. and European authorities. Asian cops just busted a love scam crime ring that had swindled victims out of more than Singapore $19.45 million (US$14.08 million).
Officers arrested 19 suspects in the same syndicate: 15 Malaysian women, 1 Malaysian man, 2 Nigerian men and 1 Chinese woman. Did you catch that? The people doing the scamming were mostly women!
These suspects swindled 146 people. Eight of the victims in Singapore lost more than $450,000.
Love scam syndicate worth nearly S$20 million crippled by authorities in Singapore, Malaysia and Hong Kong, on BusinessInsider.sg.